Description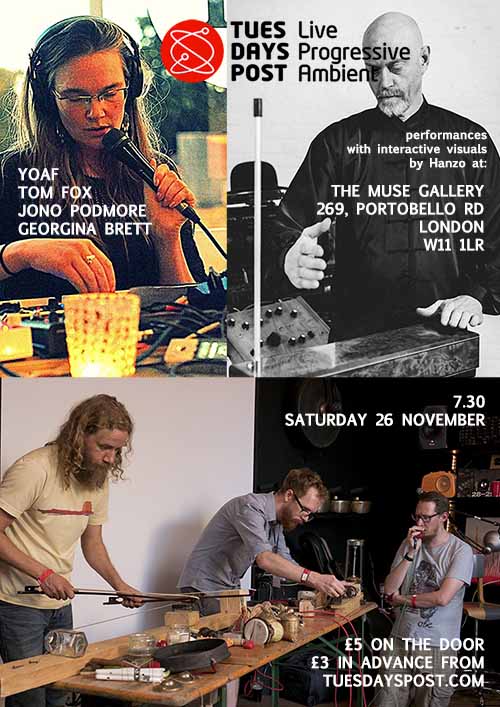 Performing at the second of these series of concerts at The Muse is:

YOAF
JONO PODMORE
TOM FOX & GEORGINA BRETT

YOAF - an improvising experimental textural noise trio performing using home-made instruments, objects, toys and electronics. Described as "... less musicians than sound
mediums, tuning into and channelling uncanny forces ..." (LucidFrenzy.blogspot.co.uk) we play
with sound as texture, matter and shape rather than melody, rhythm and harmony. Our
members are Tom Fox (vulpestruments.com), Jon Saunders and Tim Yates (timyates.net).
JONO PODMORE

Jono is two arms of the 6 armed Metamono instrument which is taking the UK and Europe by storm. Yes they are mono and they use a wide variety of vintage and modern kit to produce their sound live on stage.. no computers! ..an enormous laboratory construction of live synths in front of the audience.. they made the sounds all live and they were so much more exciting for it.
check this clip https://www.youtube.com/watch?v=g2Cfja2vBwI… it's a little introduction to the Metamono beast by Jono Podmore himself just before they play in a packed venue in trendy deepest South East London..

Kumo is Jono's solo project. https://itunes.apple.com/gb/album/metapolis-ep/id260130418 Jono has worked with Irmin Schmidt (of Can) on his opera Gormenghast. He began to play the theremin in late 1990's and developing new techniques for live performance of electronic music.

At Tuesdays Post Jono will be performing using a small portion of his electronic capability.. Notably Theremin, delay, Ring Modulator, and "tricks".. little secrets for the obsessive kit-horders amongst us.. what will he bring? ;)


TOM FOX & GEORGINA BRETT duet
Georgina Brett's music is created using her voice and effects pedals, creating instant choirs of sound, her double album Nonsense A and Nonsense B is of purely vocal works with no 'deliberate' words or lyrics. The albums show the voice as an instrument, and as a vehicle for emotional expression. "So much music is made in order to make us feel something so as to manipulate us to buy or to follow.. this album let's your thoughts be whatever they want to be." The albums also play with the idea that we like to interpret, constantly listening for meaning instead of just listening.