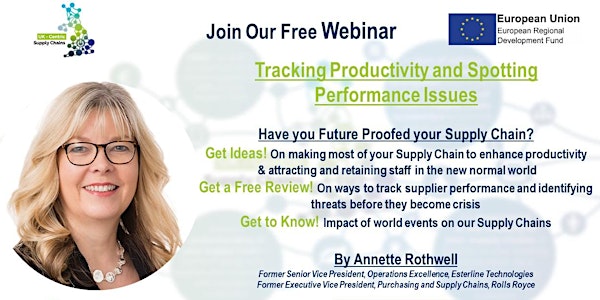 Tracking Productivity and Spotting Performance Issues
Join Our Free Webinar And Hear From An Industry Leader On How To Track Productivity And Spot Performance Issues Within Your Business.
About this event
This event will be chaired by Richard Atkinson CBE, a former senior commander of RAF combat forces, a Director of NATO Operations, and Deputy Director of Strategic Planning in Whitehall.
Annette Rothwell, former Senior Vice President of Operations Excellence at Esterline Technologies and Executive Vice President of Purchasing and Supply Chain at Rolls Royce will discuss and provide tips on how to track productivity and spot performance issues within your business. Annette will be sharing:
Ideas on how to make the most of your supply chain in order to enhance your productivity.
How to attract and retain staff in these strange times.
How to track supplier performance and identify issues prior to them becoming big issues.
How world events are impacting our supply chains.
* The UK-Centric Supply Chains project is part-funded by the European Regional Development Fund 2014-2020 programme and part-funded by Aston University.The project supports Small and Medium Enterprises (i.e. employ less than 250 employees and have an annual turnover of not exceeding €50 million and/or an annual balance sheet not exceeding €43million) and are trading in the Greater Cambridge and Greater Peterborough and in the Marches transitional (Shropshire and Telford and Wrekin) Local Enterprise Partnership areas.Please note that this webinar will be recorded and by registering you are giving your permission.
In case of query, please contact us on info@ukcentricsupplychains.co.uk