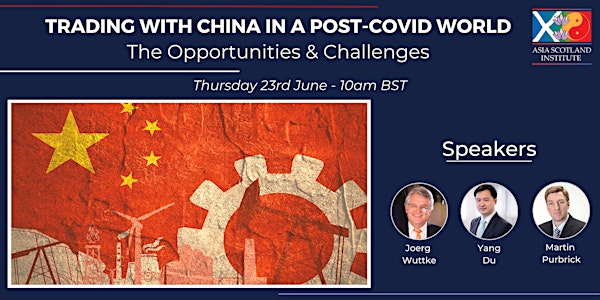 Trading with China in the Post-Covid World - the Opportunities & Challenges
Join us on 23rd June for a discussion on 'Trading with China in the Post-Covid World' with an expert panel of speakers
About this event
We are delighted to welcome Joerg Wuttke as our Speaker. He will explore the fact that as the western world gradually emerges from covid although with persistent problems, simultaneously trade protectionism, geopolitical conflicts and de-globalisation continue with the world economy and the international trade systems under severe pressure.
With the war in Ukraine dominating the media and foreign policy, its consequences include threats to world food supply and rising energy costs. Many analysts are turning to China where a persistent zero-covid policy has maintained a chokehold on its major economic zones. The questions arise of 'how easy is it to do business in China?' and 'have China's major trading partners changed during the pandemic?' Both domestic and foreign businesses are having to adapt to the ever-changing rules of the game both from the government and demand from consumers. Once more the push to complete the energy transition on time is creating opportunities and challenges across sectors and national boundaries.
Whilst there has been some recent relaxation of covid restrictions, uncertainty remains about China's zero covid policy. Businesses across China have been reminded of the government's overarching position that can spread uncertainty, as seen with the CCP's investigation into DiDi Chuxing. Upon the conclusion of the investigation, DiDi's share price rose significantly, demonstrating investors' sensitivity to government action.
The west has been thrust into an energy crisis, but China's future direction is still emerging. China has made notable progress in its energy transition, although still heavily reliant on coal.
Topics
To help piece together the emerging situation and the opportunities and challenges presented, Joerg Wuttke, President of the European Union Chamber of Commerce in China, will shed light on three key areas:
China's current direction in terms of ease of doing business both domestically and internationally.
Zero Covid policy
Carbon neutrality and the energy transition
About the Speakers
Jörg Wuttke is President of the European Union Chamber of Commerce in China, an office he has held already from 2007 to 2010, and 2014 to 2017 and again since May 2019. From 2001 to 2004 Mr. Wuttke was the Chairman of the German Chamber of Commerce in China. Since its establishment in 2013, Mr. Wuttke is a member of the Advisory Board of Germany's foremost Think Tank on China, Mercator Institute for China Studies (MERICS), in Berlin. From 2013 to 2016, and again since 2019 Mr. Wuttke is Vice Chairman of the CPCIF International Cooperation Committee, a group representing Multinational Companies in China's Chemical Association. He lived in China for more than 30 years.
Yang Du is an Associate at Moller Institute, Churchill College, University of Cambridge. Yang is former Vice Chairman of Chinese Asset Management Association of Hong Kong, member of advisory committee at Financial Services Development Council of Hong Kong. Yang worked across Europe, US and Asia about 20 years. He took the posts as Managing Director of China Securities International Asset Management, Chief Strategist and Head of Fixed Income at CSOP Asset Management, Head of China Business of EMEA & Americas at Thomson Reuters. Yang Du studied at University of St Andrews.
Martin Purbirck has over 32 years experience working in China in a variety of businesses as well as government. He was part of the management team that expanded business in Mainland China for the Hong Kong Jockey Club and during his time as a director at that organisation had a wide range of engagement with government officials in China. He writes regularly about China, focussing on the issues of corruption, organised crime, and the impact on business and government relations.