Several virtual clinics to businesses in the region on issues regarding 'Leaving the EU'
About this event
The UK left the European Union in 2020 with an agreed Trade and Cooperation Agreement, leaving the EU Single Market and Customs Union. As a result, businesses trading with the EU and Northern Ireland had to revise and adapt their trading processes and operations.
Local Growth Hubs have teamed up with MAKEUK to offer several virtual clinics to businesses in the region on issues regarding 'Trading with the EU'. Whether you want to discuss what the new agreement means for your business, or explore opportunities for your business trading with the EU, these clinics can help.
Businesses will be able to book a free one hour consultation, fully funded by the Growth Hubs (value £250) that will cover guidance and support on issues related to the UK's new relationship with the EU. You will be able to choose from 1 of the topics below that is challenging you and your business the most during these new and changing times
1. What the Trade and Cooperation Agreement means for manufacturing / businesses
2. EU trade checklist
3. Introduction to Market Regulations
4. Product Labelling and Machinery
5. Introduction to Customs and related administration
6. Special customs procedures
7. Introduction to Rules of Origin
8. Business travel to the EU
9. Employment and Immigration to UK
10. EU Politics and EU Manufacturing – Have your say
ABOUT MAKEUK
With a distinguished heritage dating back to 1896, everything MAKEUK do is designed to help businesses evolve, innovate and compete in a fast-changing world. With a unique combination of business services, government representation and industry intelligence, no other organisation is better placed to provide the skills, knowledge and networks they need to thrive.
They have a broad portfolio of services designed to deliver maximum value. Sessions are delivered by individuals who are experts in their chosen field and you can be sure they'll be relevant to your business, tailored to your situation and relevant to your objectives.
The Consultants
Lucy Atherton, Head of HR & Legal Services. Lucy provides technical support and expertise to Make UK's national team of advisers on employment law and has over 20 years' experience as a specialist employment lawyer.  Lucy is also involved in representing the interests of Make UK's member companies to Government on employment law issues.
Alice Tranter, International Mobility Consultant. Alice provides expertise on International Mobility and can support on all matters affecting the movement of UK workers for temporary assignments to the EU together with the wider business considerations firms need to take into account.
Keith Robe, MD of Cusdec Customs Solutions. Keith worked for HMRC and previously HM Customs & Excise for 32 years in various roles, latterly in Customs law and facilitations, and for the last 4 years, having set up his own company Keith has worked with numerous international trade businesses and associations helping them become Customs compliant and efficient.
Fergus McReynolds, Director of EU & International Affairs. Fergus represents manufacturers in Brussels, leading Make UK's engagement and liaising with European and International stakeholders. Working with colleagues Fergus has been responsible for Make UK's policy and member support on the UK's exit from the EU. Working through his European and global network, Fergus has represented manufacturers for over 10 years in Europe and internationally.
Richard Rumbelow, Director of International Affairs and Export Services. Richard provides analysis, political advocacy and policy representation on the impact across the UK's manufacturing sector to senior levels of UK Government, the UK Parliament and other national and international influencers and on the critical business and trade issues, including in relation to the UK's departure from the EU.
Chris Newson, HSS Head of Learning. Chris is a mechanical engineer with over 15 years' experience working in the power generation sector. Chris is Make UK's UKCA Health and Safety Lead. He also delivers consultancy and training services around machinery supply, flammable substances & explosive atmospheres, management system integration and behavioural safety. 
**Please note the date shown is just indicative and slots will be organised on an individual basis between you and the experts at MAKEUK**
The sessions will be allocated on a first come first serve basis with a limited number available. This register of interest will close on Wednesday 23rd June at 10am.  
If you have any queries please do not hesitate to contact samantha.hunter@semlep.com, Events & Engagement Officer, SEMLEP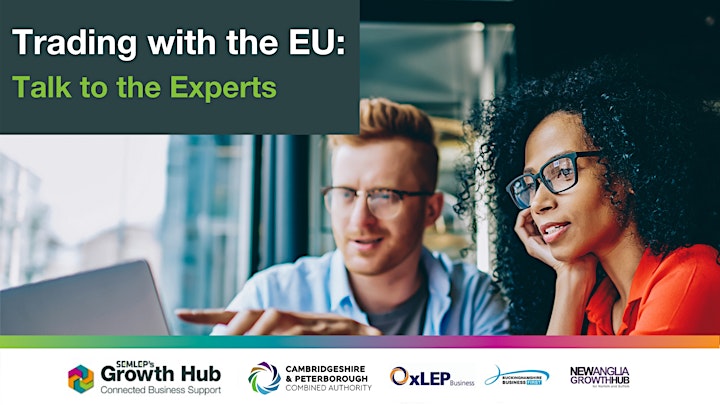 Organiser of Trading with the EU: Talk to the experts
SEMLEP's Growth Hub is a one stop shop for businesses looking for support.
We provide you with free, independent and impartial information, advice and guidance and can connect you to specialist local, regional and national business support.
Call the Growth Hub Gateway team to talk about your business needs on 0300 01234 35
SEMLEP's Growth Hub supports small and medium sized businesses based in the South East Midlands area: Aylesbury Vale, Bedfordshire, Luton, Milton Keynes and Northamptonshire.
Please read our privacy policy: https://www.semlep.com/privacy-notice/