TRADITIONAL ISLAM IN THE MODERN WORLD - Weekend course with Professor Wael...
Description
Professor Hallaq is confirmed [flights and hotels all booked] and scheduled to speak on the following:
1) What is "traditional Islam" and how does it fit with the "modern world", with both defined clearly?
2) If "traditional Islam" is defined by "shariah", and if it is contended that the latter has been "destroyed"
by the modern age, then to what extent can either "traditional Islam" or the "shariah" be relevant?
3) If Islam must be defined through a reading of the Quran, how can the holy book be "re-cited" to
modernity in a way that is meaningful to Muslims and non-Muslims, and why is such a "re-citing"
even important to both groups?
---
BEFORE YOU ATTEND PLEASE READ BELOW T's & Cs and all FAQs here: www.islamiccourses.org/courses/
- Purchases are based on the understanding you have read all the information as described on the Islamic Courses website@ www.islamiccourses.org
1. Start times - Exact start and end times and are yet to be finalised, but you should plan for a 9am - 5pm schedule each day unless we have confirmed different times and those who are travelling outside of London by train, plane or car, are advised to make their travel arrangements for an 9am start at the earliest and 5pm finish at the latest but we can not take responsibility for travel arrangements if timings for start and end times slightly/significantly change.
2. As we have limited seating, tickets are not transferrable to others in case you can not attend,
and neither transferrable to another future course.
3. Refreshments can be purchased at the venue and lunch is NOT INCLUDED in the ticket price. Prayer facilities are arranged at nearby mosque at Goodge Street.
4. Program outline and schedule of topics will only be provided on the day and there will be plenty of time forQ & A and break sessions.
5. Course participants are requested make their own notes and any recordings by participants are to be kept for private purposes and not made online/shared across social media. Currently we have not decided to make the course available for online streaming for those who can not attend in person.
6. REFUND POLICY: Unless the course is cancelled, there are no refunds regardless of situation i.e changed your mind not to attend or whether you liked the course or speaker or topic or not, turned up late or half way through the course, or whether you or family or pet fell ill. Resources have already been allocated and this is a not-for-profit endevour to make advanced levels of religious and cultural literacy to the public and connect academia to wider society it serves thus making it relevant and transformative.
7. Once you have purchased the ticket online, you will receive an initial confirmation via eventbrite and in the final week before the course, you will be sent a final email with instructions, directions and rooming details.
If you have any questions please do not hesitate to contact us via email or call/tell: 07956983609
---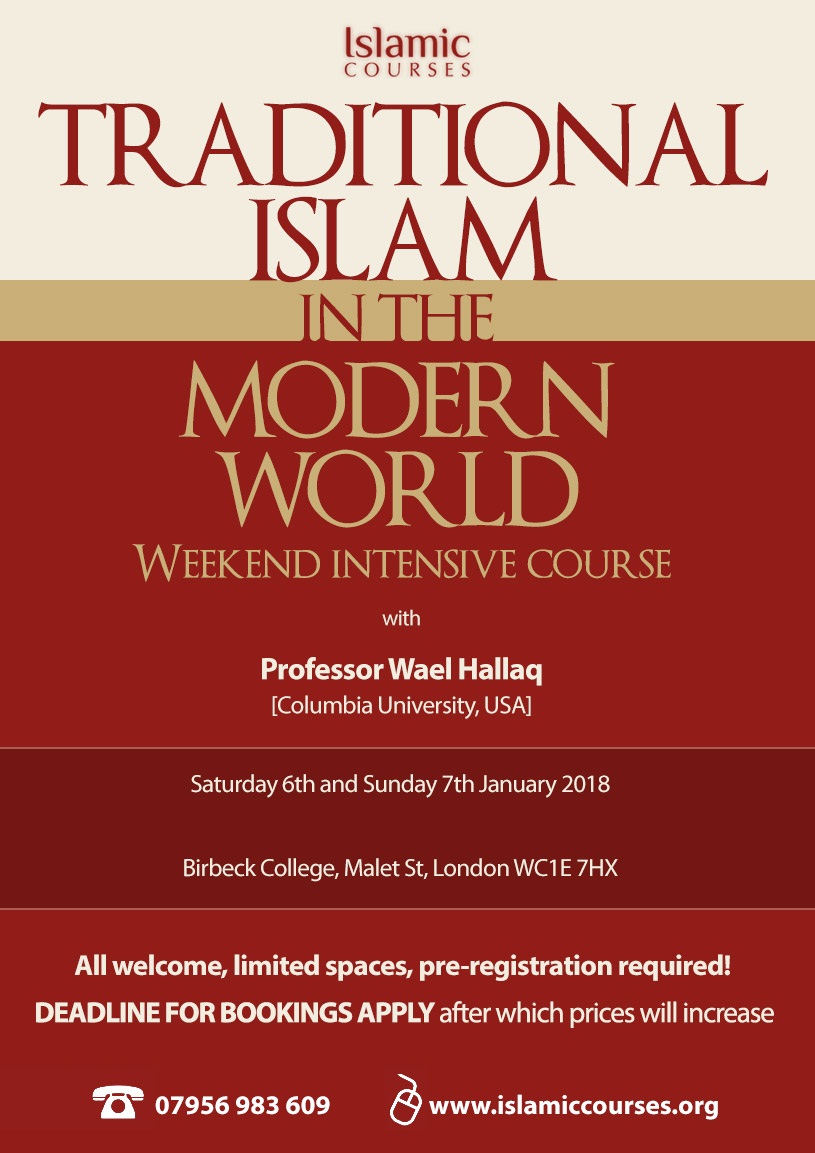 Date and Time
Location
Refund Policy