About this Event
 You will try traditional methods and techniques of glass gilding, as well as exploring and understanding the characteristics of beaten pure gold or white gold, and the decorative possibilities for design in its application on glass.
Unlike using widely available metal leaf, you will be using Pure Gold Leaf in a delicate application. White gold leaf and other coloured precious metals will be available too.
 This application will be onto a set of glass baubles.
Did you know that Traditional Gold Leaf is far far thinner than a butterflies wing?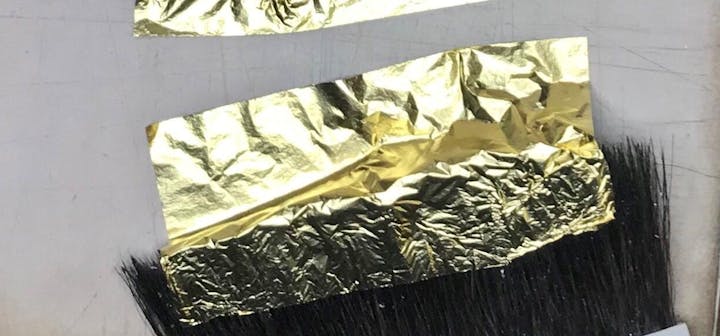 What to expect on the day
Morning
Tea and coffee
Meet the educator Ian Newman BA (Hons) in Restoration and Decorative Studies
Brief history of Traditional Water Gilding onto glass
Characteristics of beaten precious metals
Handling of loose gold leaf
Practical application begins
Lunch
Afternoon
Practical continues
Engraving practical 
Design, pattern and texture
Decoration possibilities
Summary and feedback      
Workshop FAQ's? 
Places are limited to ten to ensure you have individual guidance.
Suitable for all abilities 
Thursday 7th November
Workshop runs from 9.30am - 4.30pm
Welcome for a hot drink from 9 ready for a prompt start
The Workshop is being held upstairs in Woodfire, Stockbridge.
Parking available on the High Street
All equipment provided for the duration of the Workshop including 4 glass baubles. More are available to purchase or alternatively you may bring your own if you wish to work on them.
Option to purchase kit for further use at home
VERY IMPORTANT: Please bring packing materials for your completed baubles. Cotton wool is a suitable material next to the newly-gilded glass – perhaps in a box or cardboard tube of suitable dimensions. You will also bring an apron and a small glass jar with it's lid.