An opportunity for Trafford organisations to meet representatives from THT, Thrive, GMCVO, The National Lottery & TMBC's Partnerships Team
About this Event
The Capacity Building and Grant Support virtual Drop-in is an opportunity for local groups and organisations to meet the THT Capacity Builders, Funding Officer Kelly from National Lottery, Funding Officer Liz from GMCVO, Service Delivery Officer Caroline from Thrive and Trafford Council's Partnerships Team. The 1.5 hour sessions will be an opportunity to hear a brief intro from us followed by some from time to talk collectively, answer your questions and use the break out rooms for one on one conversations (if required).
Time: Tuesday 9th March 11.30am - 1pm.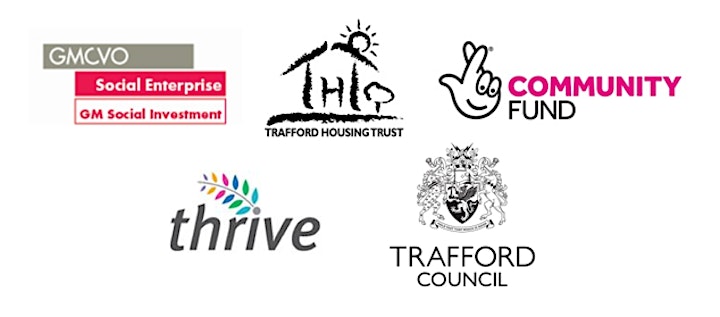 1. THT - Capacity Building and Grant funding
The capacity building team at THT are four friendly faces covering different 'patches' across the borough – Jonathan (Old Trafford), Ruee (Stretford and Urmston), Kate (Partington, Carrington, Flixton) and Zoe (Sale, Altrincham and south). The capacity builders work with charities and community groups to help them be sustainable and grow. We help with everything from funding to business planning. As well as supporting organisations, we run a grant programme and our support can include talking through eligibility and reading draft applications.
2. GMCVO Social Investment - Liz Greenwood
Ever wondered what social loans/social investment is and whether it would be helpful to your organisation? It can sometimes sound confusing, complicated or even intimidating but is doesn't have to be. Join Liz from the Investment Team at GMCVO to find out more about this flexible area of funding available for your social enterprise, charity or community group.
It is a form of finance designed to help organisations achieve their social purpose. Whether addressing social needs, strengthening communities, improving people's life chances, enhancing culture or protecting the environment - this could be an option for you.
From organisations impacted by Covid, to those looking to grow and expand their impact to communities wanting to develop community owned housing or sporting facilities, we may be able to help.
Current funds available through GM Social Investment
• Emergency Investment Fund Loans between £50,000 and £250,000 for Social Enterprises, Charities and Community Businesses impacted by the Covid-19 crisis
• Access to Growth Loans between £10,000 and £50,000 for small and very small social enterprises and trading charities looking to grow/ develop/ expand their services
• Resonance Community Developers Fund Loans up to a maximum of £3m for projects looking to develop community led and owned assets such as community housing or community sports facilities
3. National Lottery funding - Kelly Duke
As the Reaching Communities Funding Officer for Trafford, I support organisations who are interested in applying for funding of over £10,000 to support their local communities. I support applicants throughout their application journey, from initial conversations about an idea they may have right through to grant managing successful applicants. Although Reaching Communities is currently on pause, I'm looking forward to connecting with groups and organisations who are interested in funding and will be able to offer an insight into how our application process works and answer any questions that people may have.
4. Thrive VCSE Support
Thrive can support and advise Voluntary, Community, Faith and Social Enterprise sector groups/ organisations in Trafford with the following areas:
• Sourcing suitable funding and income generation
• Reviewing and giving advice on your written funding applications
• Demonstrating your social value and impact
• Getting help and expertise from local businesses
• Developing your business plan and governance
• Support with advice around suitable not-for-profit structures and how to set up i.e. CIC, Charity, CIO
5. Trafford Council Partnerships Team