About this Event
This women-only course is aimed at ultrarunners looking to improve their performance as well as trail runners looking to try their first ultra. The weekend is suitable for all abilities and is located in beautiful Glencoe.
WHAT IS INCLUDED
'Preparation for ultrarunning' by record-breaking ultra-distance runner and Inov-8 athlete Nicky Spinks
'How to run with poles; uphill and downhill' practical workshop by Nicky Spinks
Guided trail running with Girls on Hills (sociable trail running through the Glencoe mountains with coaching. Approx. 10km, not long distance)
Nutrition for Trail Runners
Yoga for Runners
Foot Care for Ultrarunners
Self-massage/'rollering' masterclass
Equipment and clothing demo, with Q&A
Navigation for ultra-runners
Massage (optional)
And more....
Two nights bunkhouse accommodation (self-catering) and exclusive use of Glencoe Outdoor Centre (www.glencoeoutdoorcentre.org.uk/our-venue)
Logistical support by Girls on Hills.
In the evenings we can all cook, eat and socialise together over a wee dram and a log fire in the cosy lounge of the Glencoe Outdoor Centre!
CREDENTIALS
If you don't already know of Nicky Spinks then you need to watch this great film about her life and achievments! www.inov-8.com/blog/run-forvever-film-nicky-spinks/ Nicky is an Inov-8 ambassador and breast cancer survivor, with a long and impressive list of ultrarunning achievments. She is the record-holder for epic 100+ mile mountain round challenges like the Double Bob Graham (England) and Double Ramsay Round (Scotland). Last year she won the women's race at the Ultra Tour Mont Rosa (UTMR) and this year survived to tell the tale of her first attempt at the notorious Barkely Marathons, which is widley regarded to be the world's toughest ultra trail running race. Nicky was joint-last woman to retire from the event!
At Girls on Hills, our experienced local guides are Summer Mountain Leader qualified and/or Fell Running Association (FRA) accredited, with outdoor first aid and mountain rescue team experience in the Glencoe area.
This event comes to you with the support of Ellis Brigham Mountain Sports, Inov-8 and Bridgedale socks, as well as delivery partners Thryve Nutrition, Mountain Yoga Kinlochleven and Glencoe Holistics.
At Girls on Hills we pride ourselves on being 'approachable and relatable' so please do get in touch with any concerns or queries you might have now or nearer to the event.
We look forward to having some fun and sharing skills with other keen ultra trail runners.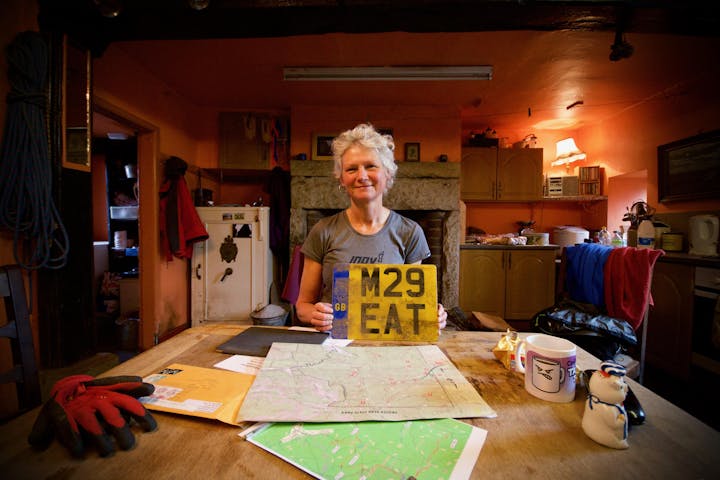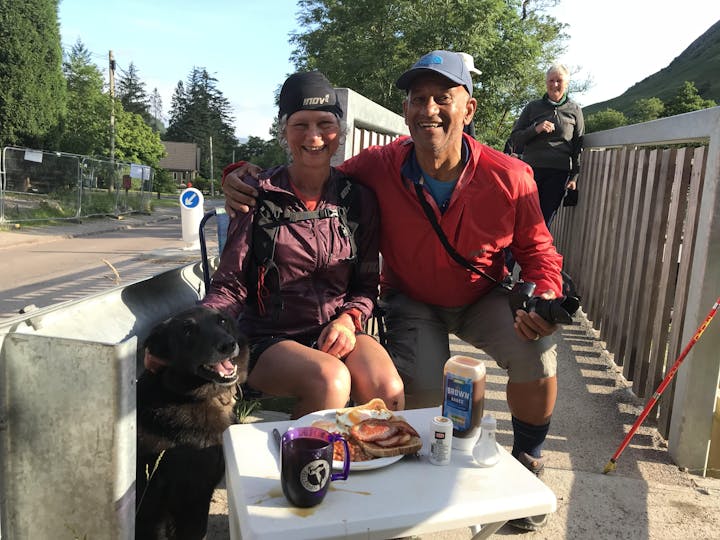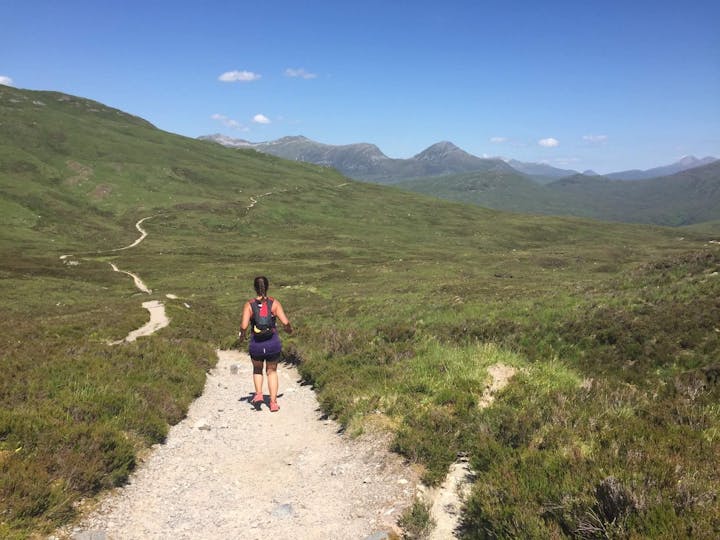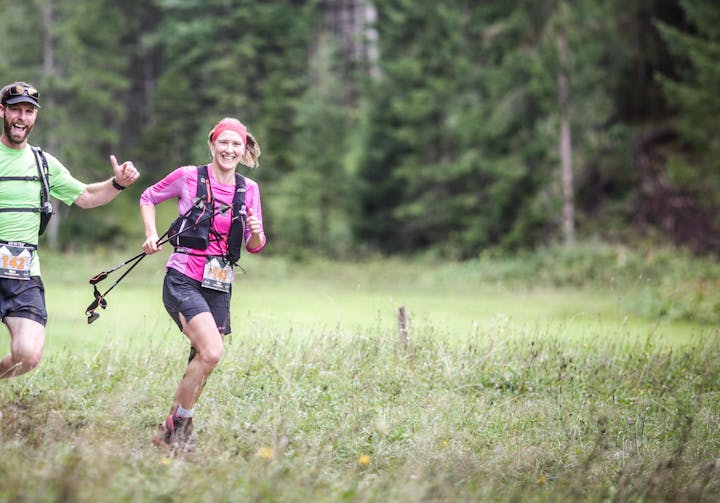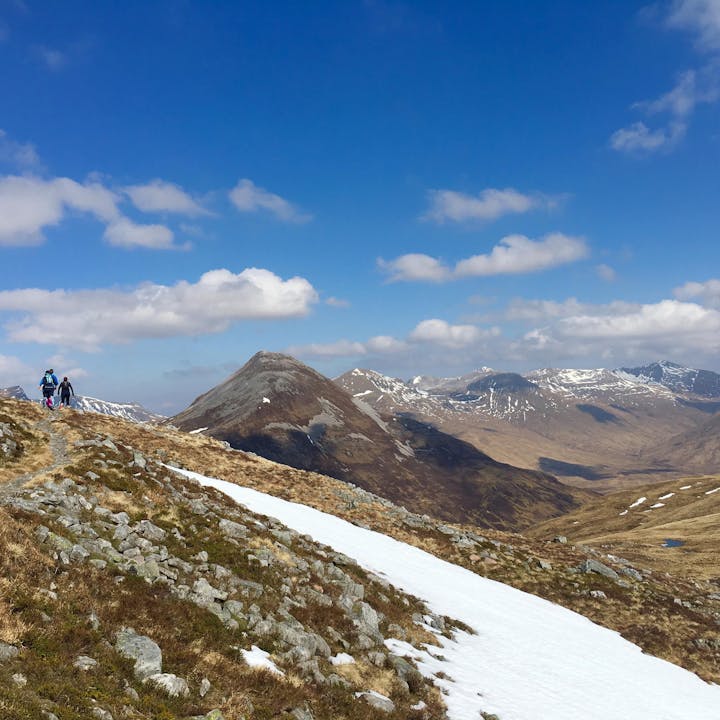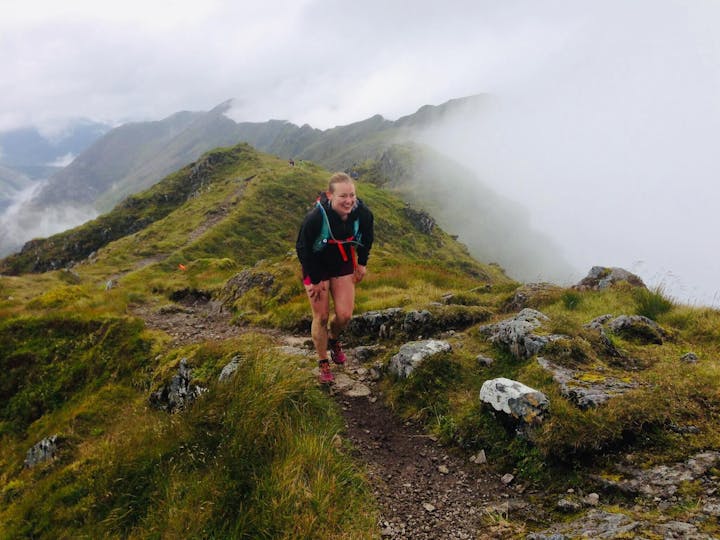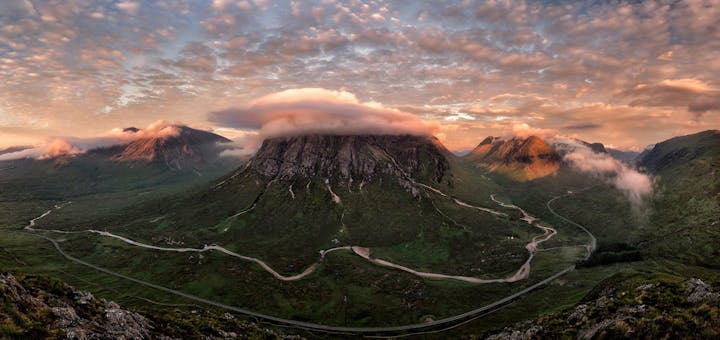 1) Nicky Spinks before the Barkley Marathons 2019 - credit Inov-8 and Summit Fever Media
2) Nicky Spinks with Charlie Ramsay following her Double-Bob Graham Round - credit Inov-8
3) Trail runner on the West Highland Way in Glencoe
4) Girls on Hills guide Keri Wallace on the 2018 Goretex Transalpine Run
5) Trail runners on the Salomon Ben Nevis Ultra route, Mamores
6) Girls on Hills guide Sarah Macdonald on the Salomon Glencoe Skyline event 2016
7) The stunning beauty of Glencoe, by John McSporran