Location
The Beacon Centre for Enterprise
Heol Aur
Dafen
Llanelli
SA14 8LQ
United Kingdom
Description
Join us at the Cloud Genius Training Club!

Are you looking to grow your business?
There are three major pillars that are the foundations of a strong business:
Cost-effective Marketing
Effective Financial Control
People/Systems
Do you have the knowledge and skills to move your business forward?
Most business owners understand that word of mouth is the best way to get new business, but how many people have a strategy for this? How would you like a steady flow of referrals to your business?
These are some of the questions addressed by Sarah Owen, our keynote speaker.
Featured Speaker's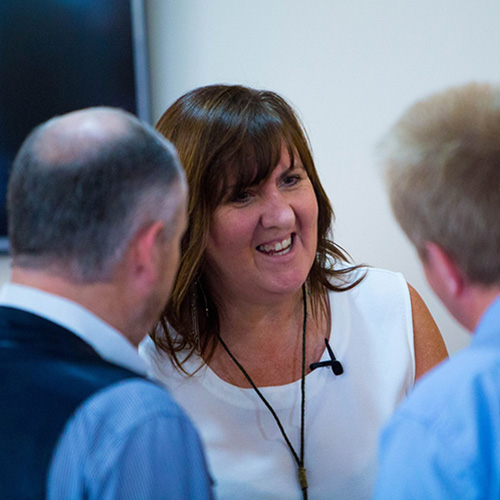 Sarah Owen is recognised as one of Europe's leading experts in the niche topic of Referral Marketing and uses DISC (the behavioural style tool used by millions of people every year) to help her clients to understand more about themselves and others to build strong, long lasting relationships that deliver profit to their businesses.
As a best-selling author, she's been embraced by thousands of professionals around the world for her in-depth knowledge of how to grow a business by referral. She is a sought after Speaker in Europe and America on this topic.
Sarah has worked for large international companies during her career and she has owned and run (and sold!) a successful national training and consulting business. She was even referred to the person who bought her last company!!
Andrew 'Duggie' Douglas is the marketing specialist at The Wave (radio station). He specialises making companies famous via Radio and digital using South West Wales most listened to radio stations. He will be talking to us about developing a brand.
Agenda
Introduction at 9am
9:15am Sarah Owen - One hour talk - concluding her course on referral marketing
Break for networking
11am Duggie from The Wave - The importance of your brand
Finish by noon.
The Training Club is for:
Business decision makers who are ready to grow their business - SME's, Owners, Start-ups and those wanting to take their business to the next level.
People looking to improve their business skills and meet like-minded business owners.
An opportunity to become part of a thriving Business Training Community, supported by industry sector experts - if we don't already have the best in our group then we will invite them to speak.
Over the coming months we will cover:
Building your business through referrals
Increasing profitability
Engaging positively with legal requirements
Having a website that grows your business
Getting to know your colleagues better to improve the way you work with them
Public speaking
Getting your business message out
Releasing the potential in the local economy
Membership
If you think that the Training Club could help your business flourish, ask about our membership packages. Not sure? then buy one of our 'one-off' tickets for an individual event.