Training Day: Confidence in the Truth

Saturday, 26 January 2013 from 08:45 to 16:30 (GMT)
Event Details

RZIM's Training Day in Sevenoaks is designed to give you a greater confidence in being able to communicate what you believe, as you endeavour to share your faith with seekers and sceptics alike.
In a world of questions and uncertainties, many of us want to communicate the gospel effectively but feel ill-equipped to do so. Can we really share our faith in a credible, relevant and meaningful way in our workplace, to our neighbours and with our family? And how we really help people with their heartfelt concerns and intellectual objections to the Christian faith?
Michael Ramsden will explore the whole area of 'Conversational evangelism' - how we can best share and defend our faith in society today, why the gospel really makes a difference, and how we can turn objections to the faith into opportunities to help people see the cross more clearly.
Book your place online
Location 
St Nicholas Church, Sevenoaks, Kent, TN13 1JA
Date 
Saturday 27th April 2013 – 9.00am to 3.30pm
£22.50 for Student/unwaged
Prices include lunch and refreshments
www.rzim.eu
events@rzim.eu
01865 302900
See our website for further information.
Michael Ramsden

Michael Ramsden is the Regional Director of RZIM for Europe, the Middle East and Africa and has been part of RZIM since its foundation in Europe in 1997. Michael is also joint Director of the Oxford Centre for Christian Apologetics and Lecturer in Christian Apologetics at Wycliffe Hall, Oxford.
Michael was brought up in the Middle East and later moved to England where he worked for the Lord Chancellor's department investing funds. While doing research in Law and Economics at Sheffield University, he taught Moral Philosophy and lectured for the International Seminar for Jurisprudence and Human Rights in Strasbourg. He has also been a Professor- in-Residence at the Wolfsberg Executive Institute in Switzerland. Michael has been invited to lecture in various settings including the White House in Washington DC and has in the past addressed leaders at NATO HQ in Brussels, Members of the European Parliament, as well as bankers and investment managers on the current global financial crisis. Michael is also involved in a number of initiatives to equip and train emerging leaders and evangelists throughout Europe, the Middle East and Africa. Michael lives in Oxford with his wife, Anne, and their three children.
---
Extra Information
Where are we?
St Nicholas Church, Sevenoaks, Kent, TN13 1JA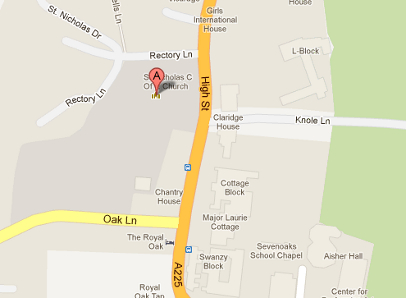 Getting to the venue
Sevenoaks is situated just outside the M25 (junction 5), half an hour south of London by train from Charing Cross.
St Nicholas Church is situated to the south of the town centre on London Road, opposite the entrances to Knole Park and Sevenoaks School and 1 mile from the railway station.
Car parking
There is parking at the Church but it is very limited. Please ensure you arrive in plenty of time or use one of the public car parks nearby. The nearest is just behind "The Stag Theatre" and is just a 5 minute walk from the church. Please consult this map to view the surrounding carparks.
Rail routes
Sevonoaks train station is 1 mile from the church. From the station turn right onto London Road (A224). After a 10/15 minute walk this road will merge onto the High Street (A225). Continue for 5 minutes and you will see the church on the right, just past Rectory Lane.
Please consult National Rail Enquires for train times and route planning.
Accessibility
There is temporary ramp access onto the premises. For persons unable to manage stairs, there is a toilet on the ground floor and lift access.
What to bring
We will supply all materials (pens, paper, etc.). We will also be hosting a book store where purchases can be made with cash, cheque or card payments.
Lunch
Lunch will be provided for all delegates
Terms and conditions
Click here to view RZIM's Terms and Conditons
When & Where
81 High Street
OX1 4BG Oxford
United Kingdom


Saturday, 26 January 2013 from 08:45 to 16:30 (GMT)
Add to my calendar
Training Day: Confidence in the Truth