Training for Hygienists and Therapists - Periodontal Plastic Surgery
Description
Periodontal plastic surgery
Do you see patients with recession/ sensitive teeth
Do you see patients who dislike their GUMMY SMILE OR UNEVEN GUM LINE?
Do you know how advise your patients on their options?
Join us for an evening where we will explain exactly how regenerative and plastic aesthetic procedures in periodontology can improve patients smile and solve their sensitivity issues.
Weds 24th April'19 Evening : 18:30 - 21:00 London
This session covers the methods used and benefits of perio plastic surgery. We will discuss how to explain to patients the process and the outcomes plus provide them sound advice and perhaps help solve their aesthetic problems. Our open discussion will include the techniques available and patient stories, before and after cases, which have really improve patient's smiles.

Learn how to talk around what can be done for sensitive recession defects and a gummy smile lines.

How to answer patients questions expansively?

Understand the types of periodontal plastic surgery

Indications for surgery

Case studies

Techniques for grafting
What is periodontal plastic surgery?
Cosmetic periodontal procedures are a predicable way to cover unsightly, sensitive or exposed root surfaces and will prevent future gum recession. There are patients who are unhappy with their appearance of short teeth with a low gum line Dr Ope can improve the way they look with a combination of periodontal procedures and perhaps a touch of cosmetic dentistry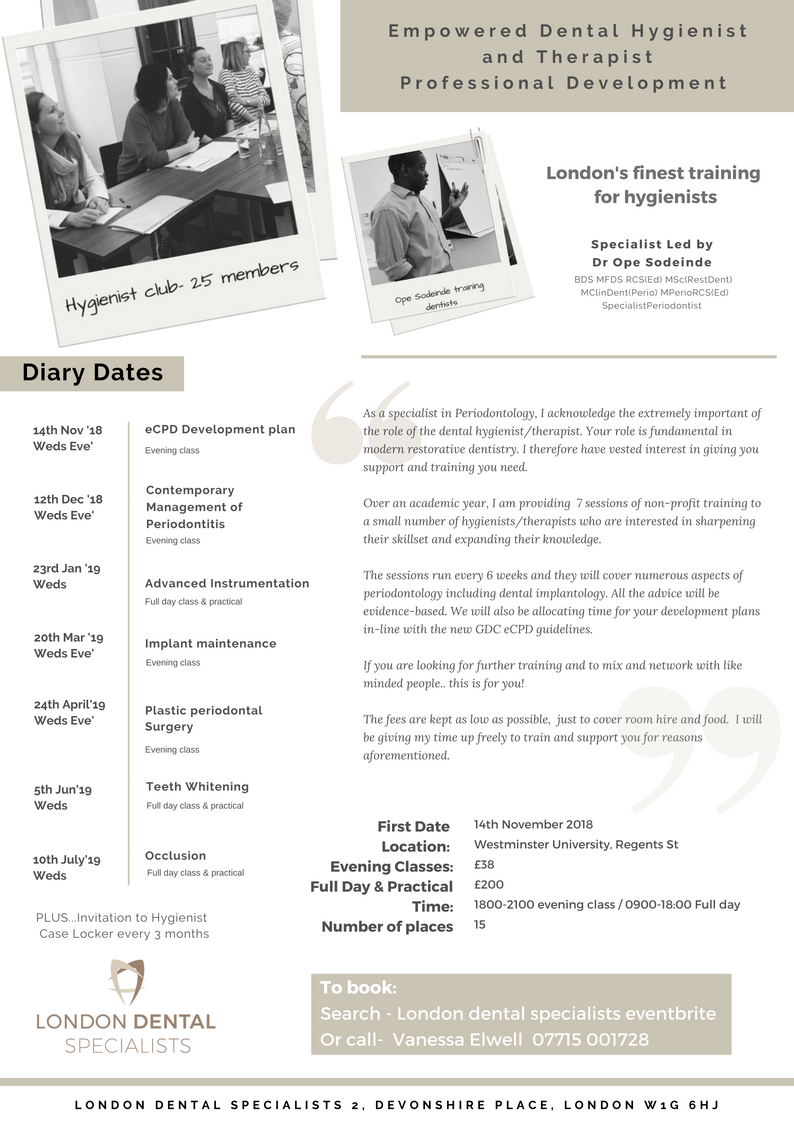 Your speaker : Dr Ope Sodeinde Specialist Periodontist at London Dental Specialists
Note: We welcome new members to all of our - suitable for GDC registered hygienists only