Description

Start creating more immersive, active and collaborative learning environments for your clients, as an activity within this training programme! Learn and apply what cognitive neuroscience actually has to say about the ways all humans naturally and normally learn. And make the knowledge stick!
Help your clients get into the flow of learning and acquire sustainable knowledge: Training from the BACK of the Room! makes it easy for you and your clients to experience the joy of learning – in a way that makes knowledge stick. Designing and delivering courses has never been more effective and fun – Accelerated Learning at its best!
You'll practice how to apply a proven, brain-friendly learning framework to your own ideas, your own topics, your own instructional designs. Best of all: you'll collaborate with people who are every bit as excited as you about practicing all that!
This training program has been created by Sharon L. Bowman, based on her best-selling books "Training from the BACK of the Room!" and "Using Brain Science to Make Training Stick".
We are proud to be the first to deliver it in several major cities of Germany –and now to be one of the first in the UK!– offering both English and German events covering the complete, original content.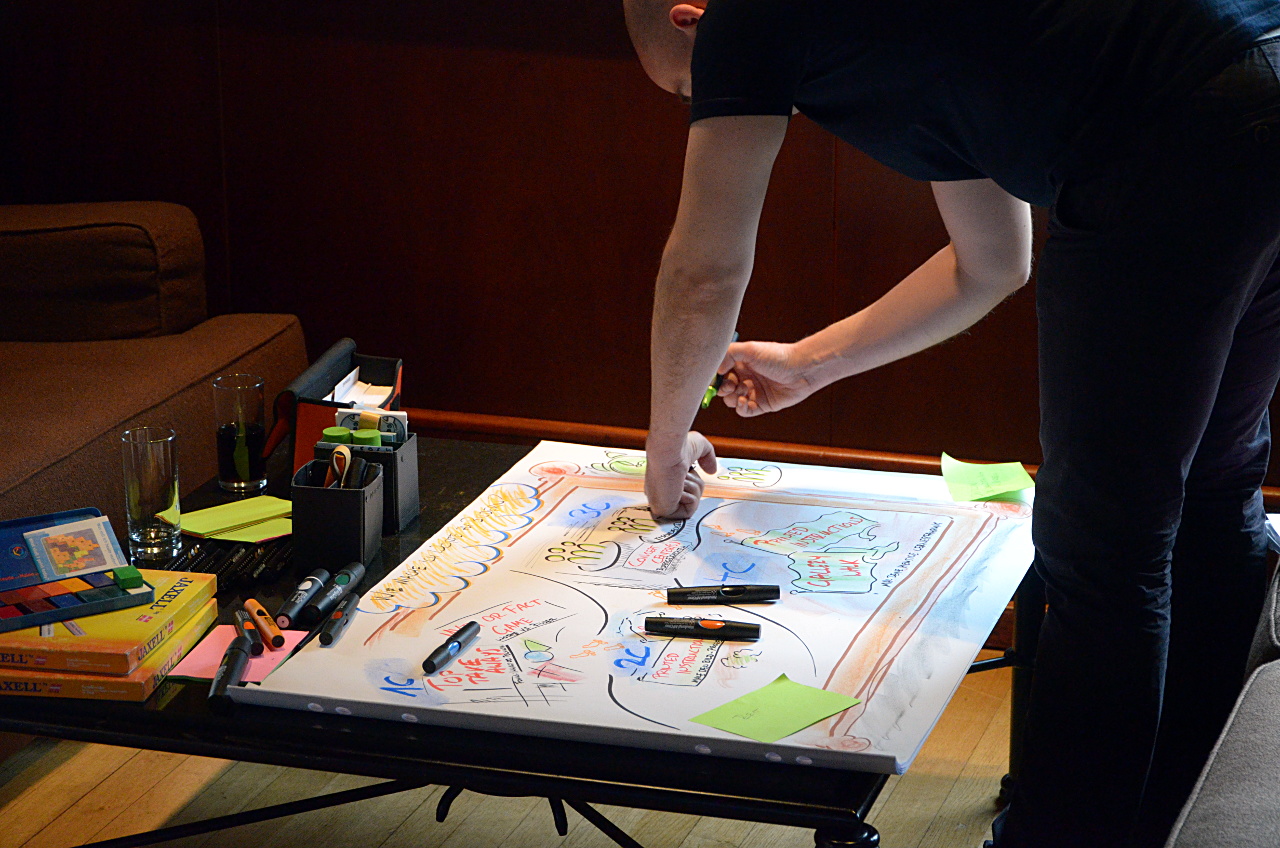 ---

Apply "The Six Trumps" in your designs – six learning principles based on current brain research that you can use in every setting: class room, one on one, eLearning, …

Make proficient use of the 4Cs-Model, a brain-friendly training design and delivery model for all of your topics
Increase attention, retention and engagement of learners with activities that engage the whole brain
Choose purposefully from your toolbag of adaptable activities the ones that are the perfect match to your context
Raise the bar and foster higher standards for instruction in your workplace, whether it's related to adult education, being an effective coach, teaching your colleagues in your role as Scrum Master or passing on cutting-edge knowledge in excitingly efficient and new ways!
---

A copy of the Sharon's newest book "Using Brain Science to Make Training Stick"

A copy of her best-selling book "Training from the BACK of the Room! 65 Ways to Step aside and let them Learn"
A copy of a 55-page workbook that is only available with this programme – a wonderful resource for use during and after the workshop
A choice of "brain activating tools" – inspiring training souvenirs, game prizes, and learning aids – that can be used in your own training programmes
A beautiful certificate of completion, not only suitable for framing: If you'd like to attend Sharon Bowman's Trainer Certification Course later, this certificate will be proof that you attended the prerequisite training
A Moleskine Cahier Large for taking and preserving your valuable notes and sketches. You prefer them to flabby writing pads, don't you?
A photo documentation of your training that will still make you smile, after years!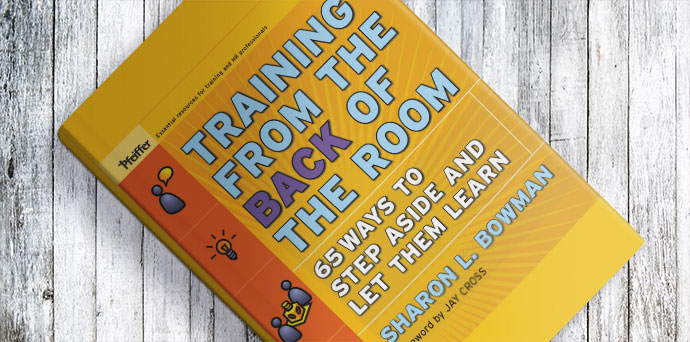 ---

"Why do we have goals? To make our eyes shine, that's all!" – Benjamin Zander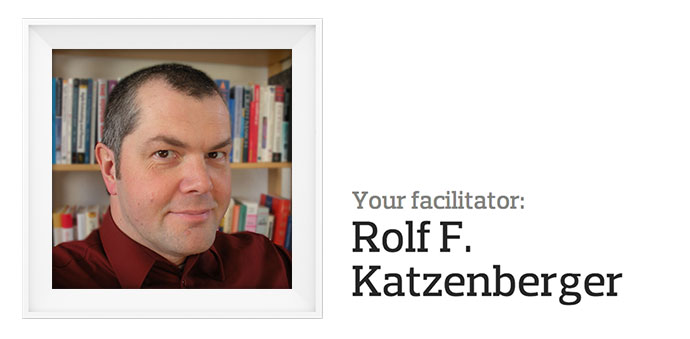 Your facilitator will be Rolf F. Katzenberger.
Whenever Rolf trains or coaches, he goes for shining eyes and he teams up with coaches and trainers who love to do the same. He gets rid of outdated standards that just don't cut it anymore. Insights, flow and learning depend on your courage!
That's what a "pragmatic" does – stay curious, avoid doctrine, use what really works, keep learning and adopting better ways. Rolf's passion has become his own mission: he's helping teams, coaches and companies to establish pragmatic teamwork and to build momentum.
Rolf's main areas of work, workshops and training, as of today:
Agility, beyond just software

Accelerated Learning, especially Training from the BACK of the Room!
The Art of Hosting (AoH), especially using Appreciative Inquiry (AI), World Café & Open Space
Solution Focus (SF) and Appreciative Inquiry (AI)
To find more about Rolf, visit his designated website to his Train-from-the-Back-of-the-Room courses at http://fromthebackoftheroom.training/.
---

We believe in giving back to the community, either through our voluntering work or by supporting charitable organisations with a purpose. Resource for London is where the voluntary sector comes to work, meet and exhibit.
It is owned by Trust for London and managed by the Ethical Property Company. All proceeds stay within the voluntary sector and are used to support groups tackling inequality in London while the centre is managed to high environmental standards.

---

What are my transport/parking options getting to the event?
By London Underground
Take the Piccadilly line to Holloway Road station. On leaving the station, turn left and walk that direction, under the railway bridge for five minutes. Resource for London in on the opposite side of the road and can be reached by using the pedestrian crossing.
By Bus
Buses 4, 17, 29, 43, 153, 253, 259, 271, 279 and X43 stop within a short walk of Resource for London. Also there are mobility buses available in the area, these are numbered 920, 921, 923 and 927.
Bear in mind that the workshop has particular spatial requirements in order to provide an immersive experience to all delegates. Such requirements often present challenges to meet due to limited availability of specific rooms. We reserve the right to modify the venue to make sure that there is no compromise in your experience. Our carefully selected venues are located in Zones 1 and 2.
Can I contact the organiser with any questions?
Absolutely! We would be more than happy to respond to any enquiries related to the workshop. Feel free to get in touch with our very friendly team at hello@rdrzr.com or at +44 800 011 9199 // +44 7780 782206. For Training-from-the-Back-of-the-Room questions, drop an email to Rolf at rolf.katzenberger@gmx.net or contact him via Twitter @PragmTeams for a swift response from the expert himself!

Is my registration/ticket transferrable/amendable?
We offer a full refund up to 10 (ten) working days before the course. If you are in a situation that you can't attend this specific course and notify us more than 10 working days before the event, you may transfer your registration to a friend or colleague.
Is it possible that the course is cancelled due to lack of registrations?
We reserve the right to cancel the course, even on a short term notice –at least 5 working days before the course starts– due to insufficient registrations. In that case 100% of the registration fee will be refunded. Unfortunately, we cannot cover any other costs incurred.
---