About this Event
This free, one-day training gives you insight into machine learning, its meaningful applications to your business within the media industry (morning session) and an opportunity to gain practical experience from our experts (afternoon session).
Who we are:
At Datatonic, we design cutting-edge machine learning models that help companies understand customers, deliver tailored product recommendations, and predict behaviour across platforms, devices and geographies. Our specialities include recommender systems, propensity scoring, NLP, predictive analytics, IoT data analysis, hyper-segmentation, and geospatial analysis. As Google Cloud's Services Partner of the Year, specialised in Machine Learning and Marketing Analytics, we have delivered innovative solutions for many of Google's top clients.
Why you should join:
Being the industry of human communication, it is natural that there is a large amount of data in the world of media. Not just in the content itself, but in its creation, transmission, and collection, and consumption too.
These masses of data can be organised and interpreted in a way that leads to better understanding of people. However, the tools needed to get the most out of data like this can often be complex, particularly when the data are in images, audio, or text instead of tables.
Machine learning can boost the Media industry by:
1.) Personalisation and recommendation
2.) Content moderation
3.) Optimised scheduling
4.) Metadata enrichment
For example, content metadata allows for better organisation and search – machine intelligence can automatically enrich this by recognising objects in images, topics in text, and words in audio.
This training aims to help you identify impactful use cases for your business and make the practice of machine learning less daunting to empower you to deploy cutting-edge solutions in your business.
Expected audience:
This training is designed for professionals in the media industry who want to understand the impact machine learning can have on their business and want to get more comfortable with the technology behind it.
This is a great training to attend for a 'big picture' of how machine learning can be applied in the media data landscape. Participants will leave with an understanding of the tools at their disposal, and an appreciation of how to map existing methods onto their problems.
Prerequisites for the workshops:
1.) Ability to bring your own laptop
2.) Being comfortable with Python is helpful
If you feel that the workshops are less relevant to you, you are welcome to stay for the morning sessions only.
If you're unsure whether the workshops are for you, please feel free to drop us an email at events@datatonic.com.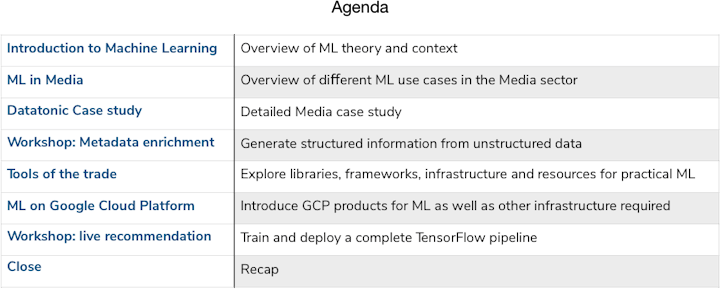 Speaker:
Oliver Gindele - Head of Machine Learning, Datatonic