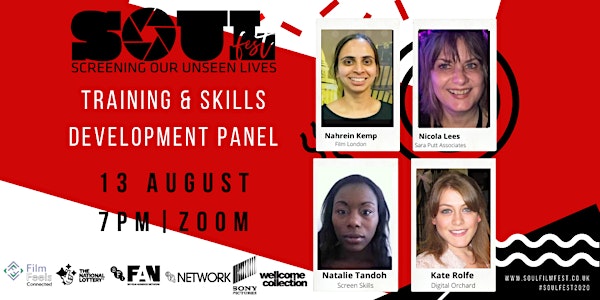 Training & Skills Development Panel presented by S.O.U.L Film Festival
A panel of experts to share the best schemes, training and development opportunities available in the TV & Film industry.
About this event
It is important that you know your craft inside and out when seeking a career in the film industry. Understand your skill level and be prepared to continuously learn and adapt as technologies within the industry evolve. However, not everyone has the means to get formal training via university or specific film schools. Schemes, internships, and work experience opportunities are out there but it is often hard to know where to look and more importantly which ones will put you in the right position to find work and get hired.
S.O.U.L Film Festival has brought together a panel of experts to help you navigate this.
Nahrein Kemp - Film London - https://filmlondon.org.uk/
Nicola Lees - Sara Putt Associates - https://saraputt.co.uk/
Natalie Tandoh - Screen Skills - https://www.screenskills.com/
Kate Rolfe - Digital Orchard - https://digitalorchardgroup.com/
This dicusssion will be delivered via Zoom, joining details will be shared 48 hours before the seminar via email.