Description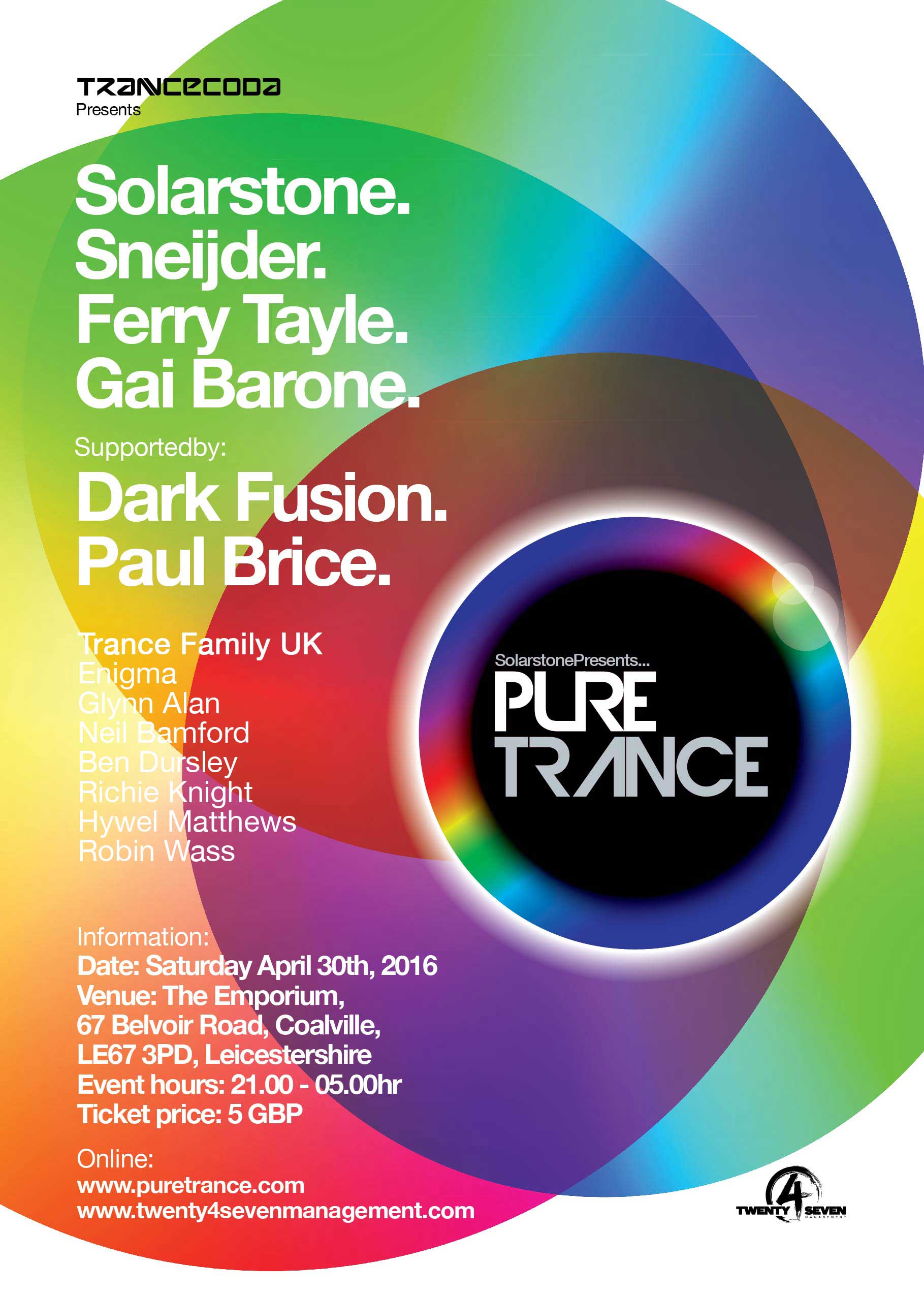 TRANCECODA & SOLARSTONE PRESENTS PURE TRANCE
£10 TICKET OFFER (+bf) / LIMITED OFFER
Buy tickets from http://bit.ly/tcpuretrance
---
The Purest Trance Returns Home...
Trancecoda & Solarstone Presents Pure Trance
Saturday 30th April plays host to 2 of the most cutting edge brands in the trance scene, teaming up to fill the legendary dance floors of one of the UKs defining clubs. Trancecoda shares the limelight with Pure Trance to create a forward thinking event, bringing you the newest and purest trance ever to have kissed your ears.
Leading from the front, we have trance icon, Solarstone. This last year has been phenomenal for the 'Seven Cities' mastermind, with the release of Pure Trance vol. 4 taking place as the jewel in his crown. The Pure Trance maestro is joined by a group of the most sought after artists on the planet. We have Sneijder, a DJ/producer who has left no stone left unturned this year including the massive release 'Love Of My Control' alongside Christina Novelli. Joining him we have the uplift wizard, Ferry Tayle and progressive master Gai Barone. Supporting these incredible artists we also have our residents Dark Fusion and Paul Brice.
The Purest of trance returns home to the Emporium in Coalville, and as the lasers cut through the myst and light up your faces, we will be standing alongside you in what is set to be a defining moment in 2016's clubbing calendar.
We give to you, Trancecoda & Solarstone Presents Pure Trance @ The Emporium…
---
Trancecoda team up with Pure Trance to delivering a night of Pure Trance music for fans worldwide all for a just £5 per ticket (when 4 purchased).
Limited quantity and time limit on the crazy priced tickets so dont think twice!
Room 1: TRANCECODA & SOLARSTONE PRES. PURE TRANCE
Solarstone
Sneijder
Ferry Tayle
Gai Barone
Dark Fusion
Paul Brice
Room 2: TRANCE FAMILY UK
Enigma
Glynn Alan
Neil Bamford
Ben Dursley
Richie Knight
Hywel Matthews
Robin Wass
---
Buy tickets from http://bit.ly/tcpuretrance
£5 & £10 Tickets Now Completely Sold Out
£15 Tickets Now on Sale
VIP - Running low
---
Last Entry 1am.
Private Coaches (Please contact us to add your details)
Trains: Closest train stations are Loughborough & Leicester.
Cars: Free car park at the rear of the venue.