Description
A Trans Imagination : Images in Psychotherapy and Everyday Life - Public Talk with Allan Frater
A talk in which we discover what it means to be imaginative and how to take practical steps that cultivate imagining in our everyday lives and work.
Imagination has come to be assumed as an inner-world, a personal and subjective realm of images disconnected from the surrounding world.

The result is isolated fantasy lives and an ever-rising tide of mental suffering. But it does not need to be like this. Imagination is far more than we have imagined.

The talk will unpick limiting notions of imagining based in out-dated psychological models. Image-friendly alternatives rooted in a transpersonal perspective will be offered.
Who is this for?
Allan's response? "We're all imagining all the time, so the talk is for everyone!"
Relevant for anyone interested in imagination and creativity and applying them with a transpersonal twist. The psychotherapy aspect will be of interest to therapists, counsellors and coaches - especially those from image-based therapies such as psychosynthesis, gestalt, psychodrama, art therapy, play therapy etc.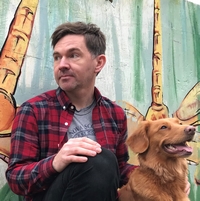 Trainer:
Allan Frater has been a core trainer at the Psychosynthesis Trust in London since 2011 and teaches on the Essentials, Foundation and Counselling Diploma programmes. He is currently writing a book for Transpersonal Press, provisionally titled: 'Waking Dreams: Imagination in Psychotherapy and Everyday Life'. In his teaching and psychotherapy practice he is interested in the meeting place between imagination, ecology and culture. His MA dissertation 'The Imagination Imagined', explored the assumptions towards imagination in therapeutic theory and how different conceptions qualitatively shape imaginative experience. Find out more: wildimagination.uk
Qualifications:
MA Psychosynthesis Psychotherapy (2011)

PGDip Psychosynthesis Counselling (2007)

MBACP(Accred)

UKCP(reg)
Event content:
Attendees will leave with an understanding of:
The everyday assumptions and psychological theories that limit imagining

A phenomenological description of imagination

An embodied imagination

Why contact with images is healing and transformative in itself

The distinction between thinking and imagining

How to emphasise the process of imagining and avoid turning images into ideas

How the activity of images in therapy reflects that in everyday life and vice-versa
This event will include time for a Q&A session.
The talk draws upon and develops ideas from many sources. The phenomenological approach to imagination is influenced by the cultural ecologist, David Abram. The transpersonal critique of modern psychology is drawn from Jorge N. Ferrer, Jean Hardy and Roberto Assagioli. The image-centric approach owes much to the post-Jungians: James Hillman, Mary Watkins, Robert Bosnak and Russell Lockhart. The anthropological literature has also been important, in particular the sense-based animistic imagination of pre-modern peoples: Hugh Brody, Sean Kane and Keith Basso.
Allan will be developing the presentation in his talk further in a workshop March 2020 entitled, 'Waking Dreams: Imagination in Psychotherapy and Everyday Life.' Click here to find out more.
------
CPD Embedding Professional Practice -
The Psychosynthesis Trust team have created a new programme to support Continuing Professional Development (CPD). The ongoing programme of events will offer a variety of talks, workshops and seminars on different topic areas. All events will provide CPD hours to support professional learning. Deepen your knowledge, therapy practice and your connection with others in the field at our new CPD: Embedding Professional Practice programme.
We deeply value the importance of mindful boundaries between practitioners and clients in this sector. To ensure those boundaries are held as you see fit, where appropriate, please check with your colleagues and or clients who may also consider attending this event.
Organiser of Trans Imagination - CPD Public Talk with Allan Frater
The Psychosynthesis Trust is a leading training organisation in psychosynthesis, offering transformative learning experiences (personal development courses and professional training) and counselling to those who wish to learn more about themselves personally and/or explore their options professionally.
We are a small educational charity that has a rich 50- year history of enabling human potential in the UK. Our founders were pioneering leaders in education, psychology, science and spirituality and we continue to work at that nexus today. We're proud of our heritage and draw on the wisdom of our founders and all those who have contributed to the organisation over the years.
The Trust has an intention of playing an important role in one of the most exciting times in history – helping people to finding meaning, purpose, wellbeing and a sense of place in an increasingly complex world. We believe that our work will help to enable an expanded sense of human consciousness in individuals and in society.
Our work is based on psychosynthesis – a transpersonal psychological model and approach that integrates the spiritual aspect of the human experience.