Location
The Field
385 Queen's Road
London
SE14 5HD
United Kingdom
Join us at The Field to paint banners before travelling together for London Trans+ Pride!
About this event
This week, The Field's Autonomous Youth Club will be hosting a pre-Trans+ Pride meet up before travelling to demonstrate together!
We will be meeting at 9:30am sharp to give us enough time to paint before leaving at 10:30, travelling via public transport and aiming to get to Wellington Arch at 11:30, which is where the demonstration will begin. You are then welcome to march with us, staying safe as a group and celebrating Trans+ Pride.
When we arrive at Wellington Arch, we will be:
Placard painting
Pronoun badge making
Face painting
What you need to bring:
A topped up Oyster Card
A bottle of water
A packed lunch
Any medication that you might need (inhaler, epipen, painkillers etc)
What you need to know:
This is a youth club, which means that we are open to young people aged 14-25. For safety reasons, unless you are a known and trusted adult of the group, we are limiting the space to young people and existing volunteers only.
This event is open to all members of the Trans+ community, as well as allies who wish to join. If you are not an ally of the community then this event is not for you.
If you are under 18 years old, we usually ask for confirmation over the phone that your parents/carers are aware that you are at The Field. However, if for whatever reason you do not want them to know that you are attending then we can accommodate that.
We practice sober solidarity, which means that the youth club is an alcohol and drug free zone. This helps to protect members who are practicing sobriety or who are under the legal age of drinking.
You do not need to stay with us at the demonstration, but if you choose to demonstrate with another group then please just let us know so we can keep track of numbers. This is a large public event, so if you are staying with us then remember that it is primarily your responsibility to stay safe and stay with the group. We will have a WhatsApp group chat and designated phone number, should anyone get lost.
As well as being a celebration of the Trans+ community, Trans+ Pride is also a protest. In the past, it has been very peaceful and is more than likely to be peaceful this year as well. However, we will be offering advice on how to protest safely, including knowing your rights.
If you can't make it to The Field but would like to demonstrate with us, the location is here and check out our Instagram for updates on exactly where we are.
Any questions, please drop us an email at nomadicyouthlondon@gmail.com or DM us on Instagram @Nomadic.Youth.LDN
FAQs below!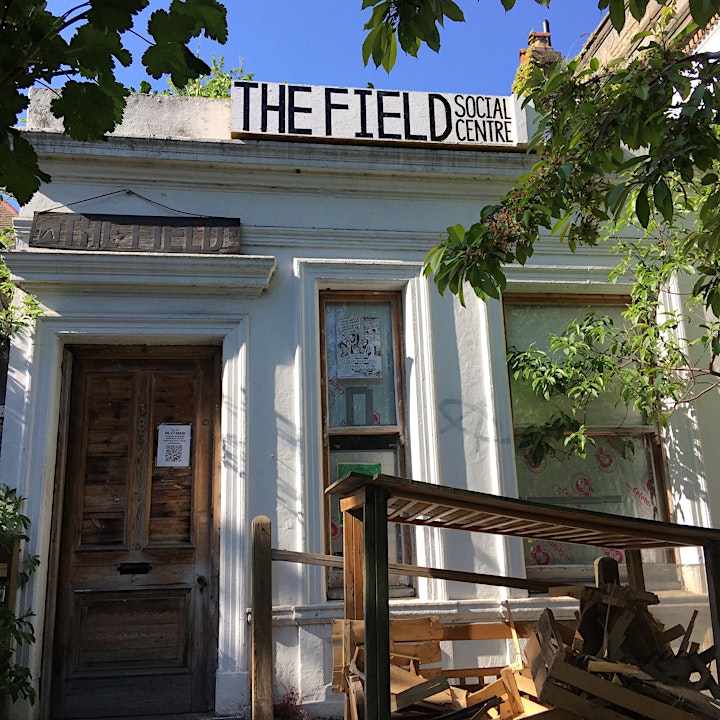 FAQs
Who is organising this?
The Field is a radical space in New Cross, South East London, that hosts a variety of community events and services, including gardening, community dinners and music, as well housing the Pie N Mash mutual aid food distribution. We aim to organise all community projects with the values of democracy, mutual aid and solidarity whilst actively challenging hierarchy and oppression.
The Field and Nomadic Youth are hoping to work with London's youth community to create a weekly club for young people aged 14+. Following The Field's values, we aim to start this project by working directly with young people straight away, and so we are inviting young people to join us for workshops and chat about their ideas for the youth club.
The Field Website / Nomadic Youth Instagram
Where is The Field?
The Field can be found at 385 Queens Road, New Cross, SE14 5HD. The nearest TFL stations are New Cross Gate and Queen's Road Peckham, and it is served by several busses. There is no parking onsite but free parking is usually available opposite on Erlanger Road. Bicycles can be left in the back garden.
What is an "autonomous youth club"?
This is something that we hope to work out collectively, but to give a brief idea on "autonomy" in this context, it means operating without the control of the establishment, meaning the state (government, schools, police etc.) and the market (corporations, businesses, capitalists etc.) Instead, we are exploring the practice of anti-oppressive youth work in a club that is shared and organised by the community, including young people themselves, based on solidarity, not charity.
Do I need parental/carer permission?
If you are under 18 years old, we normally request confirmation from parents/carers that they are aware of your involvement and understand your choice to participate, as well as requesting your personal consent to become involved. For your first visit, we would normally like to obtain verbal permission over the phone, unless your parent/carer wants to drop you off or even get involved. We will then give you a short consent form to be signed for your next visit. However, if you want to attend this event for Trans Pride and do not want your parents or carers to know that you are participating, we will absolutely respect this choice.
Can I just turn up?
Yes, of course, but ideally, you would sign up here first so we know who to expect. If you sign up and realise last minute that you can't make it, or just don't fancy it any more then that's fine.
Can I bring a friend?
Yes; ideally your friend would sign up here as well but if not, please let us know when you arrive that they haven't signed up yet.
Will it be safe?
Yes, safety is our number one priority. The event will be planned and facilitated by experienced community workers, youth workers, teachers and other safeguarding trained adults. All activities will be supervised by at least two DBS-checked adults and will be thoroughly risk assessed.
Will it be accessible?
The Field is accessible via a ramp at the front and the toilet is step free, although it doesn't have a handrail. The facilitators will be very keen to ensure that inclusion needs are met as best as possible, so please feel free to let us know before if there's anything we can do.
Will there be food/drink?
We love sharing food at The Field, so if you would like to bring some vegan/vegetarian food or drink to the meeting then this would be very much appreciated. If you are preparing some food in advance (e.g. a salad), please bring a list of ingredients with you for people with allergies. If you are unable to bring any food/drink then no worries at all! Note: This should be obvious, but alcoholic drinks are not allowed.
IMPORTANT: Research
This project will also be part of a Goldsmiths College MA research project for Applied Anthropology with Community and Youth Work, exploring the practice of grassroots youth work in a non-hierarchical and autonomous space. As participation in this youth club may involve you also participating in the research, informed consent may be required from participants. There will be an information sheet available on the day so you understand the project in more detail.
Contact Details
Call: 07931962878 / Email: nomadicyouthlondon@gmail.com