Transdisciplinary Perspectives on Practitioner Research
Symposium: The Transdisciplinary Practitioner | March 15th - 16th 2021
About this Event
Exploring the rich texture and depth of the transdisciplinary imagination as it is practised by students and alumni of the DProf (Transdisciplinary Practice) at Middlesex University.
You are invited to participate in a two-day programme of workshops and open dialogue about the transdisciplinary nature of professional practice and how it can be harnessed through doctoral research. Over two days you will have the opportunity to engage with the perspectives, approaches and work of current students, alumni, guests and staff. This is aimed at the inquiring practitioner in fields where it is imperative to challenge commonly held assumptions about ways of working. The two days will expose current students to the goals, methods and impacts that have characterised past and current DProf projects; it will present to academics creative ways of researching practice; and it will interest professionals who want to expand the ways they think about their own present and future work. The two key themes of the programme are outlined below.
The event will take place online. It is free to attend, but registration is required.
----
Day One: Becoming Transdisciplinary
Monday, March 15th, 14:00-18:00 (GMT)
14:00 – 14:10 Welcome. Kate Maguire
14:10 – 14:40 Opening. Professor Nic Beech, Vice-Chancellor, Paul Gibbs
14:40 – 15:30 Becoming Transdisciplinary. Embracing complexity and exploring the attributes and skills of transdisciplinary practice.
Host: David Adams with, Tamer Ali, Jehan Al Fanah, Vincente Goes, Janette Nhangaba, Kirsty Reynolds and Sarah Bell
15:30 – 16:20 Pathways through Transdisciplinary Research. Changing practice through participatory, Transdisciplinary inquiry
Host: Agi Ryder with, Malti Varshney and Alan Wheeler
16:20 – 17:10 Bringing it Home. The impact of transdisciplinary strategies in reimagining and changing communities and organisations
Host: Nico Pizzolato with Kathryn Downing, Richard Pybusand Alastair Wyllie
17:10 – 18:00 Open Forum. Gathering creative ideas in conversation with the audience
Host: Dr Jane Riddiford
----
Day Two: Radical Creativity
Tuesday, March 16th, 10:00-14:30 (GMT)
10.00 -10.30 Welcome and Framing the Day. Professor Carole-Anne Upton and Kate Maguire
10.30 -11.30 Becoming radically creative in traditional structures. Meet, hear and chat with professionals currently in the programme
Host: Kate Maguire with, Miguel Toribio-Mateas, Zandile Nkhata, William deMarco
11.30 -12.30 The quiet strategies of those who dare to imagine. Find out what happened next from three of our alumni
Host: Dox Kyriacou with, Andrew Atter, Angela Herbert MBE and Wayne Mullen
12.30 -13.30 Performing together. See, hear and chat with creatives who use academic learning creatively
Host: Brian Sutton with, Noel Dennis, Vida Midgelow and Chris Heimann
13.30 - 14.30 Open Forum. Gathering creative ideas in conversation with the audience
Host: Nadia Arouri
----
Speaker biographies day 1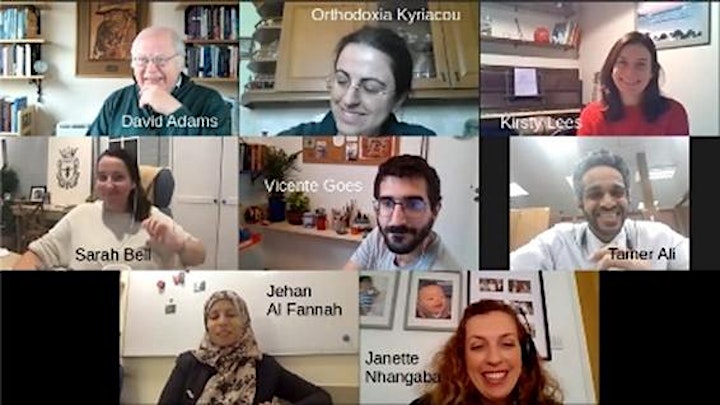 Tamer Ali, Kuwait, HR management, "I implement change and enhance performance on an individual and organisational level"
Sarah Bell, Australia, Cofounder at Aire Software. Mother of robot RiTA and 4 humans. Student. Teacher. Thinker. Writer. "I help organisations and leaders to optimise chaos"
Jehan Al Fannah, Qatar, "I activate talent by turning human potential into growth and performance opportunity"
Vincente Goes, Brazil, therapist and organizational consultant, "I go for the core of things to activate change & integration"
Janette Nhangaba, UK, higher education, "I make things better with others, for others"
Kirsty Reynolds, UK, "Executive and resilience coach, supporting working mothers in fulfilling their professional ambitions without compromising their wellbeing."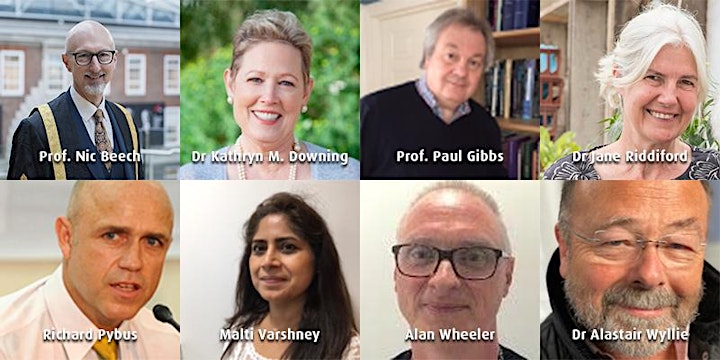 Prof. Nic Beech Vice-Chancellor, Middlesex University
Dr Kathryn M. Downing Coaching supervisor, executive coach, author and speaker who has conducted research within North America on reflective practice in virtual small group supervision.
Prof. Paul Gibbs Emeritus Professor Gibbs has lectured on Transdisciplinarity in Europe, Australia, China and the Americas and has held professorships and fellowships in Hong Kong, Sydney Texas and the Caucasus. He has published four books and on the topic and is intentionally acknowledged as a philosopher of transdisciplinarity.
Dr Jane Riddiford Jane co-founded Global Generation in 2004. She has more than 25 years of experience in delivering environmental, arts & vocational training projects.
Richard Pybus Three-time Cricket World Cup coach director and designer of high-performance systems for organisations.
Malti Varshney Public Health expert and Director of Clinical Networks and Senate in London. She provides leadership in developing and delivering a system-level clinical strategy for key long-term conditions.
Alan Wheeler DProf Student and Liasion Librarian for Law, Politics and Science at Middlesex University, Alan is currently exploring how Lego(R) Serious Play(R) can be used to explore the soft skills traditionally associated with learning gain alongside undergraduate students
Dr Alastair Wyllie A performative bricoleur, someone who turns up, makes up and makes do with whatever connects to his coachees, in his role as Executive and Team Coach, Facilitator of leadership and organisation development, a Coaching and OD Supervisor, and Action Researcher.
-----
Speaker biographies day 2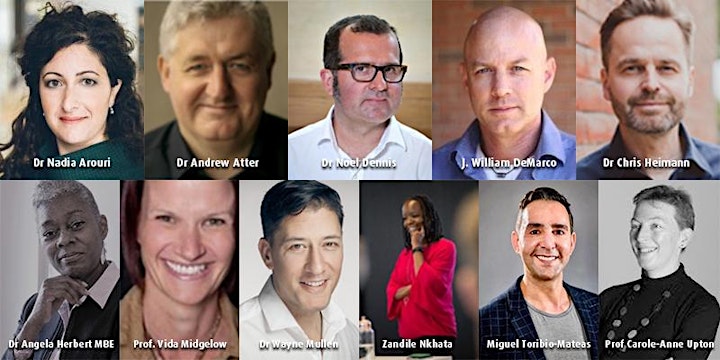 Dr Nadia Arouri, A musician, dancer, choreographer and artistic director, a 'creative global citizen', she has had a long career in performance, empowering young people within challenging social and political contexts. She currently designs and runs leadership training and development in Vienna for business professionals aligning goals with values, agency and vision.
Dr Andrew Atter A board consultant, executive coach and founder of Pivomo, an e-learning platform. His interests include leadership, innovation and entrepreneurship.
Dr Noel Dennis Associate Dean (Marketing & Recruitment), a professional jazz musician and founder and former co-editor of Arts and the Market. He explores the dynamics of jazz improvisation and its relevance to organizations.
J. William (Bill) DeMarco Former Col, USAF, serves as the Chair of the Leadership Department and Professor of Leadership Studies at the US Air Force's Air Command and Staff College (ACSC) at Maxwell AFB, Alabama. His Leadership and Command experiences include command at the squadron, group, and region level.
Dr Chris Heimann Chris works between the disciplines of theatre making, improvisation teaching and leadership + organisational development. He leads the Improvisation programme at the Royal Academy of Dramatic Art (RADA) and is the founder of Spacecraft Ltd (www.spacecraft.london)
Dr Angela Herbert MBE Community ambassador specialising in support for people of African Heritage; Chair's the Violent Crime Prevention Board and the Brent Police Independent Advisory Group. Director of IOTC-Solutions and Co-director of Innovate for Growth CIC. She was awarded an MBE in 2008, in recognition of her services to the Prison Service and crime prevention.
Prof. Vida Midgelow Vida is a dance artist-academic who is committed to enhancing creativity, developing new modes of choreographic practice and expanded modes of articulation.
Dr Wayne Mullen, visiting professor Chief People Officer at Quartz Enterprises and holds a Doctorate in Leadership and Organisational Development and a Visiting Professor of Middlesex University
Zandile Nkhata Belonging, Inclusion and Diversity (BID) Lead at Investec Bank plc and Investec Wealth and Investment. Works closely with the executive, business and functional leadership and employees across the organisation to provide thought leadership on BID strategy.
Miguel Toribio-Mateas Systems-thinking entrepreneurial practitioner with roles in both industry and academia. He has a background in new product development in health technology, from science databases to microbiome tests and nutraceuticals.
Professor Carole-Anne Upton Deputy Vice -Chancellor for Research Knowledge Exchange and Engagement
Organisers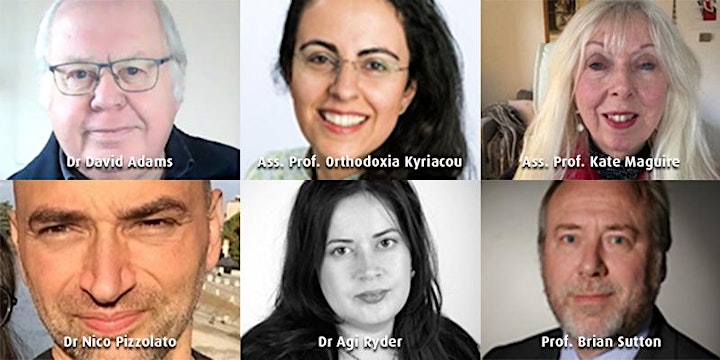 Dr David Adams Programme Lead for the DProf Transdisciplinary Practice (Part One) at Middlesex, co-lead on the MSc Transdisciplinary Practice, and Director of Studies for doctoral candidates undertaking transdisciplinary research into their professional practice.
Ass. Prof. Orthodoxia Kyriacou Associate Professor in Accounting at the Business School; part of the DProf Transdisciplinary team; in her research she explores issues behind the seemingly 'rational' accounting numbers.
Ass. Prof. Kate Maguire Head of Doctor of Professional Studies. With a background is in Middle East anthropology; in clinical practice with Medecins Sans Frontieres, the NHS and third sector; in government projects and in journalism and broadcasting at the BBC. She has found a place of belonging at this university where strategic values and individual values are increasingly coming into alignment about what matters.
Dr Nico Pizzolato Senior Lecturer in Global Labour Studies; DProf Research Projects Leader; Co-convenor Business School PhD Training.
Dr Agi Ryder Senior Lecturer in the Department of Education. She is Programme Leader of the PGCert HE and has a special interest in working with transdisciplinary practitioners.
Prof. Brian Sutton Brian is the director of studies for 15 DProf students and has 6 completions in the last 2 years. He is co-programme director for the MSc in Transdisciplinary Practice.
If you have any questions regarding this event, please contact Dr Nico Pizzolato at N.Pizzolato@mdx.ac.uk or Prof. Orthodoxia Kyriacou at O.Kyriacou@mdx.ac.uk