Masterclass: Transform My Prayer - How to achieve consistency, focus and tranquility in your Salat as a busy Muslim professional
About this event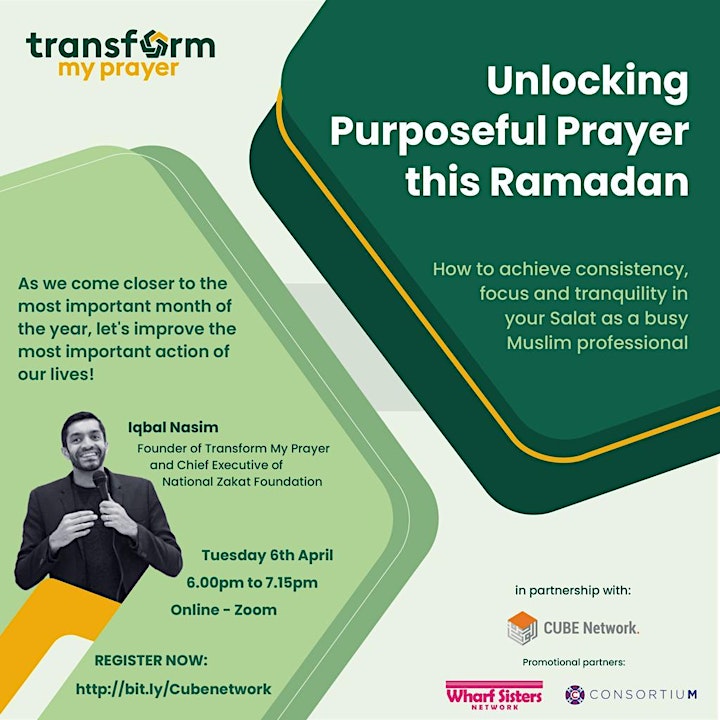 CUBE Network are delighted to invite you to our Masterclass 'Transform My Prayer - Unlocking Purposeful Prayer This Ramadan', delivered by Iqbal Nasim MBE.
As the most important month of the year draws closer, join us for an exclusive online Masterclass to help you improve the most important action of your life. The discussion is on how to achieve consistency, focus and tranquility in your Salat as a busy Muslim professional.
You Will Learn:
• The main reason why our Salat often suffers from a lack of regularity and quality.
• The core principles to help you unlock a truly purposeful prayer.
• Practical tips that you can implement for an immediate improvement in your Salat.
Discussion Includes:
• Does your Salat run like clockwork?
• Is it the best thing about your day?
• Is it the source of perspective, energy, peace and confidence?
• Is praying on time difficult with your stressful work life and numerous commitments?
• Is it hard to concentrate and have a truly meaningful experience?
• Do you feel that your Salat can be a whole lot better, a lot more purposeful?
There will also be plenty of time for Q&A.
Speakers:
Hamza Saghir - CUBE Network Co-Chair & KPMG
Iqbal Nasim MBE - Chief Executive of National Zakat Foundation and the Founder of Transform My Prayer, a project to help you achieve consistency, focus and tranquility in your five daily prayers. Since it started at the end of 2019, TMP has positively impacted the Salat of over 5,000 Muslims in the UK and around the world through courses, webinars and workshops.
We look forward to welcoming you to this event.
Limited FREE Places - Register Now!
Admin:
1. FREE admission to the event via Zoom.
2. Zoom access details will be sent via a follow up email once you have registered.
3. Event will promptly start at 6:00 PM.
FAQs.
How will my personal data be processed?
CUBE Network and Transform My Prayer as joint registration facilitators will process your personal data for the purpose of organising this event and to inform you of future events.
Organiser of Transform My Prayer: Unlocking Purposeful Prayer This Ramadan
Connecting Professional Networks
CUBE Network is an umbrella initiative that connects professional networks, groups and organisations with an interest in Islam to deliver a cohesive, united impact to charitable campaigns, corporate diversity considerations and communities through the utilisation of professional skillsets and networks . Our purpose is to provide support to existing and new ideas whilst enhancing our presence within the City and beyond.      
CLICK to subscribe to our mailing list