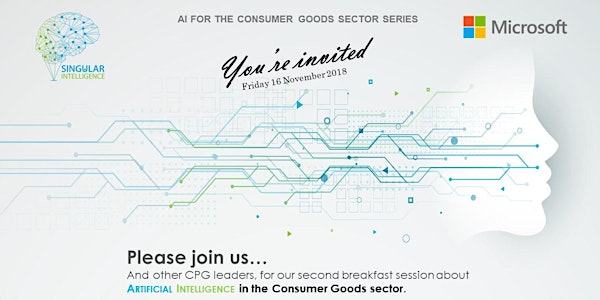 Transform RoI & Agility in Marketing & Supply-Planning Decisions through AI
Sales Have Ended
Registrations are closed
This event is now closed for registration. Should you have any question, please contact us at: info@singularintelligence.com Best Regards, The Singular Intelligence team
Sales Have Ended
Registrations are closed
This event is now closed for registration. Should you have any question, please contact us at: info@singularintelligence.com Best Regards, The Singular Intelligence team
Description
AI for the Consumer Goods sector Series


---

Transforming RoI and Agility in Marketing and Supply-Planning Decisions through Artificial Intelligence

MMM, price & promo, forecasting and supply planning: easy, fast, optimal.
Please join us, and other CPG leaders, for our second breakfast session about AI in the Consumer Goods sector.
This is a small, invitation-only event intended to develop expertise about the massive advantage that AI gives companies. On Friday 16th of November 2018, at the Microsoft office in London.
---
Singular Intelligence and Microsoft will be giving an insightful presentation about transforming RoI and agility in marketing and supply-planning through Artificial Intelligence, in the CPG sector:
►Automated, always on and real-time decision making, considering all market factors.
►Marketing Mix Modeling, Price and Promotions, and Forecasting business use.
►Early adoption and scaling up in the Consumer Goods sector.

AI indeed transforms processes that are currently highly inefficient and frustrating, from an operational and financial standpoint. It makes sales, marketing, and supply processes easy, fast, optimal; and mostly deliver much-increased outcomes. Through business use (MMM, price & promotions, forecasting), we'll show what it looks like, and how you can implement it.


AI can be a daunting topic; a great place to start is to assess your current sales, marketing and demand forecasting processes, and understanding how AI can benefit them. It enables:
► Comprehensive use of all causal factors.
► Always-on, automated, real-time predictions.
► High accuracy and granularity.
► Cover of all investment drivers, and interdependent decisions optimisation.
► Goals achievement maximisation (whether they are RoI, sales and market share, revenue and profit, brand equity), at a much-optimised cost compared to current BI and data analytics solutions.



There will be plenty of time for questions and conversations, following the talk. As it's about time for companies to implement AI, don't be left behind. Numbers are limited and we encourage you to book your free place as soon as possible.


Who: This event is hosted by CPG and AI experts from Singular Intelligence and Microsoft.
When: Friday November 16th 2018, from 8:30 am to 10:45 am.
Where: Microsoft Office, London Paddington - 2 Kingdom St, London W2 6BD
We are looking forward to meeting you,

The Singular Intelligence and Microsoft teams

www.singularintelligence.com
Organiser of Transform RoI & Agility in Marketing & Supply-Planning Decisions through AI
Singular Intelligence (www.singularintelligence.com) is the leading Artificial Intelligence company that is solely dedicated to solving:

Sales & marketing decisions
Forecasting & supply-planning optimisation
Retail automation challenges


They help companies in the Consumer Goods sector (CPG / FMCG) to significantly increase their outcomes through operation efficiency in pricing and promotions, marketing, and supply chain. With a game-changing AI-powered software: all causal factors considered, real-time and always-on, augmented and automated decision-making. 
They also organise thought leadership sessions to help CPG companies and Retailers to understand and get familiar with the impact and implementation of AI solutions. 

---
Singular Intelligence is supported by Microsoft, SAP, Nielsen, PwC, IBM, and benefits from the most advanced academic progress (spanning AI, Analytics and Retail sector research) from a Research Partnership within Oxford University,  the Leeds Beckett University Retail Institute, and Loughborough University.

Feel free to contact them: info@singularintelligence.com or https://www.singularintelligence.com/contact