Location
Quinta do Mar da Luz
cama da vaca
8600-104 Luz
Portugal
The 'Transform to Bliss' Retreat ~ The Algarve 27th June - 2nd July
About this event
YOGA, MEDITATION, CEREMONY IN BEAUTIFUL PORTUGAL
Would you like to release to relax , restore & find peace, whilst supported in a beautiful natural environment, minutes from the ocean?
Monday 27th June - Saturday 2nd July 2022
We are so blessed to be offering Transform to Bliss retreats in the expansive space of the Algarve.
Our Transform to Bliss Wellness/Yoga Space is surrounded by lush nature gardens & a few minutes walk from the ocean. A beautiful nature connected environment to support you in that transformation to your original state of bliss.
Letting go & releasing all the tensions, the patterns & the conditions that prevent us living our best lives as we connect deeper to Mother Nature, the beauty & wildness of the South West Algarve & to ourselves.
Journey with the Transform to Bliss Team & have the opportunity to enjoy..
Transformational Yoga & Meditation, Feminine or/& Full Moon Ceremonies, Chakra awareness practices, Self enquiry, Yoga Nidra, Singing circles, Releasing dance, Ceremonial Cacao, Breathwork, Ayurveda, Reiki, Nervous System support workshop (Somatics), Massage & Ocean swims.
All of these are options, create your own retreat to give you what you want & when.​
Join Joanne & Marco Merlini in the Vidyanand Yoga School, Portugal.
Joanne, a Yoga Alliance Grand Master of Transformational Yoga & Meditation, Reiki practioner & Ceremony space holder & Marco Merlini ~ Ayurvedic Practioner for diet & lifestyle.
We will hold the space for you with a beautiful team who are able to offer massage, reiki, cacao ceremonies, Kirtan or singing circles, Breath work & Somatic Body work.
In a wonderful location surrounded by beautiful gardens, views of the ocean & within walking distance of 2 beautiful sea front villages, our Retreats will facilitate a deepening of the connection to the authentic you & encourage a state of joy, calm & bliss.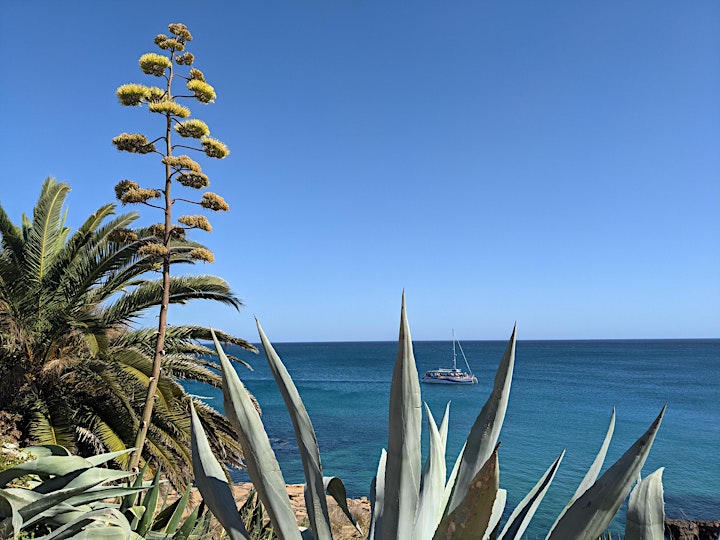 LOCATION
​
Our Algarve retreat is set in the beautiful grounds of The Quinta do Mar da Luz overlooking the ocean in the South West of the Algarve.
Quinta Do Mar da Luz translates to 'Country Estate of the ocean that gives light'
From the palm tree grounds there are views to the blue ocean & breath taking walks along the cliffs & beautiful light!
When we arrived, The Quinta took our breath away. We have traveled extensively & for us the gardens have the feel of Bali or Thailand, beautiful flowers, palm trees, banana trees & exotic birds singing at sunset.
We are within walking distance of the fishermen villages of Luz & Burgau with their cafe's & restaurants & within 1 hrs drive of Faro airport.
There are stunning walking trails from villages to villages (known as the Fisherman trails), the choice of some amazing secluded coves, sandy beaches & so much nature & beauty all around.
The Quinta do Mar da Luz will offer you a bungalow or apartment Portuguese style room, with a terrace or balcony, a private en-suite bathroom & privacy to really retreat.
The extensive grounds are perfect to sit and enjoy the sun, there are 3 swimming pools to choose from, a tennis court & different terraces with amazing views.
There is our large & light indoor 'Transform to Bliss' Studio with garden views & our outside wooden Yoga Shala with sea views to practice yoga & offer our ceremonies & sessions.
We may bring some of our practices to the cliffs for sunset & on the beach which are minutes away from the Quinta.
We have the option of a treatment room & a Steam room within the studio to really release & relax.
The location of our retreat space means you have the opportunity to be as anonymous as you feel, attend as many offerings as you feel & really connect to the nature surrounding you.
We actively encourage you to co-create a retreat that is perfect for you.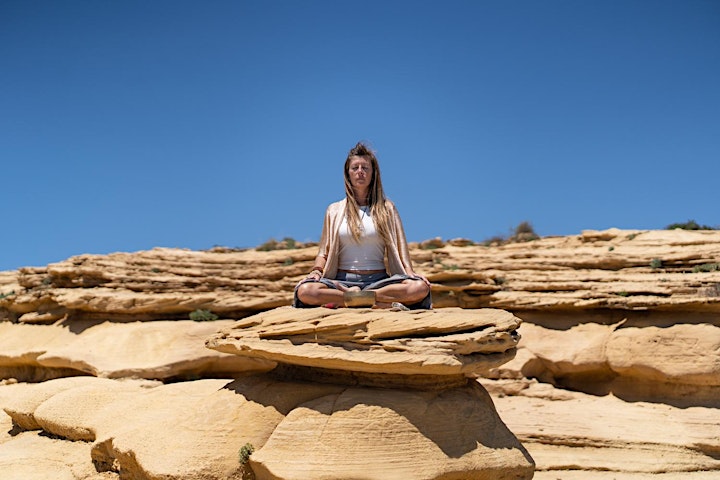 YOUR RETREAT ~ OPTIONS
Build you retreat with the below offerings..
TRANSFORMATIONAL YOGA
Transfomational Yoga is a classical Yoga system originating in Tiruvanamalai, South India. The creation of Sri Swami Vidyanand who received the teachings from The Mother & Sri Aurobindo. This integral practice brings awareness to the chakras (energy centres), the elements that make up our bodies & to the present moment.
A practice blending the Asana element of Yoga, with Pranayama, Meditation & Mantra, you will leave the practice feeling more centred, more bliss!
Joanne trained under the direct guidance or Swamiji in Southern India 2017-2019 to Grand Master level Yoga Alliance level & was granted the opportunity to open the Vidyanand Yoga School, Portugal.
MEDITATION
Meditation is the aim of our Yoga, to bring us to stillness, to peace, to centre.
Each practice will hold an element of meditation & we will also offer solely meditation practices to connect you to this space.
There may be ocean meditations, moon meditations, walking meditation & element meditation. All guided by Joanne.
'To realise the Self is to be still'
~ Ramana Maharshi
CEREMONY
Ceremony & ritual is a integral part of what we offer, both in classes & on retreats in our light filled studio.
A beautiful way to come together in candle lit circle, honouring where we are & diving deep into our subconscious.
This may connect to the Full or New Moon (timing dependent) & include releasing dance, pranayama, conscious enquiry, journaling, oracle cards, grounding or future self meditations, cacao & medicine songs. We'll go with the flow of the group.
To bring ritual & ceremony into our practice & into our life is the celebration of life, a deep grounding practice to ourselves, knowing we are part of a greater whole. A deep surrender in grace.
Cacao gives the opportunity to tune into the beauty of your own heart,
We use a Ceremonial grade Cacao from Peru which gives access to stuck emotions, clearing & tuning in to our inner truth.
She is a powerful Plant Medicine that helps us to release emotional blockages, find forgiveness, love and may give insights of our future path.
Cacao is known for its many health benefits & also contains anandamide, the 'bliss molecule'.
We will take you on a Cacao journey during our Ceremonies, It is a beautiful journey!
BREATHWORK & REIKI
Breathwork is an active healing breathing practice held to music.
The session invites you into an altered state of consciousness to release blocked emotions,stress and supports the body to clear toxins. A powerful experience offering profound shifts to encourage clarity, relaxation & a deep sense of Bliss. The session is held by the lovely Maaike who has been working with us since our opening.
Reiki, a beautiful healing therapy, will leave you feeling relaxed, empowered & incredibly centered. Based on an ancient Japanese Healing Technique, you will receive the treatment fully clothed & relaxed on a massage table.
AYURVEDA
Ayurveda is the 5000 year old holistic healing system of the East. Ayurveda meaning life science is considered to be the Sister science of Yoga. Ayurveda aims to bring balance back to the system to prevent & treat imbalance, illness & disease, treating you as a holistic individual.
A natural therapy of lifestyle changes, diet alterations & herbs are able to treat many health problems.
Marco, a practitioner of Ayurveda, gives the opportunity of consultations during our retreat. With a deep passion in his work & what it can bring, he brings his intuitive, loving & fun nature to bring you back to balance & health.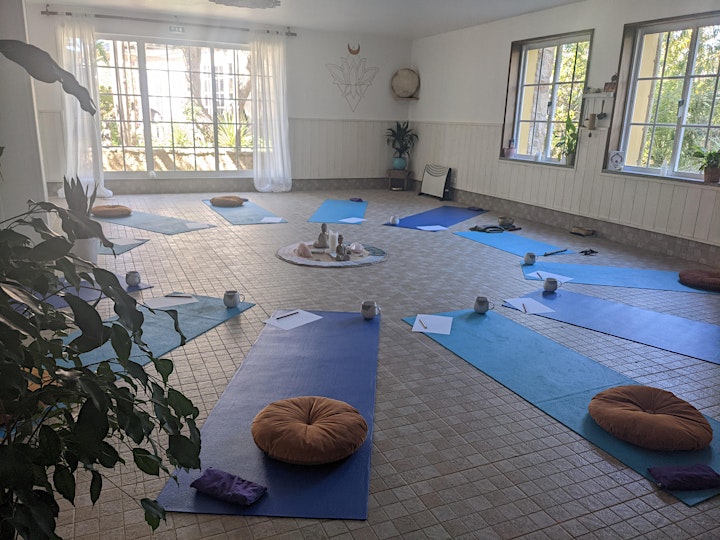 SUGGESTED TIMINGS
This is a suggestion & is subject to change, to weather & to what you would like from your retreat
ARRIVAL DAY
16:30 Arrive with us for a welcome gathering, opening circle, cleanse & intention set, Universal card message & grounding meditation.
18:30 Dinner
​YOUR RETREAT DAYS
08:30-09:30 Transformational Yoga
09:30-10:30 Brunch @ the Quinta
11:00-13:30 Yogic Talk, Consultation, Beach time, Swim, Relax @ the Quinta, Cliff walk, Reiki, Massage (design your own)
13:30-14:00 Light lunch @ the Quinta if you wish (or the freedom to go out & see what you find)
14:00-17:00 As 11-13:30
17:00-18:15 Afternoon Yoga, Chakra Activation Series, Pranyama, Meditation
19:00 Evening Meal eaten out
20:30-21:00 Evening Meditation
Or on Ceremony days ~ Ceremony from 19:30 (dinner eaten before)
DEPARTURE DAY
08:30-09:30 Transformational Yoga
09:30-10:30 Brunch @ the Quinta
11:00 Closing Circle & shares/hugs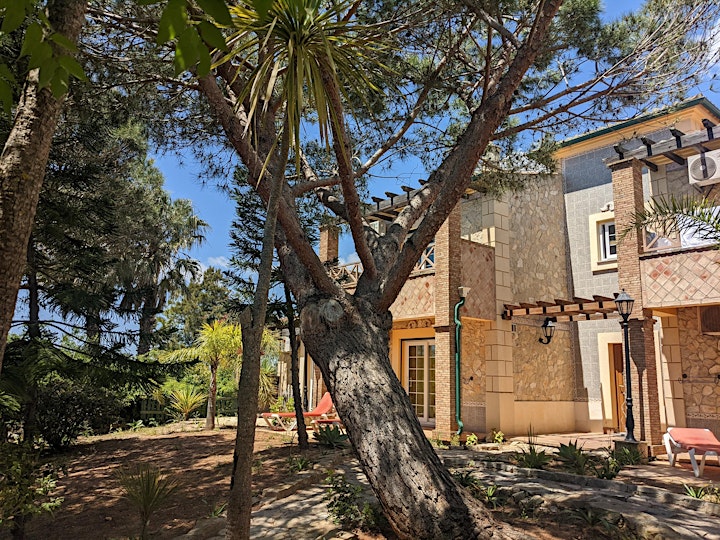 FOOD
The Brunch is a buffet style brunch held in the beautiful gardens of our retreat space after a morning practice.
Think juices, coffee/tea, pastries, fruit, granola, salad, yogurt, eggs, toast.
As brunch is a large late morning meal, we will provide a light lunch to be eaten in the grounds of the Quinta or on your terrace should you prefer.
You are also more than welcome to eat out & enjoy a day of exploring the area.
Our evening meal will be taken at a lovely relaxed restaurant close by, serving delicious healthy food (lots of vegan options should you wish)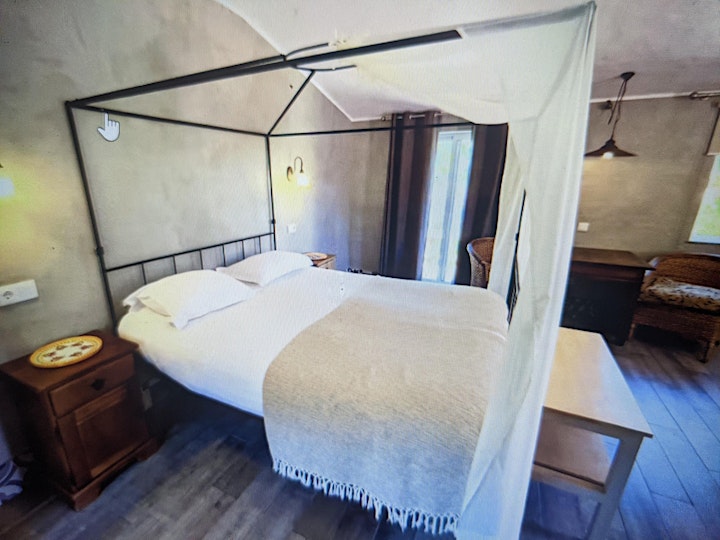 ABOUT US
JOANNE & MARCO MERLINI
TRANSFORMATIONAL YOGA TEACHER I REIKI I CEREMONIAL SPACE HOLDER
AYURVEDIC PRACTIONER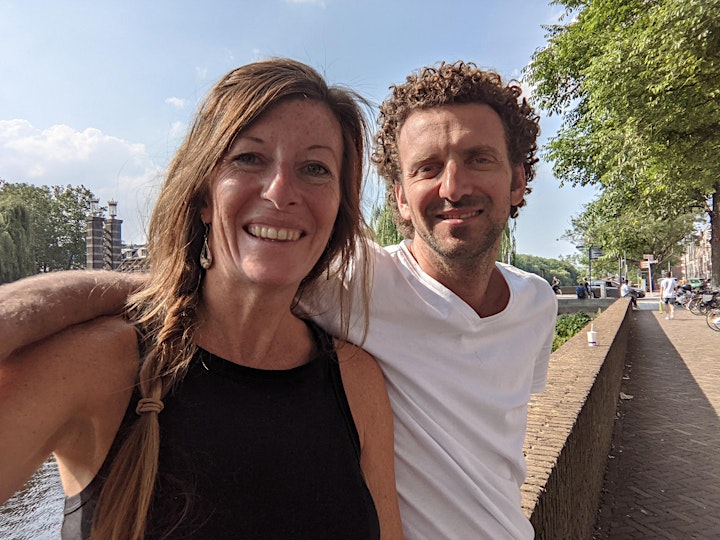 Having held Retreats in the South of Spain & the UK for the last 4 years, we chose to make Portugal our home in November 2020, or rather Portugal chose us.
After years of searching for a place we could feel at home, connect to the land, to community & be able to offer what we love, the lock down was the push that made it all happen. We'll share more with you when we meet, but for now..this is us, Joanne from the UK & Marco, Dutch & Italian, coming together to hold space for you, with love.
To read more about Joanne & her style, her why, her passion, click here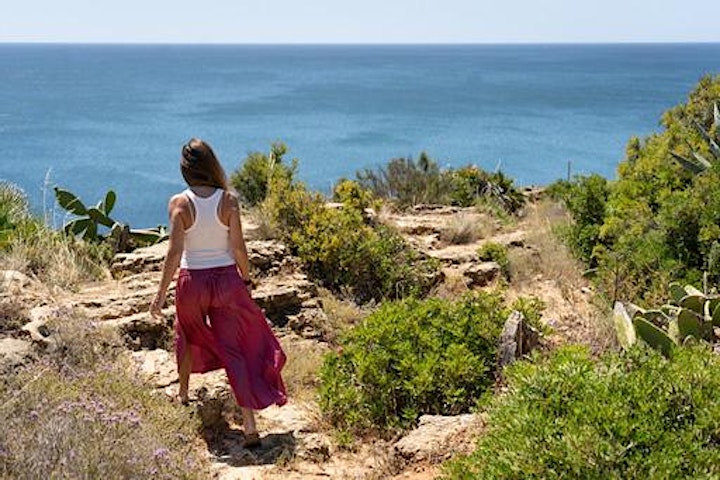 BOOK YOUR RETREAT
Contact us today!
The Options & how to book? -
We offer our retreats with a 'create your own retreat' concept.
Giving the opportunity to build it how you would like so you get the most of your retreating time.
Exchange ~is based on Length/Date/Occupancy & what you would like to experience.
See below..
June 27th - July 2nd 2022
5 Nights
PICK ONE..
FOUNDATION ~ Accommodation + Brunch + Daily Morning Yoga £535 (or shared option ~ Double/Twin £350)
EMBRACE ~ Accommodation + Brunch + Daily Morning Yoga & 2 Afternoon Yoga Classes £560 (or shared option ~ Double/Twin £375)
INDULGE ~ Accommodation + Brunch + Daily Morning Yoga & 2 Afternoon Yoga Classes & Evening meditations £610 (or shared option ~ Double/Twin £425)​
THEN ADD..​MEALS
+ Light Snack at lunchtime £10/day
+ Evening Meals for retreat days +/- £20/day (includes starter or desert, Main meal & 1 drink & no alcohol)(Self catering apartments are also possible, please just ask)
SESSIONS
+ Breath Session £65 2 hr session (or £25 if joining a group)
+ Massage (60mins) £55
+ Ayurvedic Consulation (75mins) £60
+ Reiki (60mins) £50
+ Nervous System Support class (Wednesday class, availability dependent) £12​
TRANSPORT+ Airport Taxi transfer (return) £120 ~ can be divided if you share the ride. There will also be the option of a collection from Lagos.
Other possibilities..
Sound sessions / Ecstatic dance / New Earth cacao meditations / Singing circles / Kirtan.. arranged on request & if available (includes external facilitators)
​FOR EXAMPLE ~ a retreat in June/July with your friend/partner on the Indulge package
(= shared accommodation, Brunch, Evening meal, daily morning yoga, afternoon yoga & evening meditations with a 1hr massage = £600​​​
£200 deposit secures your space
​
NOT INCLUDED :
Flights
Transfers
Covid tests or visa
Insurance
Food and drink outside of the Quinta unless you book the evening meal option
Massage or other treatments outside of your chosen retreat plan
Please arrange your own travel insurance.
COVID_19 ~ Should we feel the need or be forced to cancel the retreat, your payment will either be transferred to another date or be completely refunded.
Please also note, a visa to travel to Portugal may be required, as may tests for your arrival dependent on your departure location & vaccination status.
Please read our terms & conditions prior to booking. ​
​Payment is possible by bacs transfer or Paypal
For paypal,please continue.
For Bacs, see below..
BACS
Deposit by Bank Transfer to -Joanne Merlini
Sort Code - 40 40 22Account Number - 11417290
Payment can be made in 3 installments Please talk to us is this is difficult - we are very open & flexible
This is an open retreat, so others may join your class or you may enjoy a private class.​
​​YES, PLEASE BOOK MY RETREAT
Need more convincing?
​Read some of what the 2018 & 2019 Retreaters said at the end of their beautiful Retreats -
'So much more than a Yoga Retreat. Everything was so carefully thought out from adventure to meditation - A joy!'
'100+ - A beautiful retreat, very relaxing. Leaving feeling refreshed.
Great new friends made & enjoyed many new experiences.Thank you - life changing in fact'​​
​We look forward to welcoming you in paradise!
Much love & Namaste
Joanne x