Description
Come and see Marie Diamond at The Best You EXPO!
Marie Diamond is a globally renowned Transformational Leader, Speaker and Author —featured in the worldwide phenomenon "The Secret" and several other motivational documentaries and in TV shows in several continents.
She uses her extraordinary knowledge of Energy, Quantum physics, the Law of Attraction, and ancient Wisdom like Meditation, Feng Shui and Dowsing to support individuals, organizations and corporations to transform their success, financial situation, relationships, motivation and inspiration.
She is the Creator of the following Energy Systems: Inner Diamond Meditation, Diamond Feng Shui and Diamond Dowsing that have reached more than 100,000 students in 190 countries. She has several Marie Diamond Transformation Schools set up in the USA, in Central Europe, in Israel, in the Russian speaking countries and in Latin America (Mexico City) that share her work and train consultants and teachers in these Energy Systems.
Her clients include billionaires, multi millionaires, A-list celebrities in film and music (like Steven Spielberg, Rolling Stones, Paula Abdul, Dan Acroyd) top selling writers (like Rhonda Byrne, Jack Canfield, Bob Proctor, John Gray, Marianne Williamson), top athletes and sportsmen in Basket, Soccer, Motorsport, Golf, leaders from Fortune 500 companies (like BPAmoco, Exxon Mobil), top global MLM companies (like Lyoness, WorldVentures, Nikken, Herbalife) and governmental leaders and organizations (like in Belgium, Kazakhstan, Russia, Iceland, USA, Canada, Mexico).
She is a founding member of the only Global Transformational Leadership council, bringing the top 100 Transformational
Trainers, Speakers and Authors together for the last 10 years. She also founded and presides the European Council for
Transformational Leaders. She is known for her passion to help create Transformational leaders around the world and is the Executive mentor and Energy Advisor for them.
The internationally acclaimed author, teacher, consultant, and motivational speaker brings her wisdom and counsel to a wide audience through her seminars, personal appearances on TV and radio, Tele-classes, coaching, (E) books, online courses and home study courses and other products. Born in Belgium, and after living in California in the United States, she is now residing at the French Riviera near Monaco.
She travels extensively between several continents to connect with her students and clients in more than 200 countries. Marie Diamond was a successful corporate lawyer in Europe before shifting her focus to the Personal development and the Human Potential movement.
She has established a world-class reputation for transforming businesses and entrepreneurs, their branding and marketing with her unique expertise and skills. She will share how you can employ Energy and Feng Shui principles to establish the perfect vibrational pitch that will draw in your ideal client or customer. In Diamond Leadership Trainings she supports you in expanding your brand and your impact while increasing your multiple income streams.
Marie Diamond consulted with her Energetic Branding Top managers, CEO's, Politicians, Celebrities, Authors, Speakers, and Sportsmen to expand their branding and their message in the Global Market place.
She is a business partner with Learning Strategies and published several Home study courses with them over the last 11 years. Also she collaborated with Mind Valley and they published several interviews of her. She is a speaker in high demand for Tele Summits and she always inspires her audience.
Marie Diamond is happily married for more than 25 years and a mother of 3 wonderful children.
Marie Diamond will be the main stage speaker at The Best You Expo 2018 with the talk title of 'Secret to Success'.
VIP Gold ticket
--- entry to The Best You Expo 2018 (Saturday 17th Feb 2018 10:00-18:00)
--- entry to all Speakers
--- access to VIP lounge throughout the Expo
--- goody bag worth £150
--- complimentary refreshments
--- free cloakroom
--- Best You merchandise
--- access to all video recordings of The Best You EXPO UK and USA
--- front queue pass at all book signings and much more.
The Best You EXPO is the leading personal and professional development exhibition in Europe, a place to meet anyone and everyone that is passionate in improving their lives.
The Best You Expo 2018 takes place in February at its brand-new location of London Olympia . This one-of-a-kind event gathers those passionate about living better lives, creating a better world, gaining greater mindfulness and meaning in our modern age.
The Expo explores topics like wealth, health, entrepreneurship, confidence, aging, mindfulness practices, phobia cures, passionate living, female empowerment, breaking self-limiting beliefs, divorce coaching, and much, much more.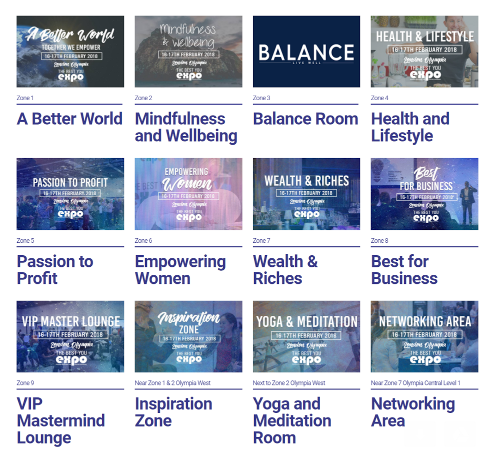 Speakers come from a variety of sectors, including business, finance, health, neuroscience and new age philosophies, as well as entrepreneurs and leading CEOs. Attendees come with a like-minded purpose: to discover purpose, meaning, better well-being, health, self-improvement and career growth.
See our Inspirational Speakers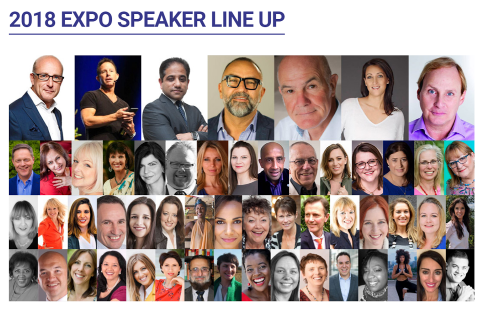 There are many opportunities to connect with teachers, coaches, experts, attendees, exhibitors, explore new things and promote your product and services at our expos!
Expect a high-energy event and a dedicated platform to inspire people on their path towards realizing their greatest potential. This is an extraordinary, 2-day event where people come together to learn from the best teachers, to explore transformational practices and to become a better version of themselves.
We can't wait to see you there!