Transform Your Career with Better Sleep, presented by Vicki Culpin
Description
Step inside Bloomsbury Publishing for a refreshing, game-changing talk with TEDx speaker, author of The Business of Sleep and Professor of Organisational Behaviour, Vicki Culpin!
'Think in the morning. Act in the noon. Eat in the evening. Sleep in the night.' - William Blake
In a thought-provoking presentation, Vicki Culpin, joins us at the Bloomsbury Institute on how sleep can transform your career for a one night only event. Drawing on both seminal and cutting-edge research, alongside interviews with notable CEOs and executives, Vicki will breakdown how sleep works and the impact that lack of sleep can have on our work as highlighted in her outstanding new book, which provides practical ways of mitigating against or reducing the impact of compromised sleep.
This is an unmissable session for anyone concerned about the poor sleep habits, wanting expert advice on sleep issues and yearning to have a better quality of night-time rest.
"If every working-age adult slept for 7–9 hours per night, we could save the UK economy up to £38 billion per year ..." - Vicki Culpin, TEDxHultAshridge, September 2017
Doors will open at 6pm for drinks and refreshment before the presentation, which starts at 6:30pm and includes a Q&A session and a book signing with Vicki until 8pm. Copies of The Business of Sleep will be on sale for £10 throughout the evening.
Vicki Culpin is currently Professor of Organisational Behaviour at Ashridge Executive Education, part of Hult International Business School, having previously held positions at Dean of Faculty and Global Director of Research. Vicki specialises in well-being research, specifically related to memory and sleep. She has spent nearly 20 years researching memory, the impact of poor memory, how to improve memory and the effects of reduced sleep with a variety of individuals including older adults, children, forensic populations and employees. More recent research and teaching interests include the relationship between sleep, well-being and derailment and the relationship between sleep and resilience in management populations. Vicki also researches and teaches in the field of adult pedagogy, specifically in relation to learning transfer and how to make learning experiences 'sticky'. Vicki works with a range of clients from across the world, teaching leadership development, along with sharing her research findings. Her latest book, 'The Business of Sleep' is published by Bloomsbury and is due out in March 2018. Vicki studied Psychology at Manchester University, followed by an MPhil and PhD in Psychology from Lancaster University and an MSc in Applied Forensic Psychology from Leicester University. She is an Associate Fellow of the British Psychological Society, a Chartered Psychologist and a Fellow of the Higher Education Academy.
DATE: Thursday, March 8th
FORMAT: Doors open and drinks served from 6pm. Presentation Q&A and book signing from 6:30pm to 8:00pm
VENUE: Bloomsbury Publishing, 50 Bedford Square, WC1B 3DP (nearest station: Tottenham Court Road)
PRICE: £10/£7 and Vicki's book wil be available to buy at the event for £10 (RRP £15.99).
This event is hosted by Bloomsbury Institute at Bloomsbury Publishing, London. Please read our Event Terms and Conditions carefully as by buying a ticket to this event, you confirm that you accept these terms and condition and that you agree to comply with them, alongside the Eventbrite terms and conditions.
***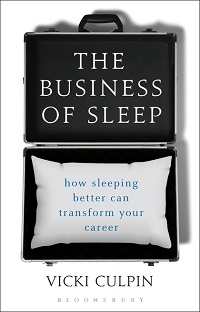 Margaret Thatcher may famously have been able to make do with five hours a night, but for many people that little amount of sleep can – even in the short term – have serious and damaging side-effects. Major disasters have occurred as a result of poor sleep (from the destruction of the Challenger space shuttle to nuclear meltdowns such as Chernobyl and Three Mile Island), but more prevalent effects can include health disorders, the rise of depression and poorer memory retention.
For businesses and their employees, the impact can be extremely detrimental – from the negative impact on decision-making and communication skills, to way in which the lack of sleep can stifle creativity and innovation. The Business of Sleep provides practical ways of mitigating against or reducing the impact of compromised sleep in organisational environments.
Drawing on both seminal and cutting-edge research, alongside interviews with notable CEOs and business influencers, The Business of Sleep explains to readers, in an accessible and conversational way, what the research tells us about how sleep works and the impact that lack of sleep can have on your work and career.
***
Organiser of Transform Your Career with Better Sleep, presented by Vicki Culpin
The Bloomsbury Institute is the public event series of Bloomsbury Publishing.
Every month we host unmissable literary events, panel discussions and salons with our authors and special guests for booklovers, writers and publishers. Never miss an invite by subscribing to our event news by email or follow us @BloomsburyInst
All events will be held online until further notice.