Transform your creative business | Half-day training workshop
Description
Have you often thought about changing or developing your creative business, to be bigger, have a better culture, to include new ways of working, or be capable of doing more exciting work in new disciplines or sectors? Are you wondering whether you should try to transform your agency?
 
When it comes to actually making it happen - why is change so challenging?
At this senior-level workshop, suitable for all sizes of design agency, business transformation expert Ralph Ardill will draw on his extensive experience helping design agencies, international corporations and SMEs, to tell you how you can make the leap, beat the odds and successfully transform your businesses into what you want it to be.

This workshop will cover: 

1. The challenges of transforming a creative business.
An honest exploration of:

The cultural challenge.
The commercial challenge.
The creative challenge.
2. Why change often fails and what you can do about it.
A no holds barred exposé of:

The truth about change.
Why change usually fails and how you can pre-empt such obstacles.
Embracing the 'enemies' within.

3. How to beat the odds and transform your creative business.
You'll leave with:

A road-map to guide your creative business through transformation.
A set of key learnings and techniques from previous creative business transformation journeys.
A set of top-tips for getting stuck in, playing to your strengths and staying the course

This workshop will allow you to:

Gain the knowledge you need make a transformational plan
Gain the confidence you need to action your plan.
Change your mindset – do you actually want to change?
Change the mindset of those in your organisation and energise them to transform with you.
Take this learning straight back into your business.
Delegate feedback for Ralph Ardill

'A very informative and thought provoking presentation that has left me inspired and am keen to implement in my business.' Simon de Krester, Partner, Foster de Krester Graphic Design

'Insightful and useful. Will most definitely try to apply to our agency.' Rana Brightman, Senior Strategist, Siegel+Gale Ltd

'Very clear and sensible view on change – its actionable and inspiring.' Laura McDermott, Senior Project Manager, Siegel+Gale Ltd

Speaker
Ralph Ardill, Founder, The Brand Experience Consultancy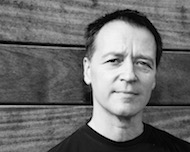 Ralph is an internationally recognised expert in brand-led business transformation, with over 20 years experience on both the client and agency sides, in the creative industries.

Ralph's passion is for harnessing everything he's learned from what he calls his "20 year apprenticeship" to work with small and medium sized corporate and creative businesses in the UK, as an independent board-level instigator for change. Ralph helps businesses to develop and deliver accelerated transformation and growth.

Ralph works closely with his clients to bring the full value of his extensive experience in management consulting, brand strategy, design thinking and change management, to deliver rapid improvement to the front-line and bottom-line of their businesses.
Additional information
Prices Include VAT.
When booking please provide the name of the person who will be attending the event - we will use this for their delegate badge and materials.
*DBA member traveller rate:
To make our workshops more accessible to those based outside London, we are offering a discount to individuals whose offices are located more than 60 miles from the DBA office (EC1V 9HX). If this includes you, please book using the rates above. We will then contact you to verify your postcode.
To see if your office is located more than 60 miles please click here.
All DBA events and training courses are subject to standard terms and conditions which can be read in full here.
If you have any queries please contact email bookings@dba.org.uk or call 020 7251 9229 to speak to our Programmes Team.
Event image: © Dreamstime.com