Transform your relationship in Sitges (12 hour workshop)
Make your relationship a priority. Enjoy a wonderful and fun weekend with us in Sitges. Learn how to get a better relationship
About this event
LET'S FACE IT. RELATIONSHIP PROBLEMS ARE NORMAL. IT'S NOT YOUR FAULT THAT YOU WERE NEVER TAUGHT A 'RELATIONSHIPS' CLASS AT SCHOOL.
We invite you and your partner for an amazing weekend with focus on your relationship. Maybe you already have a fantastic relationship, maybe you have entered the power struggle phase or maybe you are heading for divorce. In any case, you will learn how to deal with relationship problems and transform your relationship into deeper understanding and love.
These are some of the results you will experience after the workshop:
Create a secure emotional connection
Build a zone of safety and trust
End the painful dynamic
Learn how to resolve conflict fast
Get your needs met.
Heal old hurts and restore trust
End recurring fights
Feel deeply understood
Create a mutually inspiring vision
Passionate sex
Become a team
We have set a wonderful scene for a joyful and romantic relationship weekend in Sitges (Close to Barcelona).
What kind of problems can you recognize from current or previous relationship:
You walk on eggshells, tiptoeing around sensitive topics
It feels like there's a communication problem whenever you talk
Your spouse doesn't listen to you
Arguments over small things explode into heated fights
Your sex life has lost its spark
Your partner has withdrawn or shut down emotionally
You feel blamed and criticized – like nothing you do is ever enough
Your spouse has angry outbursts and can be demanding
You're struggling to forgive a betrayal of trust (e.g. an affair)
I just wish that I had learned this earlier when I started being in a relationship. It's funny that love relationships are just learning by doing. Making mistakes and learning. It doesn't come with a guide 😄💏 In this workshop, you will get knowledge and inspiration to communicate more effectively in your Relationship. You will transform your relationship. You will feel loved for who you really are and give love using the right languages that you partner understand. You will have a mutual understanding and work as a TEAM.
We are looking forward to see you there.
Please don't hesitate to contact us, if you have questions for the relationship weekend.
Check out www.infinitelove.es for our free workshops, webinars, other workshops and retreats.
With love from
Shima & Jens
Certified relationship coaches
info@infinitelove.es
+34 951 127 300
(We speak... 🇪🇸🇬🇧🇩🇪🇮🇷🇩🇰🇳🇴🇸🇪)
PS. We would like to keep the weekend intimate. The availability is limited, so we can only advise you to book early if you want to reserve your spot.
NOTE: This workshop is without accommodation. We offer the workshop both with and without accommodation, breakfast, lunch, dinner and activities. This is the link to the workshop with accommodations, meals and activities.
REMEMBER TO SUBSCRIBE for love relationship inspiration, guides, advise, free ebooks, free webinars & workshops, future workshops and retreats. Make your relationship a priority.
https://www.infinitelovecoaching.es/relationship-subscription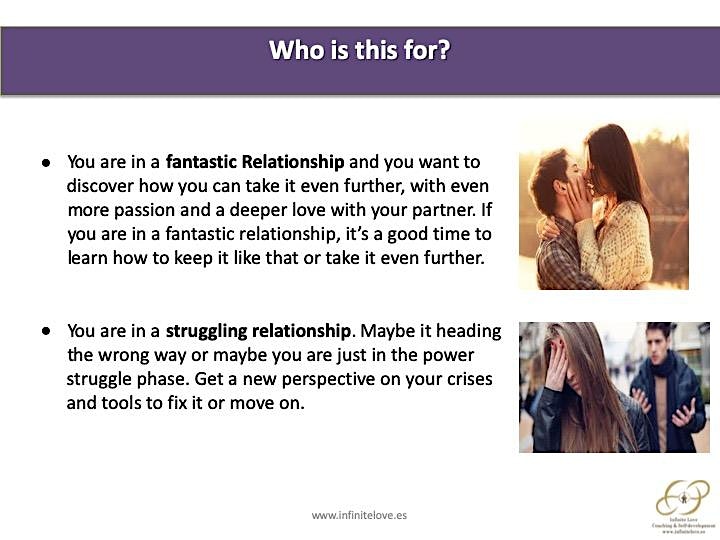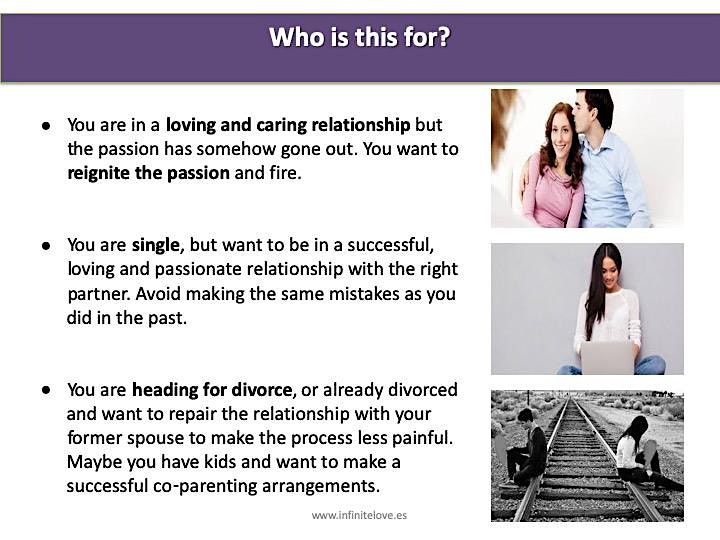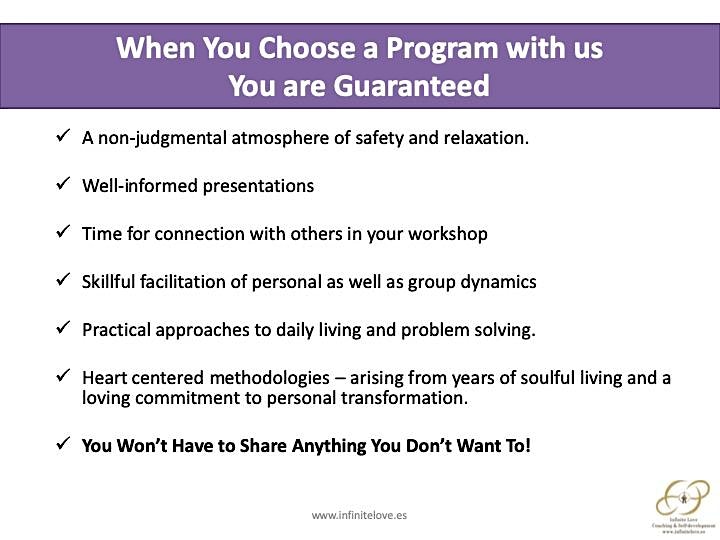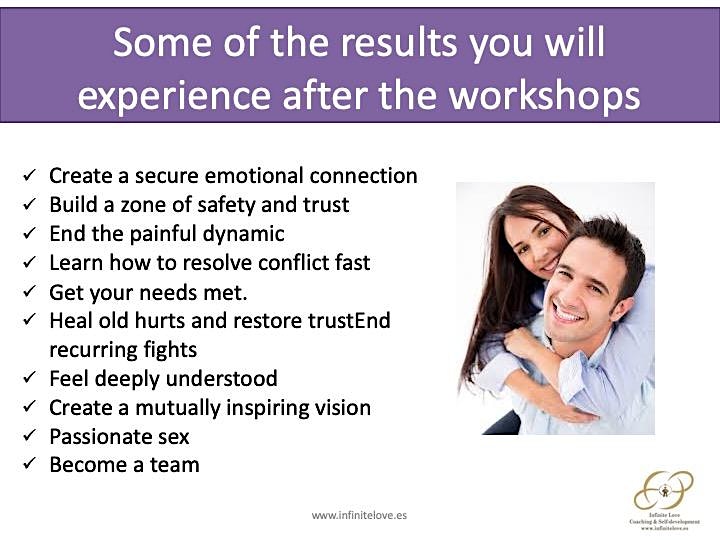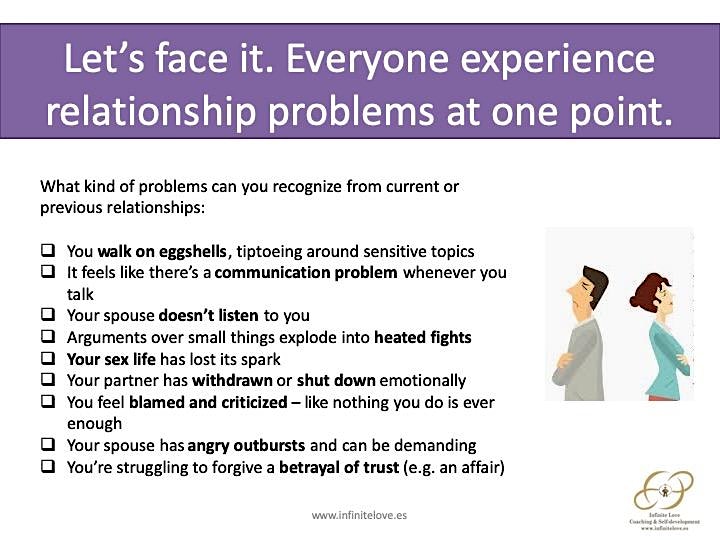 Organiser of Transform your relationship in Sitges (12 hour workshop)
Infinite Love" is dedicated to all those who seek to train their mind, take care of their body and manage their emotions, specifically or integrally, to achieve higher levels of health, well-being and satisfaction in life.
We are committed to promote health and well-being through the selection of the best courses, conferences, discussion forums, mindfulness activities and natural therapies so that each person can reach their maximum potential and spread the personal benefits to their own environment, both work and family.
We are at the pace of the latest findings related to this area, to offer the best advise and activities in every moment. We support several foundations and offering them free of charge natural treatments, psychotherapy and coaching services.