About this Event
This retreat is designed to take you out of your comfort zone and tap back into your inner fire and passion for life. Sometimes we move away from our path and it takes a reset to get you back on it. We believe the whole processes is what makes us stronger but we can be that reset button!
The mind plays a big part in the way we experience our life, if we have areas within ourselves or our lives which we sending negative thoughts to or neglecting in some way, we are giving in to the ingrained patterns within are mind. We need to change the pattern to transform our lives.
We will using many methods to drop into our inner power and rediscover the trust we have for ourselves.
You will begin to open your heart to feel more love and compassion for yourself and others while you experience more gratitude, joy, and openness to life at the moment. This self-love walks side by side with fierce passion and drive, we will link the two and find a harmonic balance.
Meals
All our vegetarian meals come from locally sourced or home grown produce. We prepare all of our meal mindfully and will cater for dietary needs on request.
Location
Santé Yoga creates personalised Yoga & Fitness Retreats, providing you with a truly unique experience. We respect that everyone is on their own individual journey. Therefore, we strive to provide specifically tailored retreats to help you along you're path of self-discovery.
Santé Yoga's team are here to serve you. Whether your a complete beginner or an experienced practitioner, we are here to help guide you towards the best version of yourself.
Moulin de Chamont is a romantic 1800's French Workers Mill House nestled in the idyllic National Park of Limousin. The meditative sound of the crystal clear river, La Combade and an array of colourful local birds sets the scene perfectly. We have the ideal retreat environment to relax your mind and offer space to rediscover your own rhythm. This will empower you to unlock the hidden potential within.
HIGHLIGHTS
• FREE airport pickup and drop off...because we want to meet you as soon as possible :)
• 8 x days, 7 x nights in beautiful and rural accommodation in France
• All Retreat content
• Deliciously sourced Vegetarian meals - all locally sourced or grown on our land
• Smaller groups that will help you synthesize the deep transformations that occur during retreats
• Swimming in the pristine river just 2km from the property
• Sunrise yoga with a mountain top view
Saturday - Opening Ceremony
Sunday - Friday
07:00 Sunrise Yoga
08:30 Breakfast
10:00 Hatha Yoga Flow
11:00 Meditation/ Sound bath
13:00 Lunch
14:00 Mindful walking meditation
15:00 Transformation Yoga Class (acro/kundalini)
16:00 Meditation
18:30 Dinner
20:30 Yin Yoga/Campfire & mantras
Saturday - Closing Ceremony
Flights not included.
We hope to see you all soon,
Namaste,
John & Dani
xox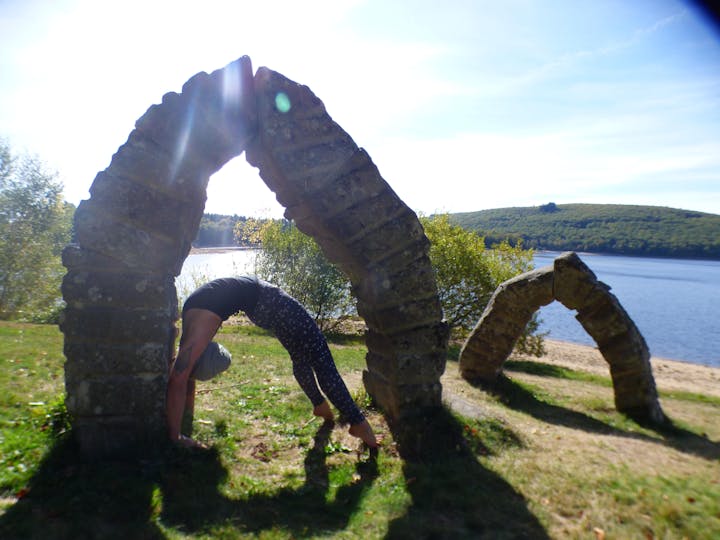 Teachers
DANIELLE BAKER
Hatha Yoga Teacher 300 hr YA | Kundalini Yoga Teacher 200 hr YA|
Womb Yoga Teacher 65 hr | Rainbow Yoga Teacher 65 hr YA | Yin Yoga
Teacher | Pilates Instructor | Sports Massage Therapist Lv 4 | Physical
Trainer | Registered Nurse | Life Coach | Reflexologist | Masseuse |
Nordic Skiing Instructor BASI L2 | Triathlon Coach
As a dedicated health and well-being therapist Danielle has studied, practiced and shared yogic philosophy since 2008, bringing a holistic and unique approach to self-healing. She teaches yoga as a way of life, to develop a greater understanding of the body and mind with the intention to transform and grow. Danielle takes the strength she has developed in her personal life and career to find depth and focus in her classes whilst encouraging an accepting attitude to all feelings and sensations which arise.
Danielle believes that yoga can be welcomed into the lives of everyone to bring the internal and external world into a conscious awareness. She encourages individuality and self-discovery by providing a safe and accepting space to practice and explore. By having an extensive knowledge in anatomy and physiology though previous areas of work, Danielle guides her students with practices to support their current situation.
Danielle served 12 years in the Army and during her service she was a passionate athlete devoting her time to compete in boxing, triathlon and biathlon. Since 2007 she has raced at a high level within the Army but went onto coach in 2014 within the Army and continued as a civilian from 2018.
As the founder of Santé Yoga Danielle has created a sacred space nestled deep in the region of Haute Vienne, France. Santé Yoga retreats focus on each person as a unique individual to create a bespoke package to support them on their journey. Santé Yoga uses locally sourced and home grown produce and only promotes products which are ethically sourced and produced. The team play an active role in the local community and provides daily classes and therapies
John Beck USA- Yoga Teacher