Transformed by You

Saturday, 23 November 2013 from 10:00 to 16:00 (GMT)
Event Details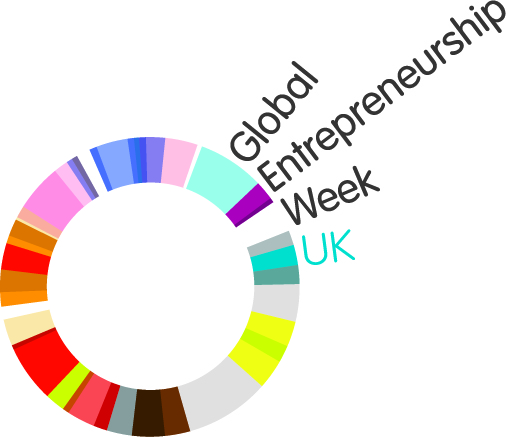 Do you want to help improve your neighbourhood? Do you want to develop prototypes to help turn people's ideas into reality?
We're organising a competition supported by Kent Connects to stimulate collaboration to help people take a step forward develop innovative ways of using technology to improve your neighbourhoods.
We would like to invite you to a event celebrating Global Entrepreneurship Week where you can design prototypes with others on a variety of challenges. We are offering a prize pot of £9000 as well as support to develop your idea by Microsoft and by University of Kent IT Clinic.



What type of event is this?
We are bringing people together for a day to develop visual and software prototypes of digital tools that tackle local challenges. If you're curious as to what this means, check out these different events.
How will it work?
In advance of the event, you can submit ideas to our competition and then put forward prototypes that you want to develop on the day. On the day itself, you will be able to choose which prototypes you want to work. If you've put one forward, you're probably going to want to work on that one, but if you haven't put any prototypes forward, you can work with someone on theirs!. The day will be all about developing these prototypes to win the prize of the best prototype for each of the challenges.
Plan of the day

When

Welcome

10.00

Quick overview of the day

10.15

Prototyping time

10.30- 15.00

Showcase & judging

Announce the winners

Close & Farewell

15.00

15.45

16.00
 What are we providing?
The venue at Tunbridge Wells Town Hall hosts a main room where you will meet and network and breakouts to develop your prototypes. This has a public access wifi internet connection. 

You'll be pleased to hear, we'll provide you with refreshments and lunch, so if you have any special access and dietary requirements, please let us know before 23rd November on innovation@kent.gov.uk.
If you are working on a prototype, you will need to bring a laptop to work on, and please feel free to bring your cameras or camcorders if you want to capture the day!
If you want to help on someone else's prototype, you don't need to bring anything, just register for the event and come along.
What do we mean by prototype?
Some of you will be coming because you want to develop your idea and want to work with others to help take it forward. Some of you are coming because you want to get into a group and help others develop their idea. Some of you want to just see what's going on and work out on the day how you want to be involved!
If you've been before, you'll know it will be a really informal and fun event, involving lots of post its and pizza. If you haven't been before, then here's a glimpse!
We've had over 250 ideas put forward. You'll find out on the day if one of your ideas has won! You'll also be able to get together with others to develop your idea or develop someone else's that can be presented at the end of the day to the judges. If you do want to develop your idea on the day, and have some spare time, you can start work on it now!
What do we mean by prototyping?
Prototyping is used in different disciplines, the way we define it is very simple. We are looking for something that can demonstrate how the idea would work. Do take a look at what people presented in previous competitions.
1. You might want to develop a presentation, you might want to sketch it out.
2. If you like to be more visual, then you may want to be sketch out how your idea would work!
3. If you like to work with your hands, you may want to make a physical mock-up of your idea.
4. If you are a programmer / developer, you want to write some code.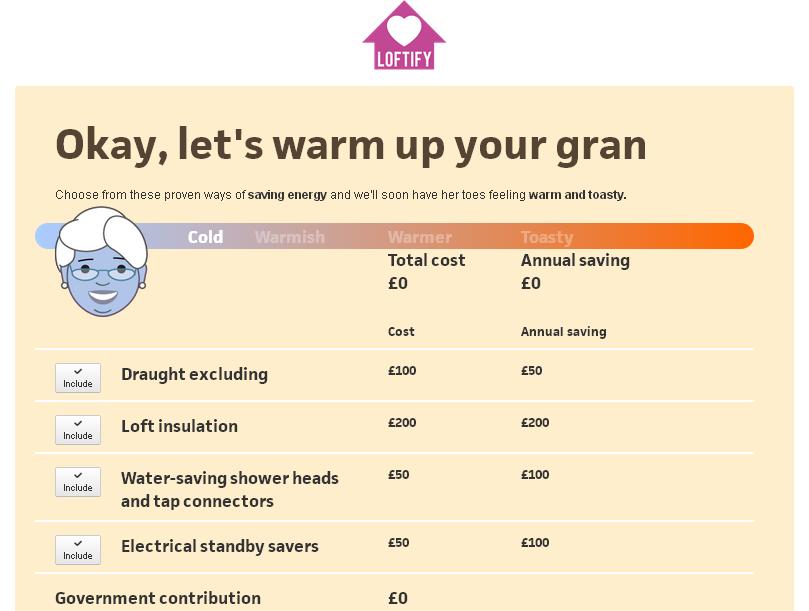 5. If you are a designer, you may want to design the layout and wireframes of your idea.
To get an idea of prototypes developed at our previous competitions, see slide five of our presentation. Or you can check out those developed at similar competitions.
Basically, we are looking for something that can demonstrate how the idea would work, how it would meet the need of the users, how it would look like and what you would do with the winning prize to take the idea forward.
What can I do before the event?
We encourage you to start putting forward on this site how you will develop your prototype and how it answers the questions above.
Do list what help you'd like to help develop the prototype (i.e. web design, user experience, user testing) at our innovation day on 23 November so that other people who may have those skills can work with you on the day! Do show links to any visuals (i.e. sketches, wireframes, presentations, code, etc) that can give people an idea of what the prototype would look like.
If you're not putting forward a prototype, but want to help others, have a look on our competition website to see what ideas you'd like to help on!
What ideas do people who've signed up want to work on?
From the people who've signed up to say they want to develop their idea on the day, here is a list of the ideas you can be involved in developing!
We'll update this as people sign up and tell us what ideas they'd like to work on!
Challenge: How can you help people keep fit & stay healthy?
An app that sends daily recipe ideas for affordable, nutritious and healthy meals using ingredients that can be sourced from their local shop.
An automatic meal planning app that links to local businesses
An app that helps you to find people that do a similar workout to you.
An application that rewards time being spent in the gym. For every hour you spend in the gym the app records your progress and gives you bonus.
An easy-to-follow app to help lose weight and promote a healthy lifestyle.
An app which creates a randomised route every time
Challenge: How can you help people help each other?
CreataboX at Home helps people who are usually excluded from social activities
A fun and easy way to display recent job postings from JobCentrePlus's database, local community events such as boot fairs, volunteering opportunities such as the location of people that need help and local residential information such as rent prices.
The idea is to analyse data from passive sensors and give an instant picture of wellbeing for the previous 24 hours for elderly people.
A mobile user friendly website to provide an instant way for businesses to search opportunities to improve the community. It would help the community as a whole and regenerate the area, provide work experience for volunteers and the unemployed.
An app that allows people to report problems in their local area. The app will allow them to report issues such as anti-social behaviour hotspots, damage to street furniture and fly-tipping.
How can you get to the event?
The venue is located at Tunbridge Wells Borough Council, Mount Pleasant Road,Tunbridge Wells, Kent, TN1 1RS. See the map. 
However you choose to travel, you can find information on how to get to the venue.
What's the agenda?
We hope it will be an interesting, exciting and productive day for all of us. The whole event will be interactive and fluid but to help move things along an informal schedule will be provided soon! 
Who is supporting?
Kent Connects is the lead technology partnership for Kent and Medway. It has invested in a single, county wide infrastructure to enable its partners to join up and share their services delivery mechanisms in a secure, robust and cost effective environment. The partnership also facilitates partner projects by providing advice and sharing best practice and resources. 

Over the last three decades, Microsoft has consistently transformed the way that people live, work, play and connect through great technology. We are inspired every day by the genuine belief that we can change the world for the better. Here on our UK website you'll find out more about how we are driving advances in cloud computing, developing new ways for people to interact with technology at home, at work and on the move, while transforming education and public services and supporting the UK economy.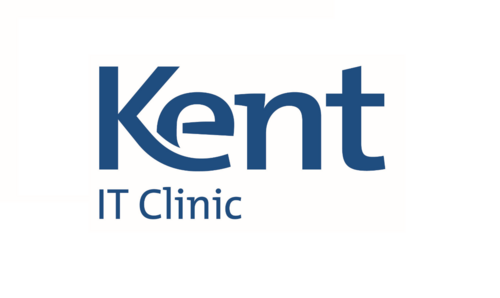 The Kent IT Clinic offer many services such as web and mobile application development, software development and deployment and PC & Laptop advice and repair for our Staff & Students. The Kent IT Clinic is run by Student Consultants and supported by Academics from the School of Computing, at the University of Kent.
Now it's over to you, sign up for the event, take part in the competition! Any questions, contact us.
To get to the nearest car park, see below or use Google Maps.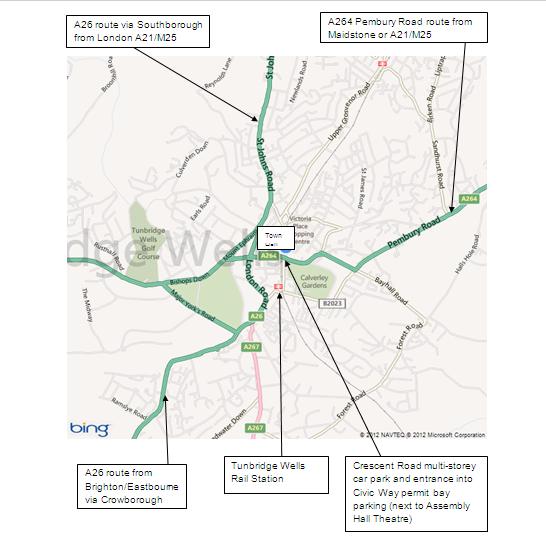 Directions by car travelling south to Tunbridge Wells from London:

A26 route via Southborough:
Take A21 from M25 junction 5 southbound to Tunbridge Wells take slip road off A21 signposted to Tonbridge or A26 to Southborough/Tunbridge Wells.

Follow St Johns Road into Mount Ephriam Road

Turn left into Church Road at crossroads with traffic lights (opposite TW Common)

Go straight across Mount Pleasant Road traffic lights into Crescent Road and the Town Hall is on the left hand corner.

A264 route via Pembury Road (directions from Maidstone and East Kent)

Carry on A21 (past the A26 turn off) for approximately 6 miles. 

Take the A264 slip road signposted to A228 Paddock Wood and A264 Tunbridge Wells.

Take the 3rd exit off the roundabout at the end of the slip road, into Pembury Road

Turn right at the crossroads with traffic lights into Calverley Road

Take first exit into Crescent Road at next roundabout.

Crescent Road pay and display car park is 100yds on left

Permit Holder H Bay permit holders can park in Civic Way as indicated on the following outline map (not to scale)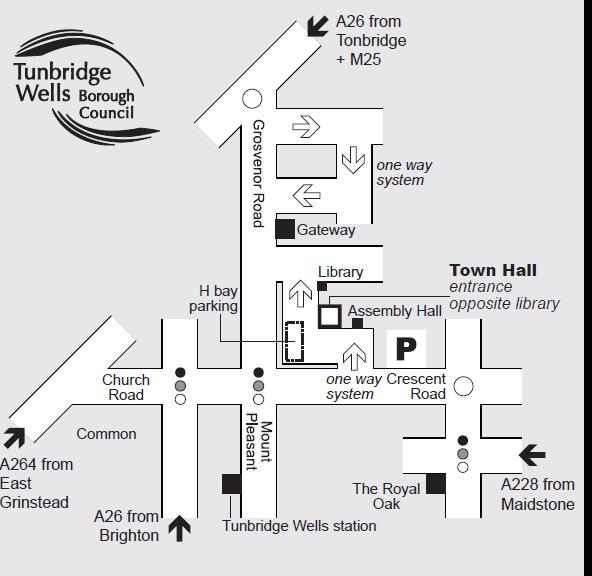 When & Where

Tunbridge Wells Town Hall
Mount Pleasant Road
TN1 1RS Royal Tunbridge Wells
United Kingdom


Saturday, 23 November 2013 from 10:00 to 16:00 (GMT)
Add to my calendar
Organiser
With a membership of all the Kent and Medway authorities, Kent Police and Kent Fire & Rescue Service, Kent Connects is a powerful alliance of public service providers.
Our role is to tackle the barriers to the joining up and sharing of public services.
Our vision is to lead this transformation through the application of leading edge technology.