Transforming Sexual Trauma into Literature: Authors in Northern Ireland on Writing Their Lived Experience
About this event
For the first time in Northern Ireland local authors who have experienced sexual violence will discuss how writing has offered them a form of trauma therapy in an online discussion hosted by Nexus, Northern Ireland's specialist sexual counselling charity.
A distinguished panel of local and international authors will speak of transforming their own lived experiences of sexual violence and abuse into different forms of literature, with a specific focus on the Northern Irish context. Belfast based playwright Jo Egan, Coleraine writer Hilary McCollum, poet Shelley Tracey who moved to Northern Ireland from South Africa over 25 years ago will be in conversation with author and activist Winnie M Li who was violently raped in Belfast in 2008.
The free-to-attend event, on Thursday 20th May, is part of a collaboration between Nexus and Clear Lines, the UK's first-ever festival dedicated to addressing sexual assault, abuse, and consent through the arts and discussion and has been made possible by funding from the Arts Council of Northern Ireland.
This panel discussion will be of interest to victims and survivors, advocates against sexual violence, as well as writers and avid readers. Expect a wide-ranging dialogue including literary and ethical choices when drawing upon life experiences of sexual harms and how particular forms of writing allows a survivor to convey the mental health and bodily impacts of trauma, and the recovery from it. An audience question and answer session will follow the discussion.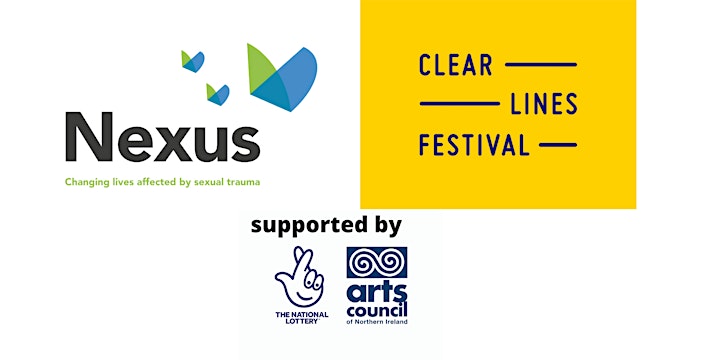 ABOUT THE AUTHORS
Jo Egan creates work in traditional and non-theatre settings for both professional and community productions. In 2015, Jo co-founded MACHA Productions which creates work inspired by and with marginalised or absent voices. Jo was recently commissioned by the Abbey Theatre, Dublin to write a short play as part of the 14 Voices from the Bloodied Field project. She developed the concept, part-directed and produced the award-winning Wedding Community Play (1999) – a large-scale cross-community site-specific play set in contested spaces with over 100 participants. In 2013 she co-wrote and directed Crimea Square with four Shankill residents and a cast of thirty-five. In May 2014 her play, Sweeties, inspired by testimony gathered over seven years, premiered at the Grand Opera House, Belfast and in May 2017, Madame Geneva, using both professional and community actors, premiered at the Lyric, Naughton Studio. In 2018, as International Theatre Artist in Residence at Derry Playhouse Jo wrote and directed The Crack in Everything based on interviews with the families of six children murdered during the Troubles in Northern Ireland. Jo holds an MFA in Playwriting (TCD, Lir Academy).
Hilary McCollum is an Irish writer of fiction, non-fiction and drama. Her writing puts women's lives and experiences centre stage, often focusing on female agency and women's resistance to abuse and oppression. Funny Peculiar, her childhood memoir of sexual abuse against the backdrop of Northern Ireland's Troubles, was published in 2008, under the name Constance McCullagh. Her first novel, Golddigger, spans the Great Famine and the California gold rush. It won the Golden Crown Literary Society prize for historical fiction in 2016. She is currently completing an AHRC funded PhD in Creative Writing at the Seamus Heaney Centre. She has also written four plays, focusing on the lives and experiences of LGBT people. Hilary is chair of Women Aloud NI, which represents women writers in/from Northern Ireland.
Shelley Tracey is a published poet, educator and Poetry Therapy Practitioner who was raped in a home invasion in South Africa in the early 1990s. Shortly afterwards, she moved to Northern Ireland with her family. The alienating experiences of trauma and migration prompted an interest in the power of creativity to develop a sense of identity and belonging. These themes are reflected in Shelley's articles on creativity and her poems and stories, published in a wide range of journals and anthologies. Shelley's first poetry collection, Elements of Distance, was published in 2017 (Lapwing). She is currently working on her second collection, which combines memoir, explorations of the dynamics of sexual violence, and poems about connections with self and community. The focus of Shelley's career has been on what she calls creativity activism. This includes making spaces for people to connect with their creativity, as individuals and in communities. In 2015, Shelley was Artist in the Community (an Arts Council Northern Ireland Award), with an intercultural creative writing project.
Winnie M Li is an author and activist. In 2008, a violent stranger rape in Belfast disrupted her life and career — and was widely covered in the local media. Her debut novel Dark Chapter is a fictional retelling of that assault and aftermath, from both victim and perpetrator perspectives. Translated into ten languages, it won The Guardian's Not The Booker Prize, and was nominated for an Edgar Award and the Best First Novel Award. A Harvard graduate, Winnie is a recipient of grant funding from the Royal Society of Literature, Jerwood Arts, and the Arts Councils of England and Northern Ireland. Winnie is also Founder of Clear Lines, the UK's first-ever festival addressing sexual assault and consent through the arts and discussion. Her PhD research at the London School of Economics explores media engagement by rape survivors as a form of activism. Winnie has appeared on the BBC, Sky News, Channel 4, The Guardian, The Irish Times, The Belfast Telegraph, The Times, The Mail on Sunday, and TEDx London. She has an honorary doctorate from the National University of Ireland in recognition of her writing and activism. Winnie is currently writing the screenplay adaptation of Dark Chapter, funded by Northern Ireland Screen, and her second novel Complicit will be published in April 2022.