Event Information
Refund Policy
Contact the organiser to request a refund.
Eventbrite's fee is nonrefundable.
"Some children or teens will actively try to hide the way they feel because they're aware that it isn't widely accepted"
About this Event
Learning that your child is transgender can stir up lots of feelings, confusion, grief, and even fear or denial. SJ has developed a 4-part parent and carer awareness course to support those who are caring for someone who is exploring their identity and/or gender or are identifying as a transgender young person.
It may be, that you are experiencing these feelings or are looking for connection and awareness on this topic and understanding for the journey your young person is taking. As the partner of someone who transitioned 9 years ago, and a counsellor for people questioning their gender or identity, SJ understands the importance of having non-judgmental support, being open, accepting and supportive.
The course is attended online via zoom in the comfort of your own home, providing a safe space to explore gender and identity, transitioning, body dysphoria, pronouns fears and thoughts, and what this all means for you and the young person. There will be times for open discussion and opportunity to ask any questions to me or to other parents/carers in the group.
However your child decides to explore their gender identity, all that matters is that they have support, A Space 2 Be aim to help families face challenges ahead, and share great experiences as well as those that feel challenging so people feel understood, heard and never alone.
"Some children or teens will actively try to hide the way they feel because they're aware that it isn't widely accepted"
Many families find that as time goes on, their child becomes happier and more active as they take on the correct gender identity for them. It's not an easy route and it requires patience, time and understanding. Acceptance and support is key for the young person to live to their full potential. – Mermaids Charity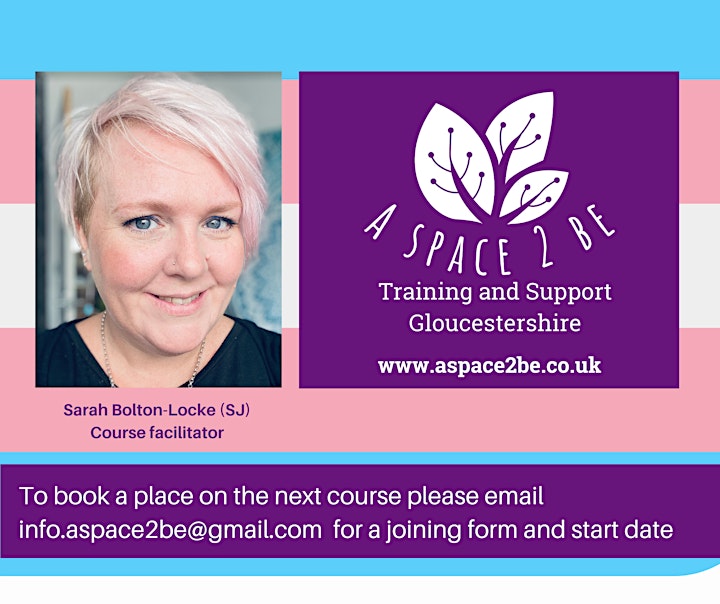 Your trainer is Sarah, or otherwise known as SJ, they have trained with Gender Intelligence to share how transgender people can be supported and has lived experience of being part of the LGBTQIA+ community and has supported their partner through transitioning for the past 9 years.
Sarah has 26 years of experience, supporting mental wellbeing, and emotional resilience. A Space 2 Be offers a support and training service in Gloucestershire, with qualifications in Mindfulness, Mentoring, Counselling, Sound Therapy, Gender, LGBTQIA+, Diversity and Therapeutic Art. SJ supports local schools, individuals, and organisations to support people in the Gloucestershire community.
SJ has an enhanced DBS a membership with the Complementary Medical Association and the BACP, British Association for Counselling and Psychotherapy, and is a Mental Health Champion for the charity MIND.
Course content;
4 x 2 hours online group (up to 8 people per course)
Part 1
Introductions – who we are and why the course is of interest
Topic discussion
General overview of what being Trans means
What is Gender Dysphoria?
How does this affect the person I care for?
Questions and reflections
Part 2
Topic discussion
Gender task sheet exercise / open discussion
Pronouns and Inclusive interaction / Language
Thoughts and feelings, fears of change
Questions and reflections
Part 3
Topic discussion
Challenging hurdles scenarios – school – workplace – college
Supporting someone to explore their identity and/or gender
Pathway to transitioning
Questions and reflections
Part 4
Topic discussion
Questions – is there anything you would like to discuss with the group?
Referrals and GP visits
Support groups
Closing reflections
To join a group you will be asked to fill out a joining form and agree to our group confidentuality guidelines that we ask everyone to agree on.
Payment will secure your place on the next available course
Date and Time
Location
Refund Policy
Contact the organiser to request a refund.
Eventbrite's fee is nonrefundable.