Location
Signal Box Center
Glenalmond Avenue
Cambridge
CB2 8DB
United Kingdom
Sales Have Ended
Registrations are closed
Thanks for signing up to the workshop, see you on the 9th of July at 10am at the Signal box in Cambridge. Don't forget to bring your own lunch. Any problems on the day please ring Mike on 07875537349. Look forward to seeing you soon.
Description
Important this workshop is for people already in Transition Groups.
My name is Mike Thomas of the Transition Network. I'm working with Richard Couldrey from the Transition London and South East Hub and Transition Town Tooting to facilitate 8 regional workshops across England to explore the benefits of setting up regional networks to share the possibilities and challenges of working "In Transition".
We are running a free workshop (full details below) in Cambridge on 9th July for groups in Cambridge and the surrounding areas to get together and investigate the idea of a regional hub/s in this area. We understand that this is quite a large geographical area and as a result there is a possibility for several hubs to emerge.
This Workshop is a great opportunity to:
Connect with other groups

Design a regional network

Grow transition together
We are also organising workshop in East Midlands, more information here: http://trnuk.org/east-midlands-workshop/
If you wish to come to the the Cambridge event please sign up here on Eventbrite.
Important this workshop is for people already in Transition Groups.
Outline of workshop:
This day workshop has been developed out of work carried out in London and the South East where groups came together and co-designed a functioning regional network. This network developed through using a series of exercises to come up with ideas and plans and it is these exercises that form the basis of the workshop. London now has a really thriving network that meets regularly, shares information and has arranged events together. We want to help other networks to develop based on the great stuff that has happened there to create thriving networks throughout England.
Workshop facilitators Mike Thomas (Transition Network) and Richard Couldrey (Transition Town Tooting) have both been involved in the development of the London and SE hub. They believe that Transition groups in a region will know how best to define what their regional network does and how it functions. This workshop has been designed to facilitate this happening. At the end of this workshop, you and the other groups involved will have explored whether there is energy for a regional network, what it function should be and how to develop it.
We also want to learn from you and share your innovations
As part of this project, Richard is also carrying out research into scaling up grassroots social innovation to affect greater change. The workshop will also feedback into this process to seed the next steps of the project which includes strengthening and developing regional networks in preparation for a workshop about a National Hub later this year.
The workshop is being held at the Signal Box Centre, Glenalmond Avenue, Cambridge, CB2 8DB more information here: http://www.thesignalbox.org
It is on Glenalmond Avenue, but there is no visible street for Glenalmond Avenue. To find it easily, turn offBrooklands Avenue and go down to the end of Clarendon Road, then turn left onto Fitzwilliam Road into Kaleidoscope. The photo below is what you'll see as soon as you've turned and The Signal Box is the little square right in the middle of the photo, with the light brown walls and large gray-framed windows with posters on them, framed by the tall pillars of the building in front. The entrance is round on the left side of the building. On street parking is on Clarendon & Shaftesbury Roads plus NCP parking at Clifton Rd. There is plenty of space for cycles near to the Centre.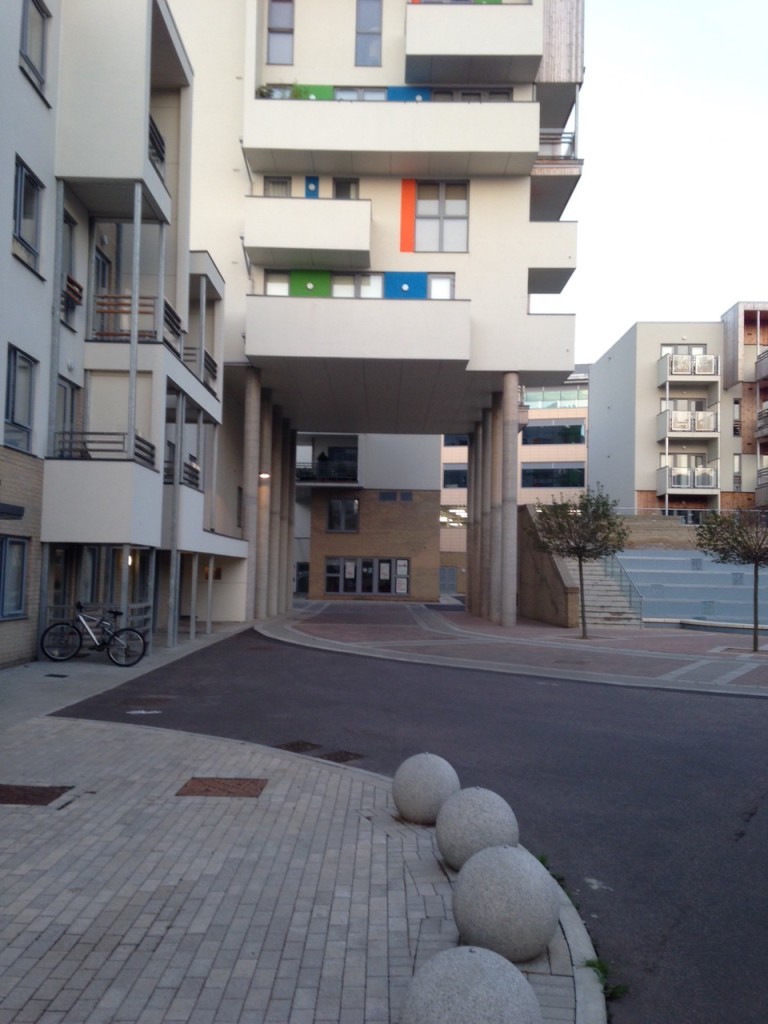 By Foot or Bike from Cambridge Station: 7 mins walking. Turn left as you come out of Cambridge station and keep on the left side of the road, passing the bus stops. Beyond the bus stops, keep left and pass under the bridge to where the guided bus way begins. You will see a large banner for the Signal Box on the car park fence directly ahead of you. Turn onto the path to your right and in 100 yards you will reach the Signal Box Centre.
No lunch will be provided please bring your own lunch.
More information on this project and workshop can be found here: http://trnuk.org
If you have any questions please email michaelthomas@transitionnetwork.org or ring Mike Thomas on 07875537349, you can also use this number to contact us on the day if you need to.
Look forward to seeing you on the 9th July.
Mike Thomas - Transition Network
Richard Couldrey - London and South East Transition Hub