Transparency Symposium (scroll down for the details)

Wednesday, 14 December 2016 from 09:30 to 17:00 (GMT)
Event Details

This very special Transparency Symposium is dedicated to the FCA's Asset Management Market Study Interim Report; a Report that has been seen by many to be a regulatory game-changer; a Report that most would agree indicates there are going to be significant and far-reaching changes ahead for the UK's Pensions, Investment and Asset Management sector and all connected professions. 
The Active v Passive issues alone that are highlighted in the FCA's work throw up all sorts of questions that need answering and may alter the very nature of the market. Is the Report a saviour of active management or has it thrown it into crisis?
There may even be a 'Market Investigation Reference' to the Competition and Markets Authority about the way the Investment Consulting industry is (isn't?) working; most think that could be a very serious development indeed. 
Without any doubt whatsoever the FCA's Interim Report looks to be a seismic shift in the way the sector is regulated and as such this event is an excellent opportunity to increase your understanding of the many complex issues the FCA have raised, listen to how others are planning to respond to it and of course debate what it's all going to mean. 
We have an exceptional and highly relevant programme for you:
  9:30 - Registration, refreshments & networking
10:00 - Campbell Fleming, Global Head of Distribution, Aberdeen Asset Management
10:20 - Dr. Chris Sier, Director, FiNexus
11:00 - Becky Young,  Manager, Wholesale & Investments, The FCA; plus Robin Finer, Head of Department, Competition, The FCA; plus Tony Daughton, Financial Analyst, The FCA. This session will cover the FCA's Asset Management Market Study in terms of: what they were looking for, what they found and their proposed remedies. It will also cover the profitability and charges analysis that has been undertaken, very important. There's lots of time scheduled for Q&A. 
12:00 - Networking & Lunch
12:50 - Presentation of the Transparency Trophy & Team Photo Time!
13:00 - Tim Giles, Head of Investment Consulting, AON Hewitt
13:30 - Mike Barrett, Consulting Director, The Lang Cat
14:00 - Panel Session #1:  
               Abraham Okusanya, Director, FinalytiQ Ltd
               Con Keating, Head of Research, Brighton Rock Group
               David Weeks, Co-Chair, AMNT
               Henrik Pedersen, Co-Founder, Clerus 
14:30 - JB Beckett, UK Representative, The Association of Professional Fund Investors
15:00 - Networking & Refreshments 
15:30 - Peter Glancy, Head of Industry Development, Scottish Widows
16:00 - Panel Session #2:
               Dan Brocklebank, Head of UK, Orbis Investments
               Philip Miller, Co-Founder, Pensions Focus
               Rachel Haworth, Policy Officer, ShareAction
               Sunil Chadda, Director, Cairn Consulting Ltd 
16:30 - Helena Morrissey, Chair, The Investment Association
17:00 - Key conclusions, wrap-up & close to the formal proceedings
17:05 - Time for an 'informal debrief' - complimentary wines & beers! 
18:00 - Ends
This is an absolutely not-to-be-missed event for which there is likely to be high demand, so to avoid disappointment please crack on and book your place - click on Register above to do that.
Please note: If the ticket price of £150 is genuinely beyond your budget please Email me at andy.agathangelou@transparencytaskforce.org and we'll look to sort something out for you - we don't want cost to prevent people genuinely engaged with the subject matter from being able to participate - but please be quick as we only have a limited number of reduced price tickets available. 
Thank you. 
Some pics from previous events: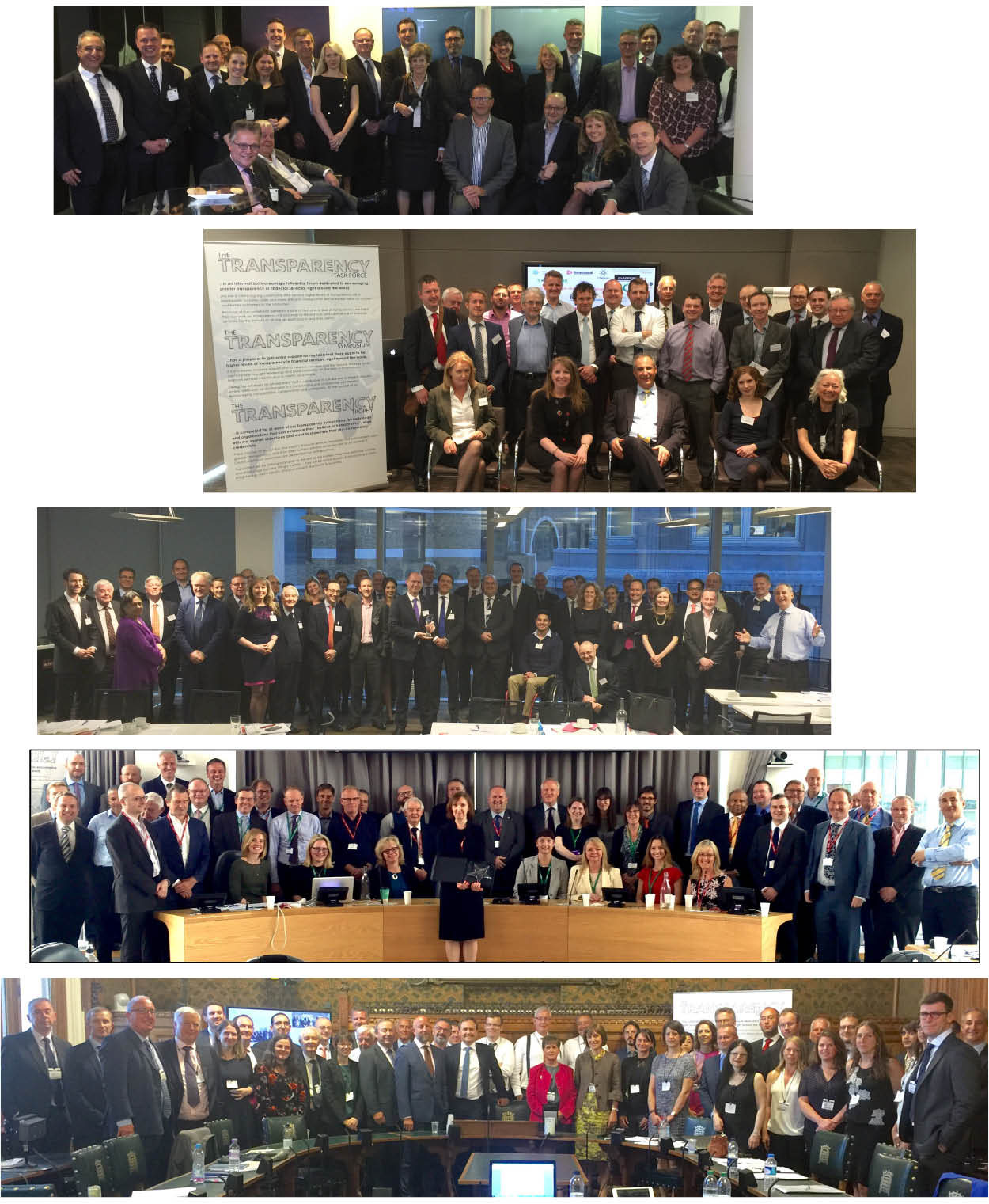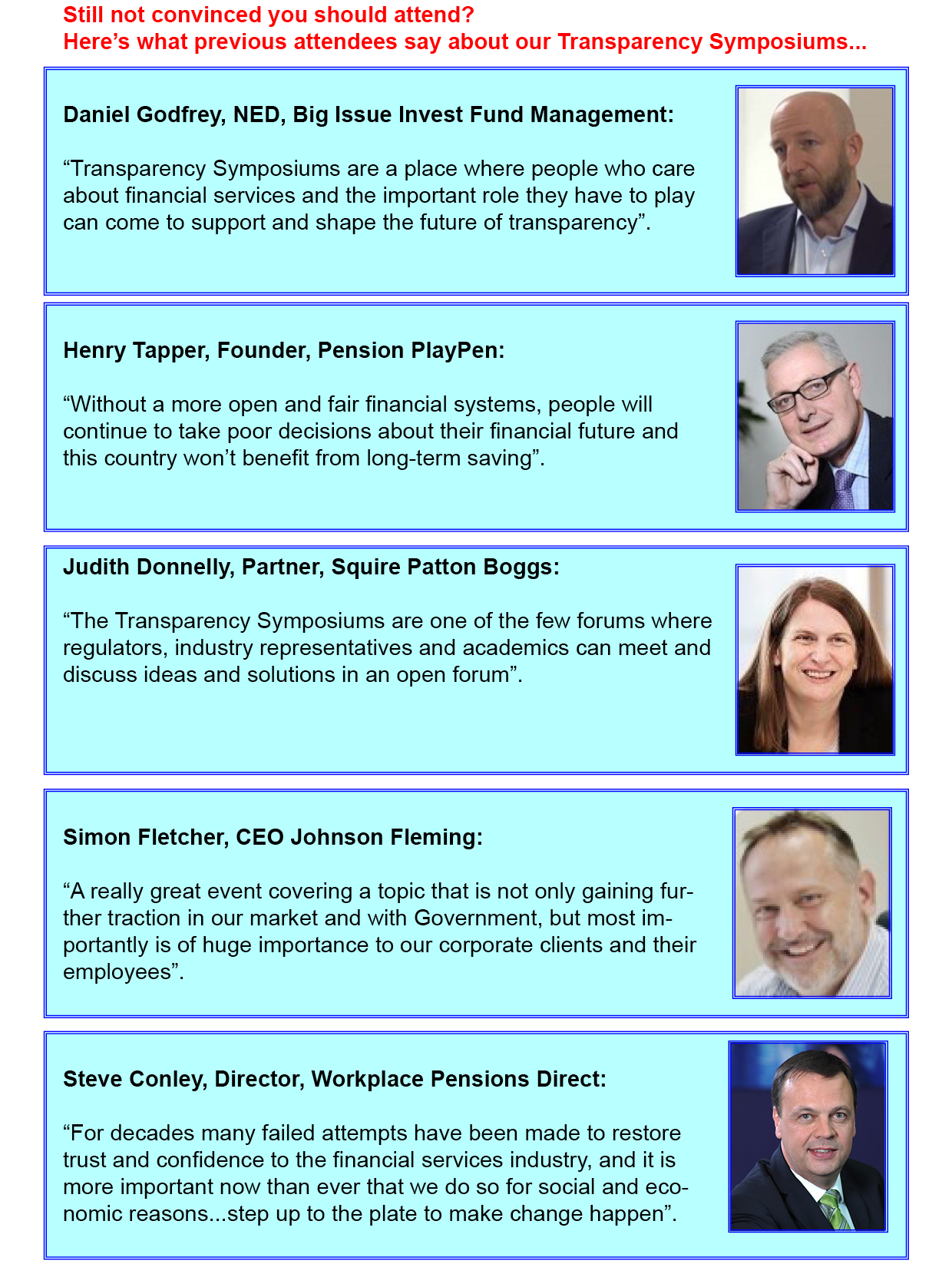 When & Where

Aberdeen Asset Management
Bow Bells House
1 Bread Street
EC4M 9HH London
United Kingdom


Wednesday, 14 December 2016 from 09:30 to 17:00 (GMT)
Add to my calendar
Organiser
The Transparency Task Force
The Transparency Task Force is the collaborative, campaigning community dedicated to driving up the levels of transparency in financial services, right around the world.
We believe that higher levels of transparency are a pre-requisite for fairer, safer, more stable and more efficient markets being able to deliver better value for money and better outcomes to consumers.
Furthermore, because of the correlation between transparency, truthfulness and trustworthiness, we expect that our work will help to repair the self-inflicted reputational damage the Financial Services Sector has been suffering for decades.
'Sunlight is the Best Disinfectant'
That beautifully simple phrase sums up what the Transparency Task Force is all about. We believe that financial services market behaviour is improved when it is visible; and conversely, that behaviour that is allowed to happen 'in the shadows' is often at the expense of the consumer.
This is because, rather notoriously, the Financial Services sector is pre-disposed to 'opportunistic obfuscation and opacity'; it has profited from things being kept hidden from the consumer; sometimes deliberately, sometimes not - things like the true costs of investing, the true performance of products and the true risks that consumers sometimes face. 
Opacity leads to asymmetries of information and that's a major concern, because it prevents the consumer being able to make well-informed decisions and thereby stops the market working competitively.
Our Strategy for Driving Change
The Transparency Task Force seeks to operate in a collaborative, collegiate and consensus-building way; focusing on solutions not blame. We seek to effect the change that the financial services sector needs and the consumer deserves.
Our strategy for driving change is to bring together two types of people:
#1, Those with a sense of 'passion & purpose' about what needs to be done – such as the thought leader speakers at this event, the ethically-minded financial services professionals, enlightened market participants, pro-consumer campaigners and leading academics who are involved in our community; and
#2, Those with the 'power & position' to make change happen – such as the regulators, politicians, financial services leaders, trade bodies and professional associations. 
We are an informal but increasingly influential forum - our strategy for driving change seems to be working very well in the UK and we are looking to become a positive influence internationally, because 'opportunistic opacity and obfuscation' in financial services is a global problem.
Transparency Symposium (scroll down for the details)