Transparency Symposium (scroll down for the details)

Wednesday, 8 February 2017 from 09:30 to 17:00 (GMT)
Event Details

 Featuring "The Massive Active/Passive Debate"
This very special Transparency Symposium is dedicated to an issue that the FCA's Asset Management Market Study has shone a very bright light on; the relative merits of Active Investment Management and Passive Investment Management when it comes to providing investors with value for money, after all costs have been taken into account.
We saw at our last Transparency Symposium just how strong the views are on this issue and I am very keen that this special event is used constructively to inform, educate and share insights on all the important factors around this incredibly interesting but often very divisive subject. 
As well as some fantastic presentations there will also be what is likely to be a 'lively' debate; I'm as sure as I can be that it will be an event to remember. The Financial Conduct Authority won't be speaking but they will be in attendance; observing the proceedings with great interest, I'm sure. 
I'm very pleased advise that The Pensions Minister, Richard Harrington MP, has conformed that he will be speaking.
I urge you to book yourself onto the event swiftly; places are limited and demand for them is expected to be very high - our last event was oversubscribed an dpeople that wanted a place couldn't have one because they left it too late to book 
The programme is designed to cover highly topical questions such as:
- Is it as simple as "Passive = Good, Active = Bad?"
- Does the evidence point toward binary thinking?
- What do we expect to happen to the market share moving forwards?
- What part will technology play in all this?
- What are the potential litigation risks for trustees?
- Is it true that "You can't scale skill?"
- How will the momentum towards greater transparency on costs effect the market dynamic?
- Is Active the only effective option for investors with strong ESG preferences?
- Is the FCA's Asset Management Market Study Active Management's saviour or has it thrown it into crisis?
- Is all the regulatory activity now taking place the wake-up call the Active Sector has needed to force long-overdue change?
- What potential impact might the 'Market Investigation Reference' about the Investment Consulting Sector by the FCA to the Competition & Markets Authority have on investment solution decisions moving forward?
Without any doubt whatsoever the Active/Passive issue is at the epicentre of significant changes taking place in the way the market as a whole is going to function in the future and as such this event is an excellent opportunity to increase your understanding of the many complex issues the FCA have raised in their Market Study.
Here's the Programme so far, it is being developed continuously as new speakers/debaters/panelists are confirmed:
9:30 - Registration, refreshments & networking
10:00 - Tim Brown, VP, Head of UK Institutional and EMEA Consultant Relations, Dimensional Fund Advisors
The importance of investment philosophy and a statement of investment beliefs when deciding how to invest
The importance of an investment philosophy is often overlooked in the Active vs Passive debate. Tim will propose that a clear investment philosophy can support effective investment decision making, especially for trustees when setting the Statement of Investment Principles. 
10:20 - Andy Agathangelou, Founding Chair, the Transparency Task Force
10:30 - Jeremy Fawcett, Head of Direct, Platforum
Embrace the squeeze - how pressure on the value chain is creating opportunities.
What does the price squeeze across the value chain look like?
The role of platforms in the growth of passives
ETFs friction – why the UK market is slower to evolve than the US
Who's the wealth manager?
How scale players – active and passive - are adopting asset allocation (asset managers, robos, platforms, DFMs)
Jeremy is a senior member of the Platforum management team with responsibilities for research publications on investment distribution via advised and self-directed channels in the UK and across Europe. He comments regularly in the consumer and trade press about direct platforms and the evolving self-directed investor including the rise of the 'robos'. Previously he was Category Director for financial services at Yahoo and picked out personal investing as an area that would be transformed by digital technology. He is interested in working with platforms, providers and technology companies to build the next generation of investment propositions for digital consumers.
11:00 - Wolfram Klingler, Co-Founder & Managing Partner, XTP AG Implementation Solutions; flying in from Germany for the event - thank you Wolfram! 
Challenges regarding cost and transparency for active and passive strategies:
Many investors assume that low cost passive strategies have less cost and transparency issues than active strategies. However, this is not the case, the issues just differ radically from those of active strategies. Wolfram will demonstrate with case studies and concrete examples what the important cost and transparency issues are for both passive and active strategies, highlighting differences and pinpointing crucial issues that any investor should be aware of, whether investing active or passive. XTP advises clients regarding implementation efficiency i.e. cost and transparency and is not an investment consultant, therefore does not take position for or against active or passive strategies. 
XTP's mission is to support institutional investors in safeguarding their interests, i.e. extending fiduciary responsibility and ensuring full transparency regarding cost and process efficiency into all delegated mandates and processes. After identifying inefficiencies and cost leaks, XTP implements adequate optimization measures. By actively optimizing processes and reducing costs, XTP increases net returns without changing asset allocation, risk profile and manager mix.
Before XTP, Wolfram worked for a private equity group, focusing on investments in restructuring and turnaround situations, incubating new turnaround funds and building up a fund of fund focusing on this sector. Prior to that, Wolfram was a Director at GAM (Global Asset Management) where he focused on managed portfolios, hedge funds and alternative investments. Wolfram has 17 years of financial industry experience.
Wolfram is a regular speaker at various conferences and seminars; he spoke at conferences of the CFA-Society, the Swiss Pensions Fund Forum and many others. He frequently publishes articles in journals and newspapers and is regularly quoted as expert on topics of cost and transparency. 
11:30 - Alexander Adamou, Fellow, London Mathamatical Laboratory
Settling the active-passive debate empirically: what evidence is needed to detect outperformance?
For a given level of outperformance, we ask how long must we wait before we can distinguish statistically the performance of an active fund from a passive benchmark. We will explore this question using a very simple mathematical model. The answers will shed light on whether we can detect "skill" from randomness, and whether performance-based fees can be justified empirically.
Alex is an applied mathematician with interests in finance, economics, and gambling. His current work examines the mathematical frameworks in which familiar economic notions - such as market efficiency, utility theory, and wealth inequality - are usually discussed. His academic background is in fluid and solid mechanics (Cambridge and Imperial) and he was previously a professional gambler.
12:00 - Presentation of the Transparency Trophy & Team Photo Time!
12:10 - Lunch & Networking
13:00 - Con Keating, Head of Research, Brighton Rock Group
Active, Passive and Value Added
 The problem is more than just relative cost of production.
It encompasses: Predictability, ALM considerations, Optimisation of Asset Performance, Common ownership issues and ESG.
The new business model - co-operation and collaboration with investee companies - the whole balance sheet.
In a career spanning more than forty years, Con has worked as an infrastructure project financier, corporate advisor, investment manager and research analyst in Europe, Asia and the United States. Con's career commenced as a graduate trainee with Hambros Bank in 1969 and included periods with Kleinwort Benson, First Boston, Banque Paribas and CIGNA, and was characterised by specialisation in quantitative modelling and analysis. This has varied from the financial modelling of infrastructure projects, to credit, insurance and securities pricing and encompassed pension projection and valuation.
Con he has served on the boards of a number of educational and charitable foundations and as a trustee of several pension schemes. He is currently Head of Research for the nascent BrightonRock Group. Con has been a a member of the steering committee of the financial econometrics research centre at the University of Warwick and of the Societe Universitaire Europeene de Recherche en Finance. As a research fellow of the Finance Development Centre he published widely on the regulation of financial institutions and pension systems, and also developed new statistical tools for the analysis of financial data, such as Omega functions and metrics. From 1994 to 2001, Con was chairman of the committee on methods and measures of the European Federation of Financial Analysts Societies and currently is a member of their Market Structure Commission. Con has also served as an advisor and consultant to the OECDs private pensions committee and a number of other international institutions.
13:30 - William L. Lipsey, President, PZena Investment Management; flying in from the USA - thank you William!
Active Management Works?
This questions seems an exceedingly reasonable question considering the passive versus active outcomes during the past decade.  Further, given the very low cost of passive strategies and the enhanced availability of technology to improve "smart" passive strategies, the excess return required to choose active over passive is high. 
So why should investors even consider active investment strategies?  One of my investment teachers used to remind us over and over, whenever everyone is certain of one thing; beware that one thing.  As the world has shifted into near unanimous certainty that passive is a clearly superior approach to active, I am reminded again of my teachers insight.  Drawing from my experience of helping to start a high active share, deep value investment firm; and coming from an academic background at The University of Chicago where the mantra is there is no free lunch, I hope to encourage you to consider the possibility that yes, Active Management Works.
William L. Lipsey is Managing Principal, President, and member of the firm's Executive Committee. Mr. Lipsey helped develop the firm's business plan and oversees the firm's business development and client service activities globally. Before joining Pzena Investment Management, Mr. Lipsey had investment roles at Oppenheimer & Company, Inc. Morgan Stanley, Kidder Peabody, and Hewitt Associates. At Morgan Stanley and Kidder Peabody, he served as a portfolio manager in these firms' private client groups, managing assets for institutional and private clients. As a consultant at Hewitt Associates, he helped clients set investment policy and strategy for their pension and profit sharing plans. He earned a B.S. in Economics from the Wharton School of the University of Pennsylvania and an M.B.A. in Finance from the University of Chicago.
Pzena Investment is a deep value investment management firm managing over $30 billion in client assets. 
14:00 - Richard Harrington MP, Pensions Minister
The Minister will offer his take on the transparency agenda in pensions and investment, his priorities over the remainder of the Parliament and a contribution on the active/passive debate.
Richard Harrington was appointed Parliamentary Under Secretary of State at the Department for Work and Pensions on 17 July 2016. He was elected Conservative MP for Watford in May 2010, and was re-elected in May 2015.
Richard attended Leeds Grammar school and was awarded a scholarship to Oxford University, studying law at Keble College.
He previously served as Parliamentary Under Secretary of State jointly at the Home Office, the Department for Communities and Local Government, and the Department for International Development from September 2015 until July 2016.
His business career started with the John Lewis Partnership and he eventually ran a business, which at its peak had 2,000 employees in 7 countries.
As Parliamentary Under Secretary of State for Pensions, the minister's responsibilities include:
Pensioner benefits, including the new State Pension, Winter Fuel Payments and Pension Credit

The State Pension age review

Credit unions

Private and occupational pensions, including automatic enrolment and the National Employment Savings Trust (NEST)

Oversight of pensions arms-length bodies, including the Pensions Regulator, Pension Protection Fund, Financial Assistance Scheme, Pensions Advisory Service and Pensions Ombudsman
15:00 - Refreshments & Networking 
15:30 - "The Massive Active/Passive Debate" featuring:
 - Daniel Godfrey, Co-Founder, The People's Trust
 - David Pitt-Watson, Executive Fellow, London Business School
 - Campbell Edgar, Head of Financial Planning at the Chartered Institute for Securities & Investment
 - JB Beckett, UK Lead, Association of Professional Fund Investors
 - Kay Ingram, Director of Financial Planning, LEBC
 - Mike Barrett, Consulting Director, The Lang Cat
 - Dan Brocklebank, Head of UK, ORBIS Investments
 - Tim Brown, VP, Head of UK Institutional and EMEA Consultant Relations, Dimensional Fund Advisors
 - Philip Miller, Founder, Pensions Focus
 - James Sore, Chief Investment Officer, Fund Twenty8
16:45 - Key conclusions, wrap-up & close to the formal proceedings
17:00 - Cash bar at a nearby pub!
This is an absolutely not-to-be-missed event for which there is likely to be high demand, so to avoid disappointment please crack on and book yourplace - click on Register above to do that.
Please note: If the ticket price of £150 is genuinely beyond your budget please Email me at andy.agathangelou@transparencytaskforce.org and we'll look to sort something out for you - we don't want cost to prevent people genuinely engaged with the subject matter from being able to participate - but please be quick as we only have a limited number of reduced price tickets available. 
Thank you. 
Some pics from previous events: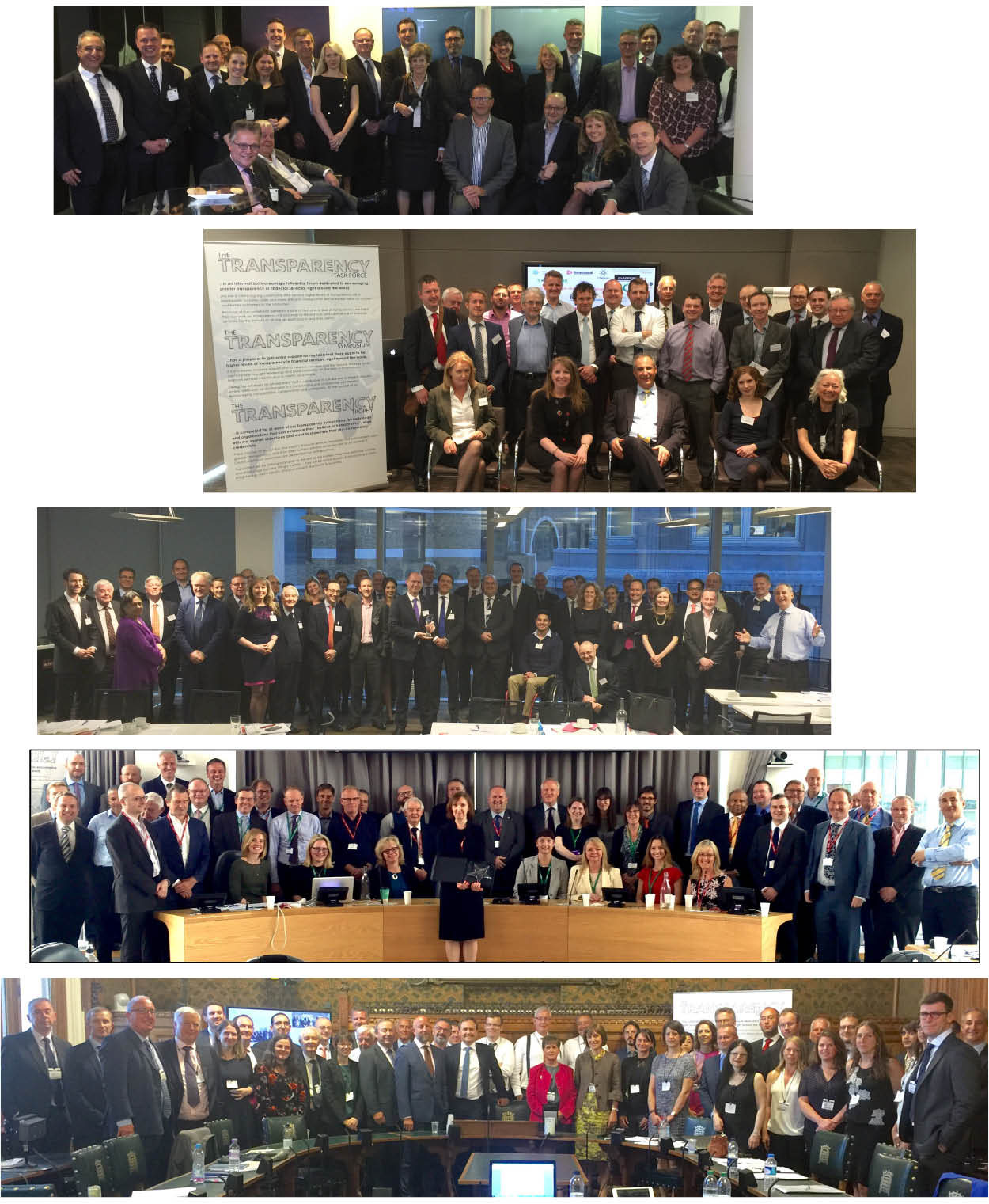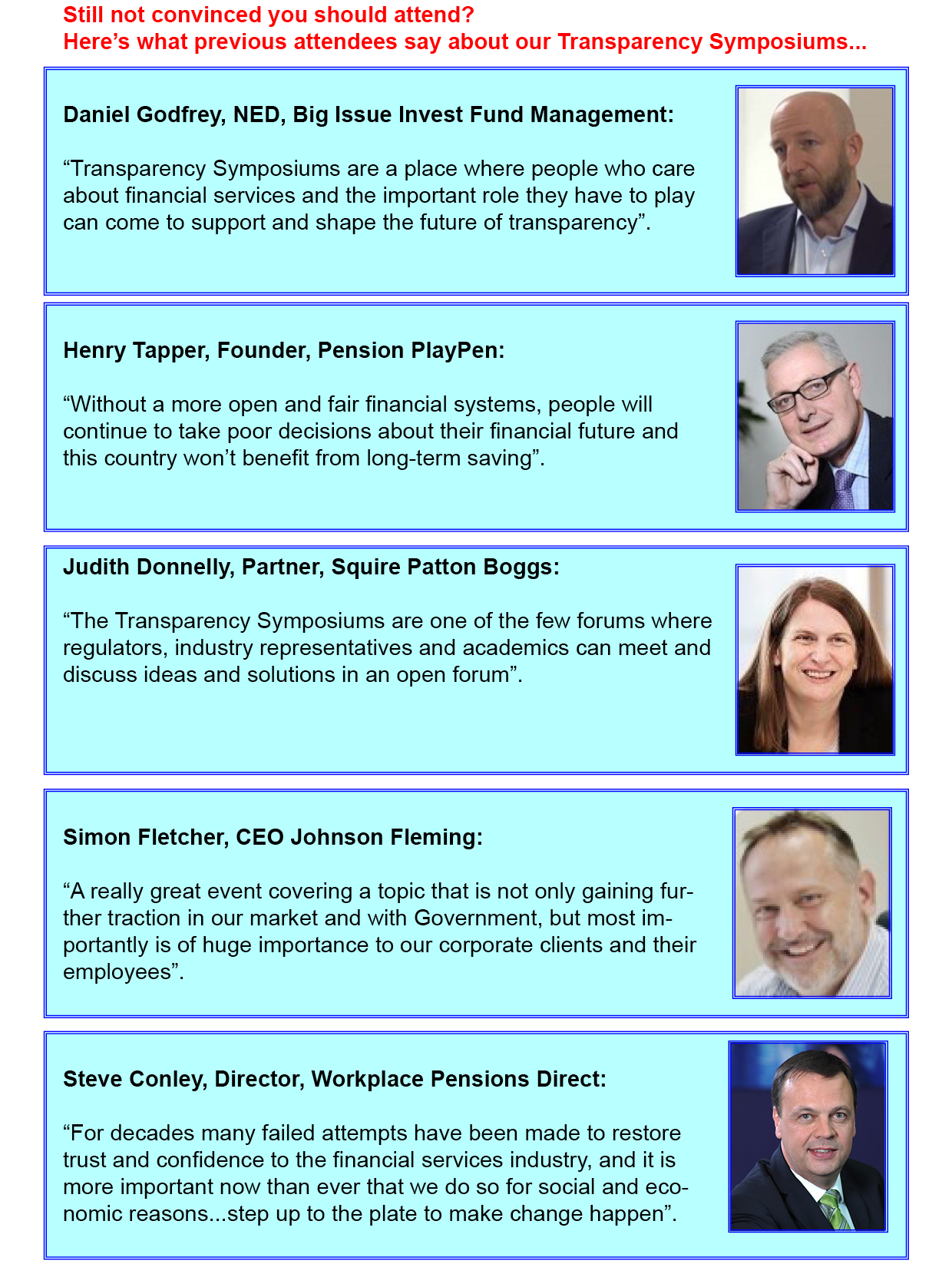 When & Where

Dimensional Fund Advisors
20 Triton Street
Regent's Place
NW1 3BF London
United Kingdom


Wednesday, 8 February 2017 from 09:30 to 17:00 (GMT)
Add to my calendar
Organiser
The Transparency Task Force
The Transparency Task Force is the collaborative, campaigning community dedicated to driving up the levels of transparency in financial services, right around the world.
We believe that higher levels of transparency are a pre-requisite for fairer, safer, more stable and more efficient markets being able to deliver better value for money and better outcomes to consumers.
Furthermore, because of the correlation between transparency, truthfulness and trustworthiness, we expect that our work will help to repair the self-inflicted reputational damage the Financial Services Sector has been suffering for decades.
'Sunlight is the Best Disinfectant'
That beautifully simple phrase sums up what the Transparency Task Force is all about. We believe that financial services market behaviour is improved when it is visible; and conversely, that behaviour that is allowed to happen 'in the shadows' is often at the expense of the consumer.
This is because, rather notoriously, the Financial Services sector is pre-disposed to 'opportunistic obfuscation and opacity'; it has profited from things being kept hidden from the consumer; sometimes deliberately, sometimes not - things like the true costs of investing, the true performance of products and the true risks that consumers sometimes face. 
Opacity leads to asymmetries of information and that's a major concern, because it prevents the consumer being able to make well-informed decisions and thereby stops the market working competitively.
Our Strategy for Driving Change
The Transparency Task Force seeks to operate in a collaborative, collegiate and consensus-building way; focusing on solutions not blame. We seek to effect the change that the financial services sector needs and the consumer deserves.
Our strategy for driving change is to bring together two types of people:
#1, Those with a sense of 'passion & purpose' about what needs to be done – such as the thought leader speakers at this event, the ethically-minded financial services professionals, enlightened market participants, pro-consumer campaigners and leading academics who are involved in our community; and
#2, Those with the 'power & position' to make change happen – such as the regulators, politicians, financial services leaders, trade bodies and professional associations. 
We are an informal but increasingly influential forum - our strategy for driving change seems to be working very well in the UK and we are looking to become a positive influence internationally, because 'opportunistic opacity and obfuscation' in financial services is a global problem.
Transparency Symposium (scroll down for the details)