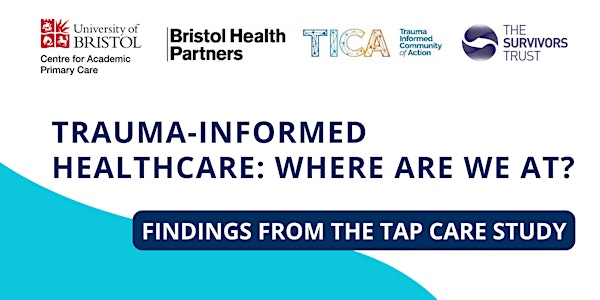 Trauma-informed healthcare: where are we at?
Find out what the TAP CARE study has revealed about the effectiveness and implementation of a trauma-informed approach in healthcare.
About this event
It is aimed at funders, commissioners, and policy makers involved in healthcare; trauma-informed leads; professionals and the public interested in trauma-informed care.
The TAP CARE study has examined the current landscape of trauma-informed healthcare by conducting evidence syntheses, reviewing UK policies, and interviewing healthcare professionals.
Speakers:
· Fay Maxted OBE (CEO, The Survivors Trust), Chair
· Natalia Lewis (Research Fellow, University of Bristol). Findings from TAP CARE evidence syntheses.
· Elizabeth Emsley (Academic Clinical Fellow, University of Bristol). Findings from review of UK policies.
· Shoba Dawson (Research Fellow, University of Bristol). Involvement of people with lived experience in the TAP CARE study.
· Jo Williams (Bristol Health Partners, Adversity and Trauma Health Integration Team). How TAP CARE findings can inform system-wide trauma-informed policy and practice.
A Q&A session will give you the opportunity to ask questions about the research and what it means for trauma-informed healthcare moving forwards.
Please note this session will be recorded and shared in the week following the event. If you are unable to attend, please email kate.hardy@thesurvivorstrust.org to receive the recording.