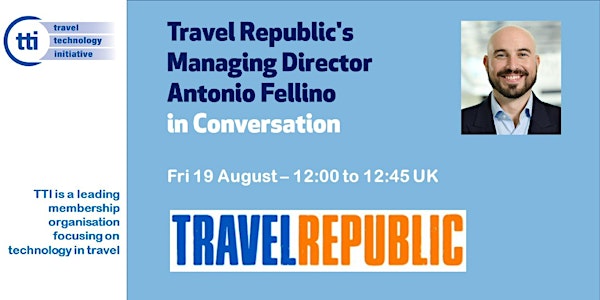 Travel Republic's Managing Director, Antonio Fellino, in Conversation
This webinar is an unmissable opportunity to hear from the head of one of the UK's leading online travel companies.
About this event
Originally founded in 2003, Travel Republic has built a reputation for being one of the UK's leading online travel companies.
Antonio Fellino was appointed as the company's Managing Director in 2020 and so has captained Travel Republic through the Covid crisis. In this webinar, he will be in conversation with Paul Richer. He will talk about the pressures that the travel industry has been under, how Travel Republic has coped during the pandemic, the importance of getting product and technology right and how he has the objective of repositioning Travel Republic as one of the foremost technology-led travel companies.
Antonio's long-standing travel e-commerce experience, dating back to his time at Thomas Cook, has him well placed to achieve this objective. As well as Antonio being in conversation, you will have the opportunity to submit questions relating to matters of particular interest to you.