Treatment Targets Workstream Workshop - Diabetes Clinical Network
Description

Diabetes Clinical Network Workstream Workshop
Achievement of the Three Diabetes Treatment Targets
14th May 2018
Time: 13:00-16:30
Venue: Mary Ward House Conference Centre, 5-7 Tavistock Place, WC1H 9SN
You are invited to attend the Achievement of the Three Treatment Targets Workshop. The event is aimed at all project managers, practice nurses, clinical leads, GPs, clinicians and any other colleagues that are invovled in improving diabetes care in London.
Aims and Objectives
Much progress was made in 2017/18 across London through the Treatment & Care programmes and we would like to take the opportunity to thank colleagues for their hard work and look ahead to next steps by:
Exploring what support and processes can be scaled-up to STP and London level in order to improve patient outcomes and create efficiencies;


Identifying CCG and STP level challenges and pair with learning and ideas from other areas;

Unpicking Clinical from Operational issues, and influencing the shape of support offered by the Diabetes Clinical Network for London
Please see below an agenda for the day: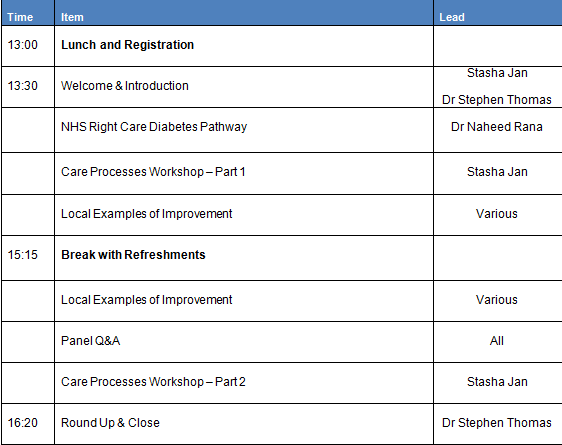 Please share this invitation with any relevant colleagues that have an interest in improving patient achievement of the Three Treatment Targets (Cholesterol, blood pressure and blood glucose), including STP, CCG, Public Health, social care, service suers, clinicans, commissioners or clinical leads. We look forward to see a representation from across London.
Lunch and refreshments will be provided. Please state any dietary requirement when registering.
An Agenda to follow, and will be available nearer to the event.
If you have any questions or concerns, please contact The Diabetes Clincial Network team by email at england.diabetescn@nhs.net.
We hope you can join us for this energising event.