Description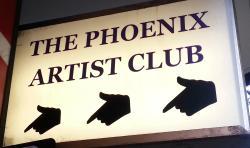 trebash is back at the Phoenix Artist Club again this year with the usual fantastic recipe of great music, drink and food with great people at a great venue. Last year's beach party was a stunner.
This year we are going with Bond meets Rocky Horror. Plenty of scope for the imagination of those who turned up in swimming trunks last year.
We have the fabulous Jeff Brown band who are going to mingle their usual class Jazz with some dance music together with some "themed tunes".
Chef Ian is putting together a fantastic spread and the bar staff are ready, willing and eager to pour champagne down your necks.
We couldn't put on this event without some fabulous sponsors. This year we have Sangoma, IPCortex, Magrathea Telecom, Provu, Yealink, Express Telephony, Fastnet, Daisy Wholesale, Flexoptix, Dave Dadds (DRD), Xantaro and Debbie Casey of Anchor Associates already signed up.
This event is always a sellout so get your order in early to avoid disappointment.