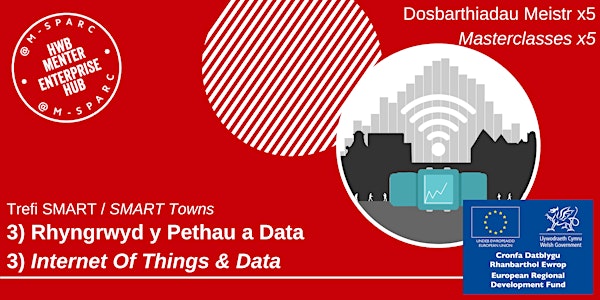 Trefi SMART-Rhyngrwyd y Pethau a Data/SMART Towns-Internet of Things & Data
Trefi SMART-Rhyngrwyd y Pethau a Data/SMART Towns-Internet of Things & Data
About this event
(Scroll down for English)
**GWEMINAR AR-LEIN** - RHAN 3 O 5
Cyfres o 5 Dosbarth Meistr yn dilyn o'n digwyddiad rhagarweiniol 'Adfywio o Covid19: Trefi SMART'. Bydd bob Dosbarth Meistr yn ymdrin mewn mwy o fanylder a phwnc penodol yn gysylltiedig â Threfi SMART.
5 Dosbarth Meistr:
Cefndir
Roedd y digwyddiad rhagarweiniol yn edrych ar pe gallem fonitro iechyd Stryd Fawr yn yr un modd ag yr ydym yn monitro iechyd ein hunain. Yn hytrach na chyfrif ôl troed, a allwn ni gyfrif nifer yr ymwelwyr? Yn hytrach na mesur budd ymarfer corff, a allwn fesur budd parcio am ddim a lleoedd i gerddwyr? Yn hytrach nag olrhain ein ffitrwydd dros y flwyddyn, a allwn olrhain nifer yr ymwelwyr?
Mae'r dechnoleg yn bodoli ac eisoes yn cael ei defnyddio yn nhrefi Cymru i wneud penderfyniadau gwybodus a chynllunio ar gyfer y dyfodol. O ystyried y pwysau ar y Stryd Fawr ac effaith COVID19 mae'n bwysig bod busnesau'n gallu manteisio ar dechnoleg ddigidol, yn yr un ffordd ag y maen nhw wedi bod yn ei wneud mewn canolfannau siopa ac archfarchnadoedd ers blynyddoedd.
Ceir y Dosbarthiadau Meistr yma eu cynnal gan Menter Môn drwy yr Hwb Menter a'u cefnogi gan Lywodraeth Cymru, fel rhan o'i hagenda adfywio canol tref 'Trawsnewid Trefi'.
Gall y digwyddiad rhagarweiniol gael ei wylio yn ol yma.
3ydd Dosbarth Meistr - Rhyngrwyd y Pethau a Data
Mae'r dosbarth meistr hwn yn parhau i archwilio'r 'beth' o Trefi SMART, sy'n canolbwyntio ar Ryngrwyd y Pethau a'r data y mae'n ei greu. Dechreuwn gyda primer IoT sy'n cwmpasu llwyfannau synhwyrydd a chadwrfeydd data; edrychwn ar y don nesaf o arloesi sy'n cysylltu'r corfforol a'r rhithiol trwy'r cysyniad o Efeilliaid Digidol. Yn olaf, rydym yn archwilio rhai o'r pryderon moesegol a'r defnydd cyfrifol o ddata lleoliad.
Mae ein siaradwyr yn cynnwys cynrychiolydd o Microsoft, Miranda Sharp – Centre for Digital Built Britain a Ben Hawes – Benchmark Initiative.
Cofiwch archebu eich lle ar y 5 Dosbarth Meistr drwy ddilyn y dolenni a nodir uchod.
Ariennir yr Hwb Menter yn rhannol gan Cronfa Datblygu Rhanbarthol Ewrop drwy Lywodraeth Cymru.
- - - - - - - - - - - - - - - - - - - - - - - - - - - - -
**ONLINE WEBINAR** - PART 3 OF 5
A series of 5 Masterclasses following on from our introductory event on the 1st of October 2020 titled 'Recovering from Covid19: SMART Towns'. Each masterclass will concentrate in more detail on a certain topic related to SMART Towns.
5 Masterclasses:
Background
The introductory event looked at whether we could monitor the health of High Streets in the same way as we monitor our own health. Rather than counting footsteps can we count footfall? Rather than measuring the benefit of exercise can we measure the benefit of free parking and pedestrianised spaces? Rather than tracking our fitness over the year can we track the visitor numbers?
The technology exists and is already being used in Welsh towns to make informed decisions and plan for the future. Given the pressure on the High Street and the impact of COVID19 it's important that businesses are able to exploit digital technology, in the same way as supermarkets and shopping centres have done for years.
These masterclasses are being held by Menter Môn through the Enterprise Hub and supported by the Welsh Government, as part of its 'Transforming Towns' town centre regeneration agenda.
The introductory event can be viewed here.
3rd Masterclass - Internet Of Things & Data
This masterclass continues to explore the 'what' of SMART Towns focussing on the Internet of Things and the data it creates. We begin with an IoT primer covering sensor platforms through to data repositories; we take a look at the next wave of innovation in connecting the physical and the virtual through the concept of Digital Twins. Finally we examine some of the ethical concerns and responsible use of location data.
Our speakers include a representative from Microsoft, Miranda Sharp – Centre for Digital Built Britain and Ben Hawes – Benchmark Initiative.
Remember to sign up to all 5 masterclasses following the links noted above.
The Enterprise Hub is part Funded by the European Regional Development Fund through the Welsh Government.