Description
How are luxury brands appealing to millennial consumers using digital platforms and storytelling?
The evolution of digital has completely changed the way users consume information. The millennial generation is quickly entering its prime in terms of spending power. In years gone by, the predominant channel for discovery was through a window display, then it was a brand's website and now its social media and influencers, especially when considering luxury brands.
As digital consultant Rachel Arthur says: "There's no such thing [as just being] on social media. There's an inherent need for both quality and relevance in what is posted, in order to get through to the right consumers at the right time. As a result, authenticity is paramount."
Immediately brands can gauge what people like and they don't, as Christopher Bailey references, the data gathered by the brand allows his team to understand how their products are received and what resonated most with their customers.
Join us for an evening of insightful discussion about how brands can appeal to millennial consumers through digital platforms and storytelling
18.30 - 19.00 Drinks reception and registration
19.00 - 20.00 Speakers presentations and panel discussion
20.00 - 20.30 Q&A
20.30 - 21.00 Networking drinks
Speakers
Henry Kimber, Marketing Manager, IWC Schaffhausen
Victoria Buchanan, Strategic Researcher, The Future Laboratory
Chris Donnelly, Founder and Managing Director of Verb Brands will moderate the panel discussion.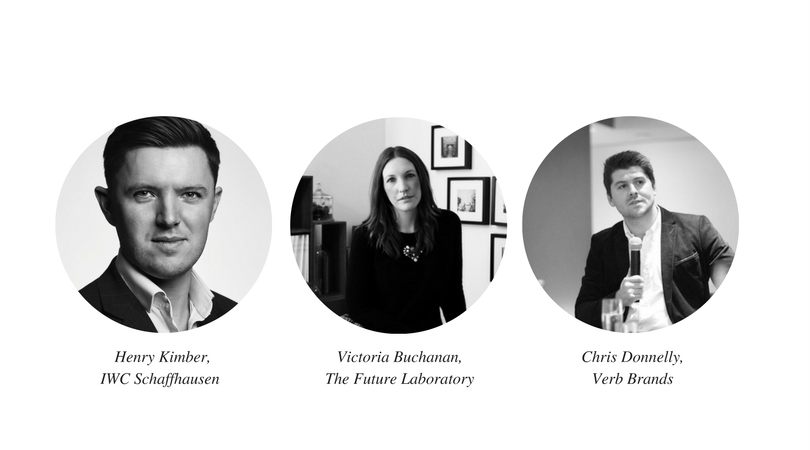 WHY TREND?
TREND is a collection of events to inspire brands to find better ways to connect with their customers on the right level. We started TREND to carve a much needed digital voice in the luxury industry. The event will bring together 75 senior luxury marketing professionals for an evening of inspiring talks and valuable networking.
Click here to see the last Trend.
"If we want to thrive in retail then we have to think like consumers. They want to consume content, they want to interact with brands and products every single day and [luxury] retailers have to keep pace with this [...] Brands, no matter how big or small, need to get closer to their consumers; they need to understand their needs, what they like and, ultimately, what makes them 'click'".
Saverio Bianchi, Group Digital Director, L'Oreal.
"Customers want even more options with how they can view their products, experience the value online and then have them delivered"
Michelle de Conto, Consultant, British Fashion Council
Only 60 tickets available. Reserve your space!

Special thanks to our sponsors:

Digital Gurus, Unity & Motion and Wirehive