Trendstop.com Fall/Winter 2013/14 Fashion & Color Themes Trend Briefing

Multiple Dates
Event Details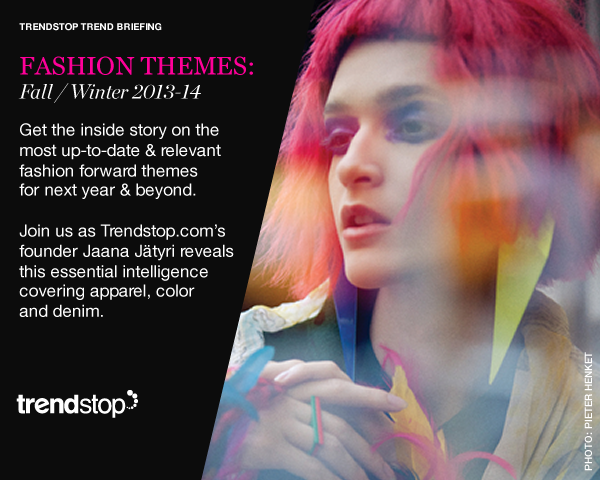 Trendstop.com is pleased to announce our upcoming online trend brefing covering the most directional fashion themes and colors for 2013-14 happening on the 26th July 2012. The briefing will be conducted by Trendstop.com's founder, Jaana Jätyri, and will cover both womenswear and menswear. The trend briefing will last  approximately one hour.
The trend briefing will give both individuals and companies alike a comprehensive overview of the exact colors palettes that are emerging for Fall / Winter 2013-14, and reveal six major fashion themes that have been identified via early fashion adopters and opinion leaders as having high potential of catching on with consumers.
As a bonus, the presentation will also uncover the latest denim trends, bringing to life key washes, fabric treatments, colors, and surface treatments, providing specific intelligence for brands looking to make their denim ranges appeal to trend savvy consumers.
Who Should Attend?
The Fall /Winter 2013-14 trend briefing is perfect for any brand, retailer or manufacturer looking to capitalize on future fashion trends to help drive their future product ranges. It will be particularly useful for:

Designers

Buyers

Product Managers

Brand Managers

Marketing Teams
Trend Briefing Cost
The cost to attend the Trendstop Fashion and color themes briefing is $249.00 per person and includes a PDF that summarises key trends and colors presented in the briefing. The PDF summary will be e-mailed following the trend briefing.

Upon booking, confirmation of your order and joining instructions will be e-mailed to you.
Trend briefing on us!
If you join us for the briefing, and choose to subscribe to Trendstop.com within 30 days of the briefing, we will deduct the cost of the webinar from your subscription cost.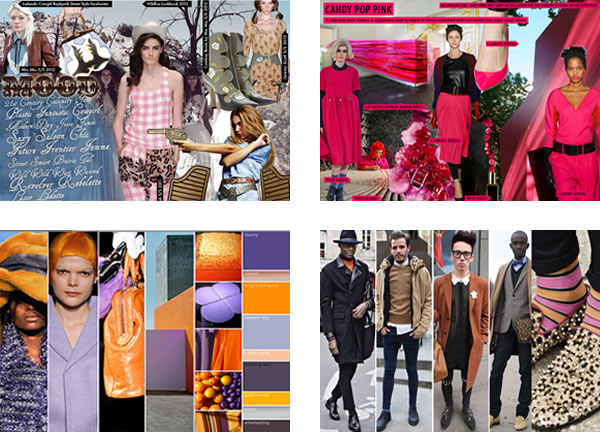 Comments from attendees to previous events:
---
"That was a great seminar. One of the best I've ever seen"
 - Global Purchasing Director at Cosmetics Brand

---

"Interesting Insights! Thank You!"
 - Brand Manager at Global Manufacturer
---

"Thanks that was fab"
 - Fabric & Home Textile Designer

---

"Thank you for the very informative presentation"
 - Knitwear Designer 
 
---
"Thank you from Beirut Lebanon, nice presentation and interesting"
 - Eyewear Designer 
 
---
"Thank you very much for the presentation"
 - Womenswear Designer
Do you have questions about Trendstop.com Fall/Winter 2013/14 Fashion & Color Themes Trend Briefing?
Contact Trendstop.com
Organiser
Trendstop.com
Trendstop.com is an online fashion and trend forecasting agency based in London that is internationally renowned for its directional trend analysis and forecasts.
The agency was founded in 2002 by ex-Central St.Martins graduate Jaana Jätyri, and is respected within the global fashion scene.
The company employs trend specialists from a diverse range of backgrounds with extensive track records in fashion and trend forecasting. Disciplines include fashion trend analysis, color analysis, apparel, accessories & footwear design, graphic & print development, and textile & embellishment development.
Trendstop offers an annual program of trend briefings covering essential topics such as color, print & graphics, accessories, print & graphics, beauty and more.