Trevor Nelson's Soul Nation Halloween Special featuring guest PAs Shola Ama & Sabrina Washington (from Mis-teeq)
About this event
Trevor Nelson's Soul Nation
🎃Halloween Special🎃
(👻Fancy Dress IS NOT compulsory - but we love to see sexy witches and wizards so if you fancy dressing up feel free! 👻)
💀 Saturday 30th October 2021 💀
at O2 Ritz Manchester
After missing out on our annual old school Christmas party in Manchester last year, we've decided to throw an extra special one for Halloween this year!
Trevor Nelson will return to Manchester's O2 Ritz to replace his annual Soul Nation Xmas party that we missed in 2020 because of Rona! After 5 years of sell out parties over the festive period we've brought the party forward to October to give all our friends Manchester's biggest old school party; a night out for lovers of real music! Join BBC Radio 2 / BBC Radio 1Xtra DJ and MTV Lick presenter Trevor Nelson for an unforgettable night of 80s and 90s & 00s RNB & Hip Hop.
And for this extra special Soul Nation party Trevor has booked 2 huge 90s UK stars....
This year Trevor is joined by 2 of his favourite RNB divas!
Firstly we have SHOLA AMA who will be performing her 90s RNB hits including
You Might Need Somebody
Imagine
You're The One I Love
Still Believe (she might even throw in a Garage remix or too)
Then we have another UK legend in
SABRINA WASHINGTON (from MIS-TEEQ)
As one third of the UK's biggest urban girl band, the lead singer of Misteeq will be performing Misteeq classics including;
Scandalous
All I Want
One Night Stand
WHY (again who knows if she'll throw in the garage mix!)
Can't Get It Back
-----------------------------------------------------------------------------
Tickets for this event have sold out in advance for 5 consecutive years, so please ensure you get yours online as soon as possible: Or visit: www.skiddle.com VIP entitles the ticket holder to balcony access with private bar & Table areas along with faster entrance with a separate queue!
-----------------------------------------------------------------------------
Soul Nation
Halloween Special Manchester
Saturday 30th October 2021
O2 Ritz, Manchester Whitworth St W, Manchester M1 5NQ
11pm - 3am
18+ | MRRA | No Refunds | ID REQUIRED | Dress Code Smart Casual & Trendy - Halloween Fancy dress IS NOT COMPULSORY, but we love to see sexy witches and wizards sop if you fancy dressing up feel free!
Follow Trevor across social media now:
www.Facebook.com/TrevorNelson
www.instagram.com/DjTrevorNelson
Put the date in your diary!
For entry, you will need to demonstrate your COVID-19 status by providing either:
Proof of a negative NHS Rapid Lateral Flow Test (such test to be taken within 24 hours prior to attending the event at the venue); or
Proof of full vaccination - both doses received (with the second at least 14 days prior to the arrival at the venue); or
Proof of natural immunity based upon a positive PCR test within 180 days of arrival at the venue (and after the 10-day self-isolation period following the result).
PROOF OF A NEGATIVE NHS RAPID LATERAL FLOW TEST
NHS Rapid Lateral Flow tests are free. You can order NHS Rapid Lateral Flow Tests here or pick them up from any pharmacy or test site.
Please do not bring the home test strip with you.
Follow these instructions for what you need to do:
You must report your COVID-19 NHS Rapid Lateral Flow Test result online, by visiting COVID-19 NHS Rapid Lateral Flow Test result.
OR use this link in your browser - https://www.gov.uk/report-covid19-result.
If you do not have access to the internet, you can also report your test result by calling the phone number in your test kit's instructions, NHS 119 (England, Wales and Northern Ireland) or Scotland 0300 303 2713.
You will need to demonstrate your negative NHS Lateral Flow Test result by showing us one of the following:
Text OR email confirmation of your result
OR by using the NHS COVID Pass, available through the NHS App
OR as a letter that can be requested by ringing NHS 119 (England, Wales and Northern Ireland) or Scotland 0300 303 2713
PROOF OF FULL VACCINATION – BOTH DOSES RECEIVED
We cannot accept vaccine cards issued at vaccination centres as proof of vaccination.
Please use the NHS COVID Pass to show your vaccination status using the NHS App or the NHS website to download it as a PDF or get it sent to you in an email.
You can also get a paper version (vaccination status only - not test results - 2 weeks after having a full course of the vaccine) sent to you in the post. You do not need to be registered with a GP surgery or have an NHS login for this. You can get a letter (within 5 working days) by requesting a COVID Pass letter online or calling NHS 119.
Here's how to get a record of your vaccination status in Scotland, Wales or Northern Ireland.
PROOF OF NATURAL IMMUNITY
Please use the NHS COVID Pass to show your positive PCR test within the past 6 months using the NHS App or the NHS website, after you've finished self-isolating and up to 180 days after taking the test.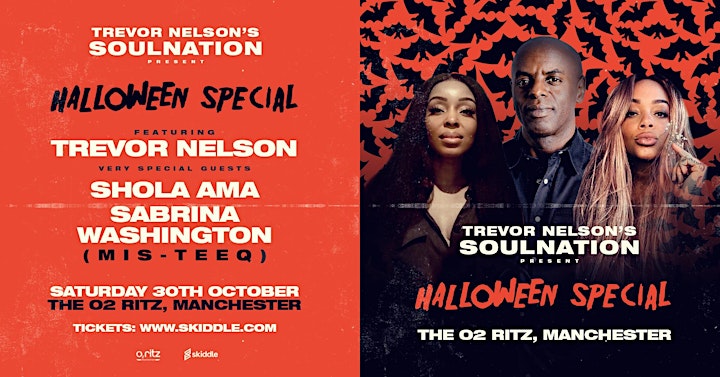 Organiser of Trevor Nelson's Soul Nation Halloween Special
As a pioneer in the urban scene, Trevor started his broadcasting career at then pirate station Kiss FM going onto A&R artists such as D'Angelo, signing Lynden David Hall at cooltempo/EMI records.
In 1996, Trevor moved to BBC Radio 1 to present the first ever national RNB show 'The Rhythm Nation'. Trevor continued to present the Saturday slot 7-9pm for a further 17 years.
1998, Trevor joined MTV to host their flagship R&B show 'The Lick' , the show aired for 11 years on MTV base making it the longest running show on the channel. Trevor went onto host the first ever MTV Africa Awards from Abuja, Nigeria.
He has released 7 compilation albums INCredible sound of Trevor Nelson, The Soul Nation and "Lick" compilations. His most recent compilation album is The Trevor Nelson Collection. Picking up where his Lick compilations left off, he shares his favorite R&B, Soul and Rap classics from over the decades.
Trevor has won numerous plaudits including 4 MOBOS, an MBE for his work with the millennium volunteers. In 2010 he was awarded with the special gold lifetime achievement award for his services to broadcasting, at the Sony Radio Academy Awards. He was also nominated as a Hackney ambassador to coincide with the 2012 Olympics.
Trevor currently broadcasts across 2 radio networks: ' Weekdays on 1Xtra Monday-Friday 10am-1pm and on Radio 2 Trevor Nelson's Rhythm Nation every Saturday 8pm-10pm.