Tribute Run to commemorate the Day of Defenders of Freedom of Lithuania
Description
Please scroll down for EN text ↓

Lietuvos Respublikos ambasada Londone kartu su JK lietuvių bendruomene, Britanijos lietuvių krepšinio lyga ir Britanijos lietuvių sporto asociacija kviečia Londone gyvenančius lietuvius ir jų draugus vėl susiburti bendram bėgimui "Gyvybės ir mirties keliu", skirtam Sausio 13-osios aukoms pagerbti.
Kaip ir Lietuvoje vyksiančiame bėgime, bėgimo dalyviai Londone turės galimybę įveikti tokią pačią simbolinę 9 km distanciją, Vilniuje skiriančią Televizijos bokštą ir Antakalnio kapines, kuriose palaidotos 1991 m. Sausio įvykių aukos. Neapgeidaujantiems bėgti pilnos distancijos, organizatoriai tradiciškai siūlo įveikti 1,5 kilometro solidarumo ratą.
Šio bėgimo dalyviai nėra skatinami varžytis ar siekti kuo aukštesnių rezultatų, todėl bėgime laukiame visi - visų tautybių, amžiaus grupių, fizinio pasirengimo dalyviai.
Gyvą istorinę atmintį liudijantis bėgimas "Gyvybės ir mirties keliu" Lietuvoje kasmet rengiamas nuo 1992 m., o Londono Parsloes parke ambasados iniciatyva pradėtas vykdyti 2015 m. Kasmet prie bėgimo prisijungia ir kiti Europos miestai, kuriuose gyvena skaitlingos lietuvių bendruomenės.
Primename, jog 1991-ųjų Sausio 13-osios naktis yra viena svarbiausių datų Lietuvos išsivadavimo iš sovietinės okupacijos kelyje. Tą naktį, sovietų kariuomenei šturmuojant Vilniaus televizijos bokštą bei Radijo ir televizijos pastatą, Lietuva neteko 14-os jos nepriklausomybę gynusių piliečių, tūkstančiai buvo sužeisti.
Atmintinė bėgimo Londone dalyviams:
Trasos distancija – 9

(1,5) km.

Bėgimo vieta – Parsloes Park (Terrace Walk, Dagenham, RM9 5PU).

Žemėlapis

Atvykusių dalyvių registracija bus vykdoma nuo 10 val. iki 10:50 val.

10:50 val. skelbiama Tylos minutė už žuvusius Lietuvos laisvės gynėjus. Giedamas LR ir JK valstybiniai Himnai.

Bėgimo startas – 11 val.

Įvertinkite savo galimybes ir bėgimo distanciją (Jeigu turite abejonių dėl savo sveikatos būklės, prieš bėgimą būtinai pasikonsultuokite su šeimos gydytoju).

Pasirinkite tinkamą aprangą ir avalynę (Renginys vyks šaltuoju metu).

Renginio organizatoriai sudarys galimybę pasidėti bėgimui nereikalingus daiktus.

Vandeniu ir arbata bus galima atsigaivinti Starto/Finišo vietoje (Bėgimo trasoje atsigaivinimo punktų nebus)

Nepilnamečiams yra būtinas tėvų/globėjų rašytinis sutikimas dalyvauti bėgime. Visa rizika ir atsakomybė dėl nepilnamečio dalyvio sveikatos sutrikimų, sužalojimų ir nelaimingų atsitikimų, atsiradusių dalyvaujant renginyje tenka tėvams/globėjams.
---
The Embassy of Lithuania in the UK invites you to a tribute run in commemoration of the Day of defenders of freedom of Lithuania. It will take place in Parsloes Park, Dagenham on January 12th 2018, Saturday, at 11 AM.
The run commemorates the 28th anniversary of bloodshed in Vilnius, Lithuania, when 14 people were killed and thousands wounded by the Soviet military as Moscow continued its crackdown on Lithuania's drive for independence in 1991.
What is known as traditional tribute run has been held every January in Vilnius since 1992. This year for the fourth time cities around the world are joining in. We are proud that London is amongst them.
The Run is open to all communities. By running together, we all manifest our commitment to Freedom and Human Dignity.
Important information for participants:
The run takes place in Parsloes Park, Terrace Walk, Dagenham, RM9 5PU. Please consult the map for directions. Map.

The full run consists of 6 laps which equals to ~ 5.5 miles (9 km). For those unwilling to run the full distance, there will also be an opportunity to cover a `lap of honour` (~1.1 miles).

The registration will begin at 10:00AM. Please arrive on time to ensure a smooth process.

The official opening will begin at 10:50 AM.

The start will be given at 11 AM.

The expected finish of participants is at 12:45 PM.

Please consider your health (consult your doctor) before taking part in the run.

There will be water and tea provided at Start/Finish point.

We will be able to keep your belongings while you run, however, participants are advised to take care of their valuables personally.

To participate in the run teenagers under 18 need written consent from their parents/guardians.
Organiser of Tribute Run to commemorate the Day of Defenders of Freedom of Lithuania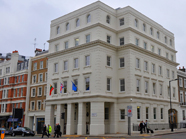 EMBASSY OF THE REPUBLIC OF LITHUANIA TO THE UNITED KINGDOM OF GREAT BRITAIN AND NORTHERN IRELAND
Lithuania House, 2 Bessborough Gardens, Westminster, London SW1V 2JE, UNITED KINGDOM
Tel +44(0)20 7592 2840, Fax +44(0)20 7592 2864 E-mail: events@uk.mfa.lt