A project inspired by the Renaissance work with artist Carlos Cortes and create your own Tryptich.
About this event
FULL COURSE £22.15- Start date 17.05.2021.
PER- SESSION £7.50
A triptych is a work of art that is divided into three sections, or three carved panels that are hinged together and can be folded shut or displayed open.
Over the course of 4 weeks participants are invited to learn a number of traditional painting techniques and crafts necessary to make one of these triptychs. Portrait Perspective drawing application of ghesso, structural elements, mobile parts, Application of gold leaf and gold leaf size, final varnishing and protection. However, the project should be brought to the present and made local to Luton.
About the Artist: Carlos Cortes exhibits at international level paintings and sculptures that combine Renaissance formats and techniques with a Contemporary approach. In this workshop we will be using oil painting on board and gold leaf to make a modern version of an articulated Triptych. Ideally you should incorporate images of people places or things that you know or that matter to you.
In order to get the best experience, participants are encouraged to attend all sessions.
Good to know information
- Can I join late? The beginning of the workshop May 17th date, it is preferable for guests to attend on the start date of the project. There may be occasions where the tutor will allow for later joiners to the classes but this at the tutors' dicression and you will be required to pay the full price of the course.
- How to find us? You will find our address on your ticket . We are located opposite NatWest and next to Barclays and above Age Conern, look for the double red doors. You can't miss all the mural art!
- On arrival? A member of our Little Red team will welcome you to the building, check you in and you can head up to the studio.
- COVID19 - In order for use to keep everyone safe we ask:
Please do not attend any classes if you are presenting Covid19 like symptoms, you will need to inform us of your absence and isolate for a futher two weeks/
Please wear a mask on entry and whilst you are moving around the building. These can be removed when seated.
Patrons are not permitted to bring their own refreshment into the venue at this time. Refreshments and light bites will be available at the coffee shop.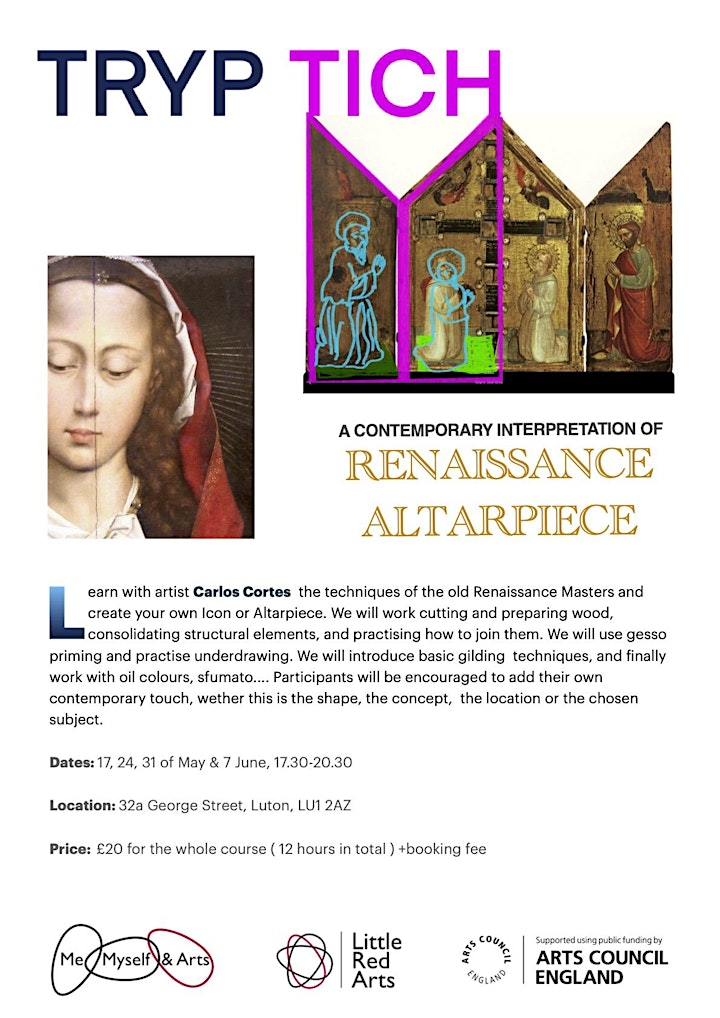 Organiser of Trip Tyck Workshop - Me, Myself & Arts- Luton
Little Red is a not for profit arts and music venue based in Luton Town cente.
Set in a beautiful grade ll listed building, its funk, edgy an d bursting with creative opporitunities.
Enjoy a dink in our fully licenced cafe bar, with panaramic views of town centre we invite you to disconect for a while, elevte yourself and watch the wolrd go by.
Studios to hire and many events to join.
We look forward to welcoming you!