Tropical poultry production: research towards sustainable systems
Free online seminar to highlight research solutions to increase the profitability and sustainability of small-holder poultry systems in SSA.
About this event
Current projections indicate that the human population will reach 9.5 billion by 2050 and that 25% of the world's population will be living in Africa. There is a clear need for African livestock production systems to be improved through genetic gain in order to feed the continents growing population.
There is a global research effort to develop genetic tools and technologies to help chickens farmed in sub-Saharan Africa be more productive, healthy and resilient to environmental challenges.
This free online event on Thursday 13 May will highlight some of the research solutions that have been developed by researchers at the Centre for Tropical Livestock Genetics and Health and it's partners, to increase the profitability and sustainability of small-holder poultry systems in sub-Saharan Africa.
Targeted at researchers, policy makers, breeding companies, research funders and other stakeholders, this event will enable existing knowledge to be exchanged and for potential new areas of genomic research to be explored.
Spaces are limited to ensure interaction and discussion. for those unable to attend the live event, the seminar will be recorded and made available on the CTLGH website shortly after the events ends.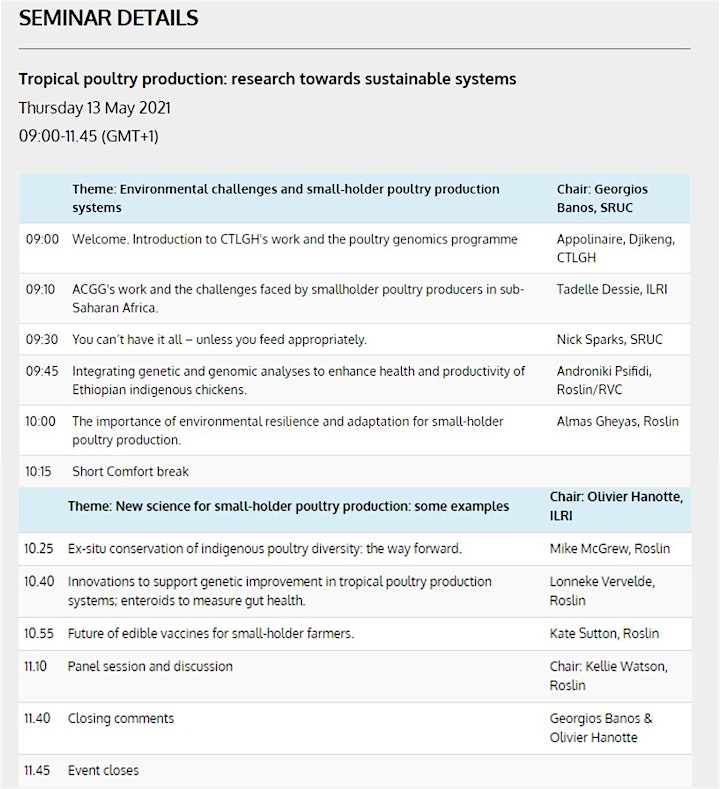 This seminar have been funded by a Global Impact Accelerator Award from the University of Edinburgh, as part of its annual Scottish Funding Council – Global Challenges Research Fund (SFC-GCRF) allocation, and builds on CTLGH's current capacity building and knowledge exchange activities in Africa.
The event will be hosted on Zoom. Participants will be able to access the event on the day through the dedicated online eventbrite page. We will also email you a direct link to the meeting and password the day before the event.
Organiser of Tropical poultry production: research towards sustainable systems