An informal group that uses a book, programme, article, podcast etc to start a conversation about death, dying and bereavement.
About this event
Are you particularly interested in exploring issues relating to death, dying and bereavement? Or you'd like to join in these conversations but don't quite know how to start? Join the Truacanta Death Club!
Every few weeks the Truacanta Death Club will get together online, with a cup of tea and a biscuit and our reflections on something we've read, watched or listened to. Whether that's a book, a TV programme, an article or a podcast, there will be a connection to themes of death, dying, loss and care. It's free to join, the groups will be small and discussion informal.
For our first ever Truacanta Death Club, we'll start off chatting about Mrs Death Misses Death by Salena Godden, a combination of allegory, poetry and prose that has been described as "A fantastically imaginative story about life, death and everything in between," and "A rhythmic and powerful poetic meditation on death, life and love and the hidden mys-teries of the universe." We hope that folk will bring their own reflections on the book and the themes of death and dying; our discussion will flow from there.
To celebrate the launch of our Death Club, the first ten people who sign up will get a FREE BOOK sent to them to read in advance of the club. If you'd like a book, don't forget to add your address when you book your place.
Sign up now!
This event is part of Demystifying Death Week 2021
Book blurb: "Mrs Death has had enough. She is exhausted from spending eternity doing her job and now she seeks someone to unburden her conscience to. Wolf Willeford, a troubled young writer, is well acquainted with death, but until now hadn't met Death in person - a black, working-class woman who shape-shifts and does her work unseen.
Enthralled by her stories, Wolf becomes Mrs Death's scribe, and begins to write her memoirs. Using their desk as a vessel and conduit, Wolf travels across time and place with Mrs Death to witness deaths of past and present and discuss what the future holds for humanity. As the two reflect on the losses they have experienced - or, in the case of Mrs Death, facilitated - their friendship grows into a surprising affirmation of hope, resilience and love. All the while, despite her world-weariness, Death must continue to hold humans' fates in her hands, appearing in our lives when we least expect her . . ."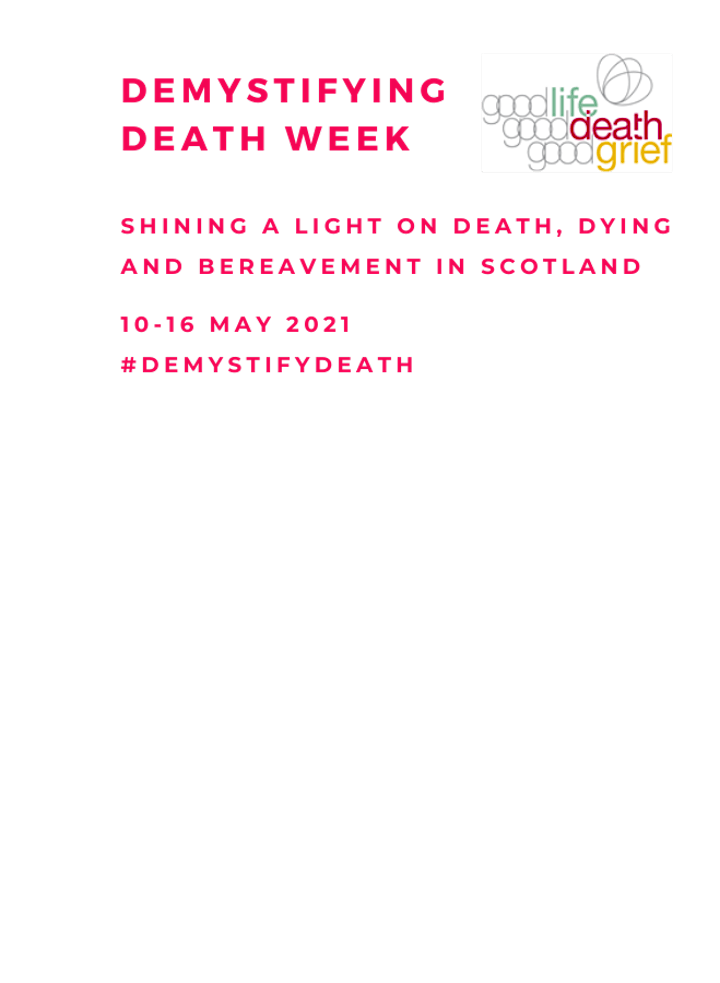 Organiser of Truacanta Death Club
Good Life, Good Death, Good Grief brings together people and organisations that are interested in improving people's experiences of death, dying and bereavement in Scotland, in the belief that Scotland can be a place where people help each other through the difficult times that can come with death, dying and bereavement.
The Truacanta Project was set up to support communities in Scotland to improve local experiences of death, dying, loss and care.