Location
Fox Court (2nd Floor),
14 Gray's Inn Road, Holborn
London
WC1X 8HN
United Kingdom
Description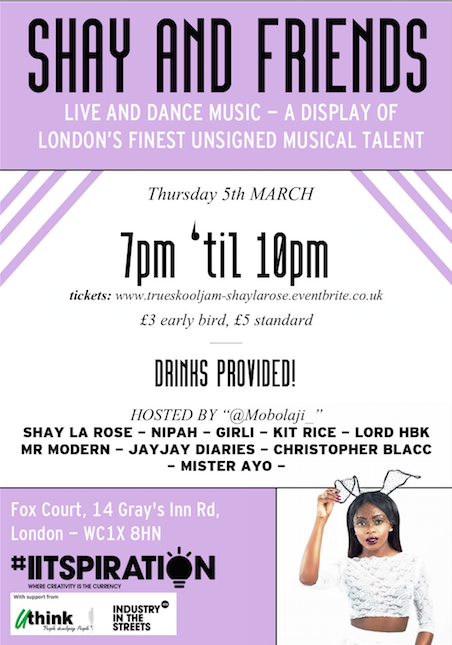 True Skool has quickly become the place to be for all aspiring artists/creatives who have a passion for the essence of hip hop culture. The True Skool Jam puts a twist on our usual old skool/new skool theme; this time we're taking it back with a series of events at #IITSPIRATION showcasing and collaborating with a range of creative individuals.
On the 5th March, The True Skool Jam presents emerging Pop/R'n'B singer Shay La Rose and friends. Shay is a Pop/R'n'B singer blessed with a husky voice, which delivers with comfortable elegance. Having just released her debut single, What Would You Do (W.W.Y.D), Shay has received a phenomenally warm response and is ready to share more music!
Shay's specialty in life has always been performing. In 2008, she even opened for then-emerging Tinie Tempah at The Roundhouse in London. Working tirelessly for the past year, Miss Rose recorded a mixtape of cover tracks entitled 'The Coming Of A Rose', attracting attention from the likes of MTV and SBTV. She has also performed at The Roundhouse London, Leicester O2 Academy and many more. Having written and recorded a catalogue of original, encapsulating material, Shay is now equipped and ready to show the industry exactly what she's capable of!