The True Worshippers' Retreat is physical one-day retreat designed to equip, educate, and build worshippers in Ireland.
About this event
The Inner Room is a worship movement based in Dublin, Ireland. Our vision is to create a community of worshippers and BE a platform for the full expression of true worshippers.
On the 7th of August 2021, we are holding our True Worshippers Retreat with the theme "Thy Kingdom Come." Our anchor Scripture for the retreat is Matthew 6:10. What does it mean for God's Kingdom to come on earth? What is our role as worshippers? How can we collaborate with others as we bring this kingdom ?
It promises to be a day of worship, learning and intimacy with the Father as we celebrate His perfect grace.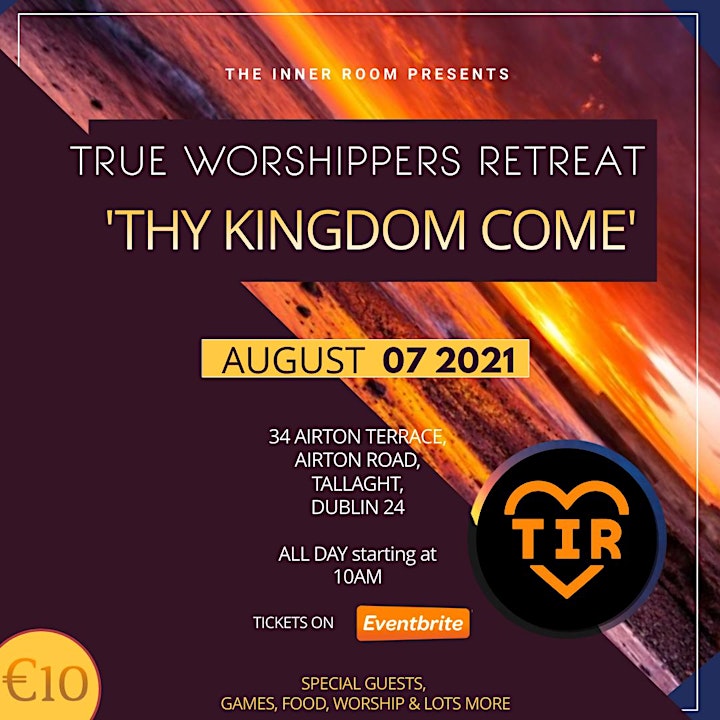 Tickets for this event are LIMITED and will be released on Friday, the 21st of July at 6pm!
Guest Ministers to be announced on Friday also! Get ready, get ready, get ready!
Date: Saturday 7th August 2021
Time: Doors open at 9.30am (ALL DAY RETREAT - MEALS PROVIDED)
Address: RCCG Joseph's Palace Dublin, 34 Airton Terrace, Airton Rd, Tallaght, Dublin 24, Ireland
Free parking in the area