Event Information
Refund Policy
Contact the organiser to request a refund.
Eventbrite's fee is nonrefundable.
MKAI January Inclusive Forum | Trust in the Age of AI | Part 1: Fairness
About this Event
Featuring speakers from Google and IBM, this MKAI Inclusive Forum discusses the big themes around trust of and in AI. The January event focusses on the issue of fairness; touching on data, biases, algorithms, society and inclusivity. As always the MKAI Forums are open to everyone from all walks of life. Our expert speakers make the subject approachable and comprehensible to help all of us improve our AI-fluency and understanding of the domain.
Agenda (all times in GMT):
5:00pm: 🎙️Welcome and Announcements by host Richard Foster-Fletcher and sponsors Aiimi and Data Reply

5:10pm
Speaker: Jon Thor Sigurleifsson
Title: Corporate Punk & Creative Nerd
Presentation: In Tech We Trust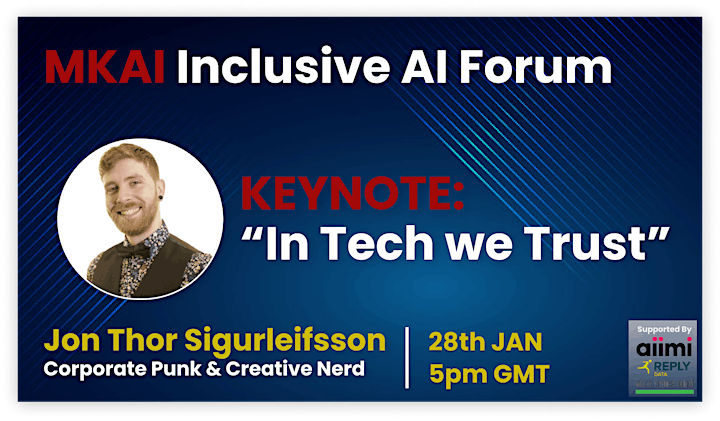 Jon Thor Sigurleifsson explores how technology interacts with moral and ethical philosophy. Jon Thor is a broadcaster and educator who cares about helping people to explore better questions and search deeper into information.

5:30pm
Speaker: Lavina Ramkissoon
Title: African trend influencer & AI strategist
Presentation: Shaping society 5.0 and its leaders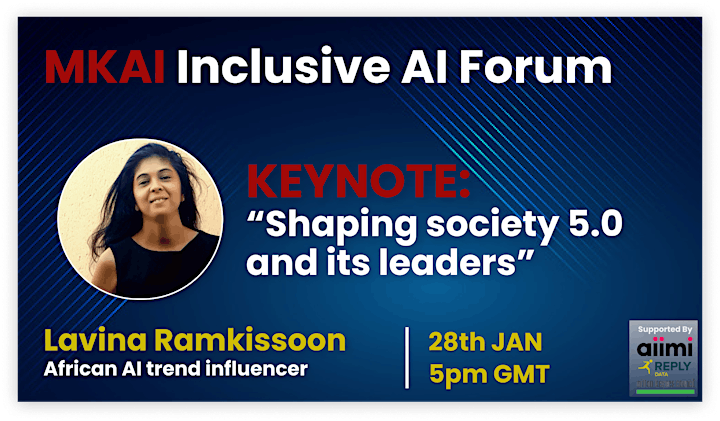 Lavina Ramkissoon is a future technology lover, yoga practitioner, an implementor, trend influencer, strategist, LinkedIn connector, a keynote speaker, mom, partial artist, dancer come writer, technologist and an ai ethics mentor, who speaks worldwide about her love for humanity, technology, economics and businesses.
Featured in World summit AI, Inspired AI, Africa AI accelerator, Fem -In- Tech and WAI summit

5:50pm
Speaker: Dr. Eva-Marie Muller-Stuler
Title: Chief Data Scientist, Advanced Analytics & AI Practice leader, GBS at IBM
Presentation: Fighting Bias and building trust in AI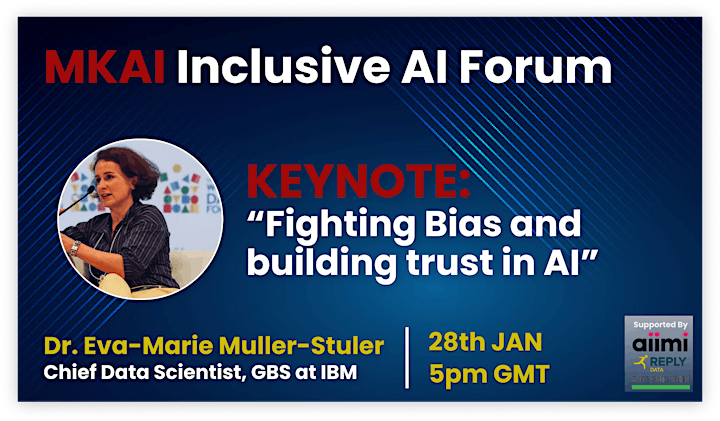 Dr. Eva-Marie Muller-Stuler is the Chief Data Scientist and leader of the Centre of Excellence for IBM MEA. She has led ground-breaking Data Science teams and implementations of fully deployed large-scale AI projects globally for over 15 years. Eva-Marie is passionate about advising IBM's top-tier clients and governments in developing data strategies that show P&L value and to transform them into data-driven organizations that lead the field.

6:10pm
Speaker: Tulsee Doshi
Title: Google Product Lead - ML Fairness and Responsible AI
Presentation: ML Fairness in Product: Lessons Learned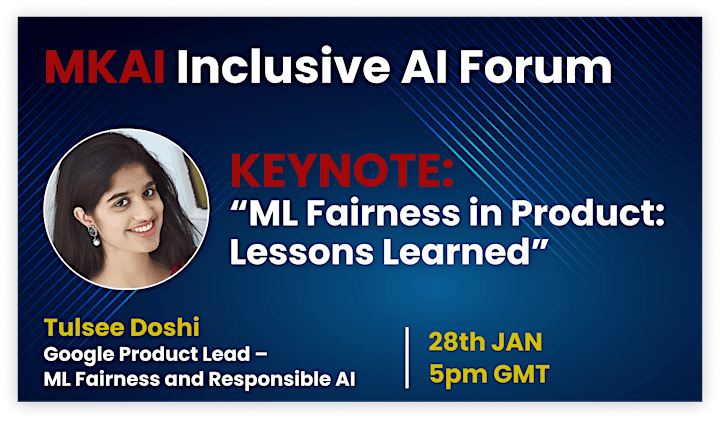 Tulsee Doshi is product lead for Google's efforts in ML Fairness and Responsible AI, driving a deeper understanding of how we can build user experiences that are diverse, inclusive, and ethical.
6:30pm: Panel discussion with all speakers
6:55pm: Roundup + What's next with MKAI
7:00pm Close
MKAI's Human-Compatible AI Series is made possible by our partners
We are a tech company that specialises in data and information. We believe that companies who win at data will become their market leaders, so we built a software platform to make sure our clients are first across the line.
Put it like this: you know the way your company has a ton of data in clouds, lakes, networks, computers and devices? We've found a way to organise it and link it all together. The result is improved productivity, compliance and privacy. Which is fine. But things get really interesting when our data scientists plug their AI solutions into the platform to drive amazing insight and incredible automation. That's when you get real competitive advantage. That's when you start to win.
Our software platform is called InsightMaker, because that's what it delivers. Simple. Usable. Insight.
It's used by utility companies, government departments, banks, car manufacturers, and law firms – that's the level we work at. And we haven't come across an organisation yet that InsightMaker hasn't been able to help.
Clients like our attitude – it's a refreshing alternative to the big consultancies and system integrators. We're faster and more flexible because we're totally independent - so decisions are quick and solutions are developed at hyper-speed. To find out more visit www.aiimi.com
Part of the well-known Reply group, Data Reply UK offers a broad range of advanced analytics and AI-powered data service to enable Digital Leaders and Chief Officers achieve meaningful outcomes through the effective use of data.
They support companies in designing and implementing human-centered data products to turn embryonic ideas into enterprise solutions with Big Data Engineering, Data Science and Intelligent Process Automation.
You can find out more and get in touch at www.reply.com/data-reply
Milton Keynes Council:
MK has over 1,000 people with direct sector skills and is home to over 6,000 software engineers and 4,000 data engineers. The city has the world's largest fleet of autonomous delivery robots and will be home to a new undergraduate university, which will be a global leader in training people to take on jobs in the science, technology, engineering and mathematics (STEM) economy.
The MKAI community is an eclectic group that engages in open conversation about important themes in AI, such as; ethics, responsibility, fairness, sustainability, breakthroughs, impact on society and people, inclusivity. Our strength comes from the fact that we come from different walks of life, with different expertise inside and outside of AI, giving us the diversity we think global AI needs to succeed. We don't focus on being 'right'. Instead we learn, listen, explore…always with kindness. AI needs all of us, and all of us need AI.
Date and Time
Location
Refund Policy
Contact the organiser to request a refund.
Eventbrite's fee is nonrefundable.