Event Information
Refund Policy
Contact the organiser to request a refund.
Eventbrite's fee is nonrefundable.
MKAI March Inclusive Forum | Establishing Trust in the Age of AI | Part 3: Data Disclosure
About this Event
This MKAI Inclusive Forum discusses the big themes around trust of and in AI. The March event focusses on the issue of disclosure; touching on risks, data, biases, algorithms, society and inclusivity.
March Forum Objectives: At the MKAI technical forum in March, we seek to discover the Artificial Intelligence (AI) research and projects that are producing practical solutions for the Smart Grid. A new generation of energy networks will be able to make efficient use of renewable energy sources, support real time and efficient demand response, as well as the large-scale deployment of electric vehicles (EVs). We will learn more about the AI techniques and methodologies that will increase the efficiency and effectiveness of the way we manage and allocate energy
Agenda (all times in GMT):
5:00pm: 🎙️Welcome and Announcements by host Richard Foster-Fletcher and sponsors Aiimi and Data Reply

5:10pm
Speaker: Nikita Lukianets
Title: Founder at Open Ethics
Presentation: AI transparency and self-disclosure. 101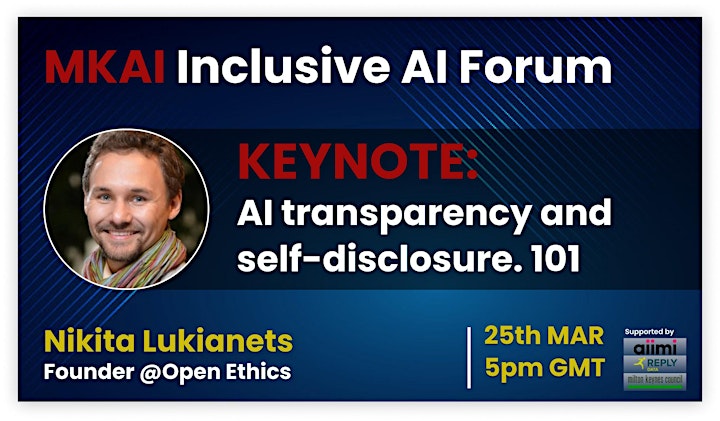 Nikita is the Founder of the Open Ethics initiative that fosters the inclusive dialogue between experts and citizens to design systems where humans and AI successfully work together. Nikita is also a Founder and CTO at PocketConfidant AI, a 24/7 coaching technology powered by artificial intelligence. Previously, as a fellow with SIGNALIFE Ph.D. program in life sciences in France, Nikita worked on supervised and unsupervised learning algorithms for neuronal classification, bridging approaches in neurobiology and statistical learning.

5:40pm
Speaker: Matthew Bailey
Title: Founder and CEO, AIEthics.World
Presentation: Is Artificial Intelligence the New Guru?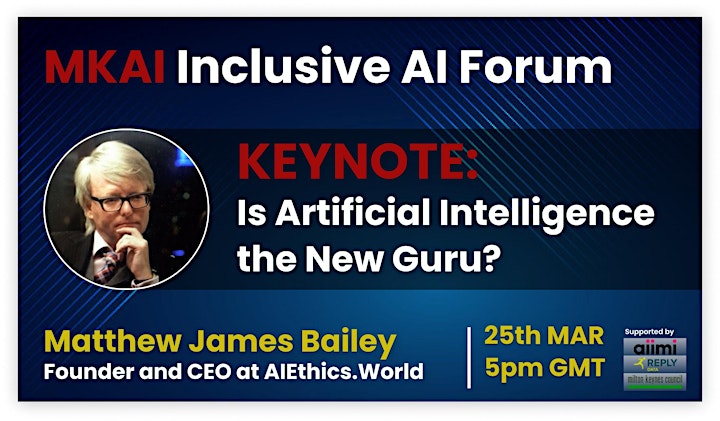 Matthew Bailey is an internationally recognised maven in the Internet of Things, Innovation, Smart Cities and Artificial Intelligence. His extraordinary leadership is widely acknowledged throughout governments and the private sector. He is a sought-after advisor, consultant and keynote speaker. Bailey has been privileged to meet with famous global leaders such as Steve Wozniak, innovation and technology; Sir David Attenborough, the environment; Professor Stephen Hawking, theoretical physicist and cosmologist; in addition to prime ministers, ministers, under secretaries of G7 Countries, and many more. See more at http://www.matthewjamesbailey.com.

6:10pm
Speaker: Pamela Michelle Jasper
Title: AI Ethicist
Presentation: Baking in AI ethics at every stage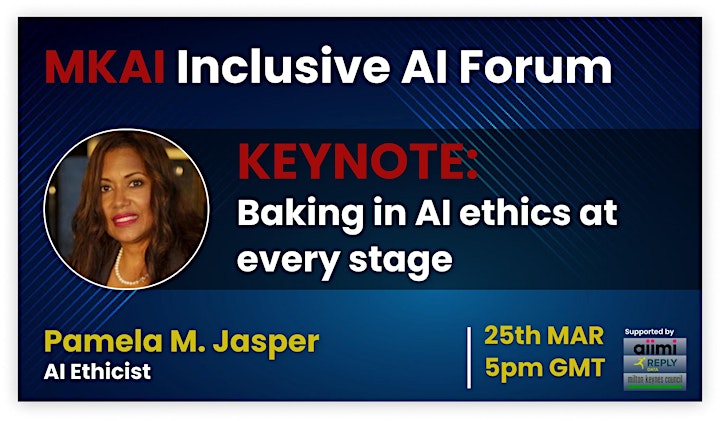 Pamela M. Jasper, PMP is a global financial services technology leader with over 30 years of experience developing front office capital markets trading and quantitative risk management systems for investment banks and exchanges in NY, Tokyo, London, and Frankfurt. Pamela developed a proprietary Credit Derivative trading system for Deutsche Bank and a quantitative market risk VaR system for Nomura. Pamela is the CEO of Jasper Consulting Inc, a consulting firm through which she provides advisory and audit services for AI Ethics governance. Based on her experience as a software developer, auditor and model risk program manager, Pamela created an AI Ethics governance framework called FAIR – Framework for AI Risk which was presented at the NeurIPS 2020 AI conference.
6:40pm: Panel discussion with all speakers
6:55pm: Roundup + What's next with MKAI
7:00pm Close
MKAI's work is made possible by our partners
We are a tech company that specialises in data and information. We believe that companies who win at data will become their market leaders, so we built a software platform to make sure our clients are first across the line.
Put it like this: you know the way your company has a ton of data in clouds, lakes, networks, computers and devices? We've found a way to organise it and link it all together. The result is improved productivity, compliance and privacy. Which is fine. But things get really interesting when our data scientists plug their AI solutions into the platform to drive amazing insight and incredible automation. That's when you get real competitive advantage. That's when you start to win.
Our software platform is called InsightMaker, because that's what it delivers. Simple. Usable. Insight.
It's used by utility companies, government departments, banks, car manufacturers, and law firms – that's the level we work at. And we haven't come across an organisation yet that InsightMaker hasn't been able to help.
Clients like our attitude – it's a refreshing alternative to the big consultancies and system integrators. We're faster and more flexible because we're totally independent - so decisions are quick and solutions are developed at hyper-speed. To find out more visit www.aiimi.com
Part of the well-known Reply group, Data Reply UK offers a broad range of advanced analytics and AI-powered data service to enable Digital Leaders and Chief Officers achieve meaningful outcomes through the effective use of data.
They support companies in designing and implementing human-centered data products to turn embryonic ideas into enterprise solutions with Big Data Engineering, Data Science and Intelligent Process Automation.
You can find out more and get in touch at www.reply.com/data-reply
Milton Keynes Council:
MK has over 1,000 people with direct sector skills and is home to over 6,000 software engineers and 4,000 data engineers. The city has the world's largest fleet of autonomous delivery robots and will be home to a new undergraduate university, which will be a global leader in training people to take on jobs in the science, technology, engineering and mathematics (STEM) economy.
The MKAI community is an eclectic group that engages in open conversation about important themes in AI, such as; ethics, responsibility, fairness, sustainability, breakthroughs, impact on society and people, inclusivity. Our strength comes from the fact that we come from different walks of life, with different expertise inside and outside of AI, giving us the diversity we think global AI needs to succeed. We don't focus on being 'right'. Instead we learn, listen, explore…always with kindness. AI needs all of us, and all of us need AI.
Date and Time
Location
Refund Policy
Contact the organiser to request a refund.
Eventbrite's fee is nonrefundable.