Description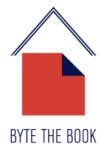 Since 2012 Byte the Book has been at the very forefront of the publishing industry, running amazing events at the best venues in London and at book fairs around the world. Our primary aims are to educate authors and publishers on the latest developments in the book world and to help our community make valuable connections with each other and across the publishing industry. You can see some reports on recent events here and here.
Publishing can be a delicate business, and for authors especially it's important to have supportive people around them that help to make the publication journey go as smoothly as possible and viable in the long term.
Come and listen to a brilliant talk from some great people from across the indusry and have the opportunity to network with authors, agents, publishers and suppliers to the publishing industry before and after the discussion.
This event will take place at The House of St Barnabas, a not-for-profit private members' club working to break the cycle of homelessness. Byte the Book and HoSB member tickets are free. Non-member tickets for the event cost £25 (plus booking fee). A donation will be made after this event supporting the work of The House of St Barnabas' Employment Academy.

Byte the Book members can book their complimentary ticket below. HoSB members should contact member@hosb.org.uk to reserve their ticket.

This event is sponsored by