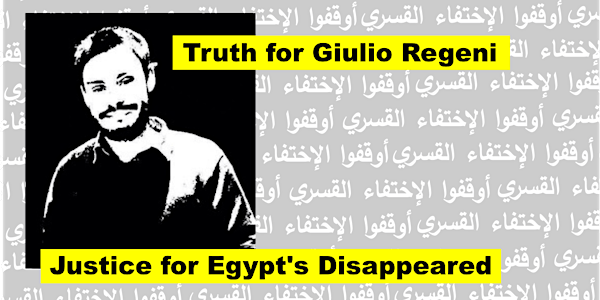 Truth for Giulio - Justice for Egypt's Disappeared: Leeds event
Location
University of Leeds
Roger Stevens Building
Lecture Theatre 1
Leeds
LS2 9JT
United Kingdom
Description
Public meeting organised by the University and College Union (UCU) in collaboration with Egypt Solidarity Initiative and with the support of Leeds UCU and Leeds University Centre for African Studies

Speakers:

Professor Ray Bush (University of Leeds)
Shane Enright (Amnesty UK's trade union campaigner)

Giulio Regeni, a post-graduate student at Cambridge University, disappeared on 25 January 2016 in Cairo, where he was researching independent trade unions for his PhD. On 3 February his body was found, bearing signs of severe torture which human rights groups say are the hallmarks of the Egyptian security forces.
Research by Amnesty International has exposed how Giulio's murder is part of a much wider picture of human rights abuses by the Egyptian security forces and judiciary which pose a grave threat to academic freedoms and freedom of expression. Hundreds of other cases of enforced disappearance and torture have been recorded in Egypt in the last year alone.
This meeting is hosted by UCU in collaboration with Egypt Solidarity Initiative in support of a joint national campaign by Amnesty International UK and UCU to demand Truth for Giulio and justice for Egypt's Disappeared.
The launch for the national campaign will take place on 13 February in Amnesty's Human Rights Action Centre. Find out more here.